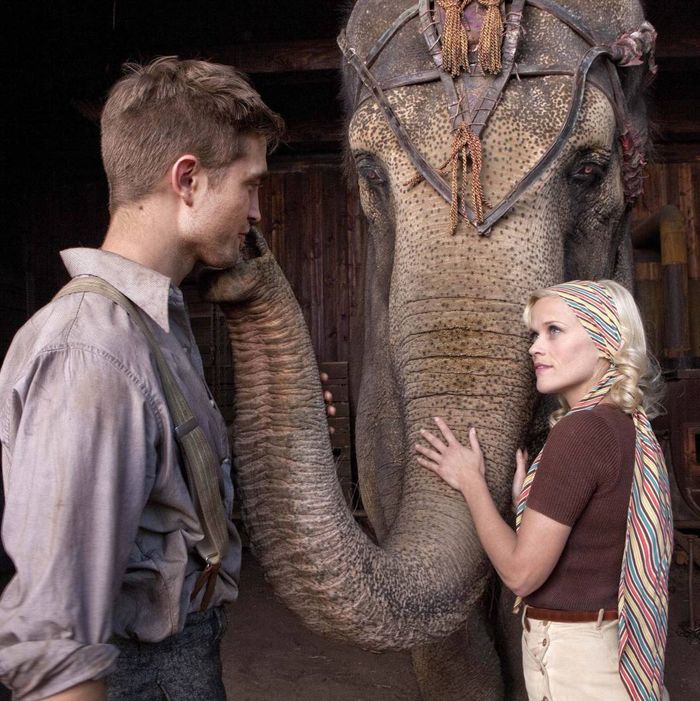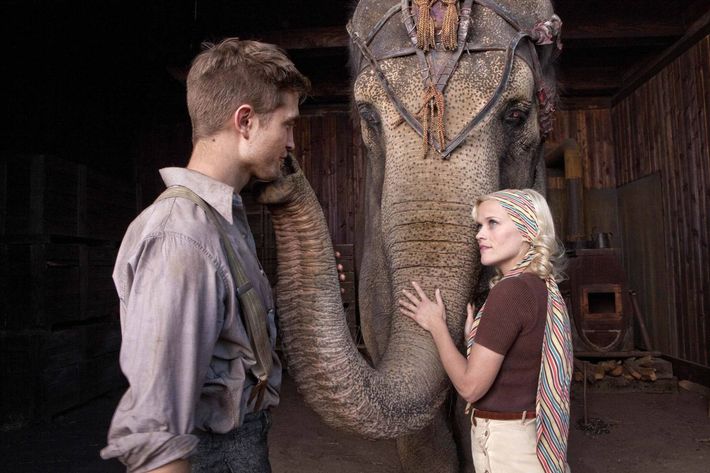 Water for Elephants, Francis Lawrence's glamour-soaked adaptation of Sara Gruen's Depression-era circus novel, stars Robert Pattinson's Stubbled Jawline, Robert Pattinson's Furrowed Brows, Robert Pattinson's Supple Lips, and Robert Pattinson's Tousled Hair. In supporting roles are a talented elephant and a blonde woman who is — let me check my press notes — yes, Reese Witherspoon.
The film begins with a bathetic Titanic-style gimmick: Jacob, a watery-eyed old coot (Hal Holbrook), is telling his story to a young carny, his crackly treacle abruptly segueing into Robert Pattinson's earnest monotone, circa 1931. Mom and Dad die, and he can no longer afford college, so Jacob hops a train and finds himself in a car of the Benzini Bros. circus. He falls for their star showgirl (Witherspoon) and clashes with her monstrous husband (Christoph Waltz). Mostly, though, he models outfits, including a suspiciously contemporary leather jacket.

The world's most famous vampire is curiously toothless as the kindhearted, parentless, animal-loving, veterinarian-wannabe Jacob (Team Jacob!), a sensitive soul not meant for this cruel world and clearly engineered for some tween's scrapbook. His two defining traits? He likes animals and thinks mean people suck. In keeping with the oddly pristine Depression-era circus he joins, Jacob's rough edges are entirely cosmetic: He's stubbled, not stirred. Emotional range would be wasted, however. The camera doesn't so much propel the story forward as orbit Pattinson's head, like a reverent CAT scan. Even when Jacob is bludgeoned and beaten, the fake blood is artfully applied, the better to enhance his chiseled features.
In fact, Pattinson's beauty crowds out just about everything else. The gifted elephant is mostly seen as a Gaussian blur of crackled skin. The carnies are wallpaper, either loyal sidekicks or vicious meanies. Most unexpected, Reese Witherspoon, one of Hollywood's most bankable stars, plays little more than a simpleton victim, a wisp in satin costumes. Her few lines could fit into a peanut shell. As her cartoonishly evil ringmaster husband, Waltz offers a limp variation on his Oscar-winning performance in Inglourious Basterds.

Three years before Water for Elephants takes place, Charlie Chaplin released The Circus, another romance about a man who woos a horse-riding showgirl while attempting to rescue her from an abusive ringmaster. That film's unforgettable final shot — Chaplin sashaying into the horizon with an indefatigable little skip in his step — was poignant because the cockeyed Tramp had just watched his love fall for a bland, tightrope-walking jock named Rex, whose main virtues were his jawline, tailored tux, and vanity. Eighty-odd years later, Hollywood seems to have learned exactly the wrong lesson: Ditch the Tramp, keep Rex.