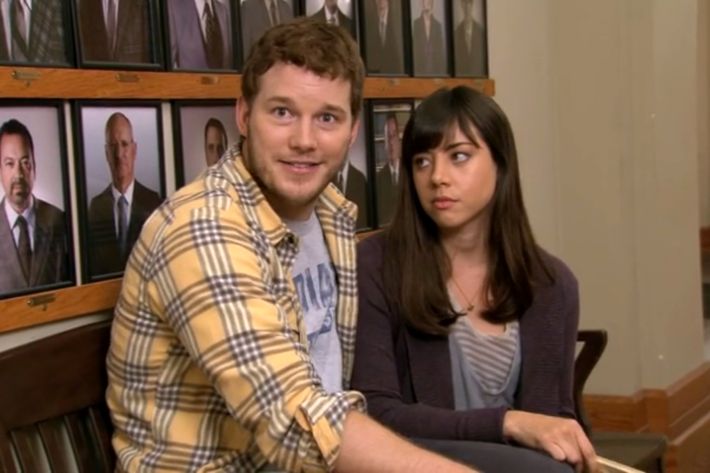 When Parks and Recreation is remembered, it won't be as an innovator. It doesn't subvert the form or play with genre conventions or tackle prickly social mores or pride itself in being about nothing. It's a workplace sitcom, populated by a small, colorfully mismatched coterie of characters who spend more time together than actual co-workers ever would, which just happens to be infinitely better written and acted than the other 4,338 sitcoms that have attempted to do this. But that doesn't mean it can't surprise.
Andy and April are celebrating one month of dating with a dinner party at their friend Burly's house because that combines two of their favorite things, like Xbox pancakes. Everyone is assigned something to bring ("cooked steaks"), and the happy couple quickly explains to Leslie their true motive for getting everyone together: They're getting married.
Leslie's reaction is the audience's reaction: This is a terrible idea, impulsive and reckless, they don't even know each other's middle names (Maxwell and Roberta, FYI), and it's going to end in flames and ruin their lives. She tries to appeal to common sense, but this is the one thing they are happily lacking in. (Well, that and a place to live.) No one else is overly concerned — Tom is excited when Andy asks him to be his best man, then less so when Andy proceeds to ask a half a dozen others in attendance to also be his best men, including Ron — whose tooth-pulling gag in the opening may have been responsible for getting "Ron Swanson" (then, even better, "Rob Swanson") to trend on Twitter last night — and Chris Treager, whose presence in Pawnee isn't really explained.
The wedding does indeed happen, the groom resplendent in the Reggie Wayne jersey April got him, the bride in white, and even the cool, rational Leslie can't deny them. The justice of the peace dude (she's not really a dude) declares them husband and wife, Chris dances amazingly to "Jump Around," and toasts are delivered by seemingly everyone but Tom, who enlists Jean-Ralphio for tips (it's true, Fred Claus is unmined Vince Vaughan gold). Ron, who's been married two — make that three — times, hands Leslie a glass of wine on the front porch and tells her there's nothing she or anyone could have done to dissuade a couple of dumb, sweet kids in love. He also offers handy tips on how to burn an ex-wife effigy. (The secret ingredient is paraffin!) But ultimately, Leslie's not as concerned as she is jealous — Ben is deciding whether to go back to Indianapolis or take a job with Chris in Pawnee, and she's taken aback by how much she wants him to stay (none of this is said: You can just see it on Poehler's face).
April and Andy might be the most convincingly matched and resoundingly sympathetic couple in sitcom history, and for all the understandable comparisons between this show and its forebear, The Office, look at the differences in how this relationship has been treated versus that show's resident kewpies, Jim and Pam. Yes, the latter's tortured, prolonged courtship was modeled on Tim and Dawn from the original series, but by the time they got around to the one-hour very-special-episode four or five seasons in, fatigue could be excused. After a respectable will-they-or-won't-they period, the show up and married Andy and April off, as if to say, "You know what? These guys are sorted. Moving on." And maybe it won't be as simple as that, but this show, thank goodness, doesn't have it in it to marry them just to create chaos; Parks is kindhearted to the core, and if the life-ruining that Leslie fears comes to pass, then angry letters will follow. Mine first.
Not present at the wedding celebration is Andy's ex-girlfriend Ann, who is still a character on Parks and Recreation for reasons that the show itself seems increasingly unable to answer. Still heartbroken over Chris, she attends a singles night, and even though she's real cute, she's too insecure to talk to men, so she gets help from sassy Donna, and then something happens after that I think, and all this is as rote as it sounds. God bless you, Rashida Jones's agent — you know how to draw up an ironclad contract. Jones herself is never a chore to watch — far from it, and it can only be assumed she's equally charming to work with — but her character is on a workplace comedy and doesn't work in the workplace, nor is she still dating either of the two men who work in the workplace and the plotline that otherwise connected her to the Pawnee parks department has long since been abandoned. (That a panicked Leslie calls her and introduces herself as Leslie Knope from the parks department seems to be at least a tacit admission that Ann's connection to the affairs at hand is tenuous.) The Parks and Recreation writers are the smartest in the business, and even they seem at a loss as to what to do with Ann Perkins. Maybe the ER can be razed for a new playground? Or everyone can get the flu again, but worse, kind of like The Stand? Or she can start a torrid extramarital affair with Jerry and his new party shirt? Just spitballing — call me, Michael Schur.
Ben, of course, takes the job and stays on in Pawnee. And now that his inevitable relationship with Leslie moves squarely into the central will-they-or-won't-they-but-really-just-when-will-they spot, the show will inevitably treat them with as much dignity and ingenuity as they've expended on the Ludgate-Dwyers. The bar is high, though.