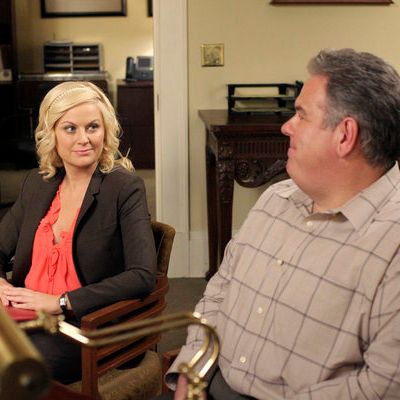 Photo: Ron Tom/? NBC Universal, Inc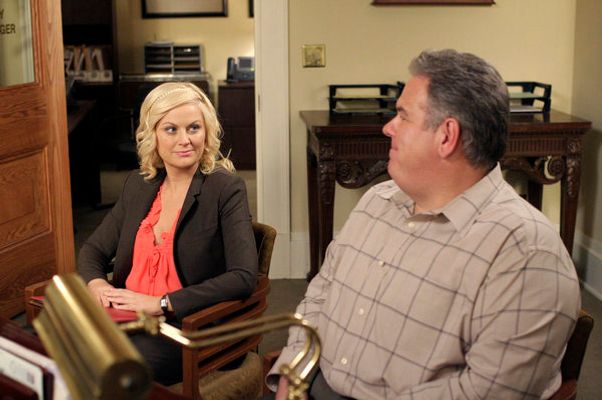 In last week's recap — that's right, we're recapping a recap, Thursday-night NBC comedies are giving us meta fever — one point that raised two or three hackles was the suggestion that Amy Poehler has never been called upon much to play sexy, and that Leslie's budding relationship with Ben gives a chance for her to show that side in a way that doesn't feel out of step with the heretofore somewhat hapless character. (We are paraphrasing.) Her rapport with Louis C.K.'s Officer Dave was sweet in a bumbling way, but it didn't have the tension that her scenes with Adam Scott are starting to develop. (Worth noting: Seems like forever ago, but when it was revealed in the pilot that Mark had slept with Leslie, we were meant to believe that this was an embarrassing thing for a man to have done.) The very excellent "Jerry's Painting" takes that tension and runs with it, showing a Leslie Knope who isn't just confident but actually cool, and maybe more than a little bit horny.
Ben and Leslie are both openly frustrated with Chris's rules against fraternization, which apparently don't preclude Chris from using his talent for matching people's best qualities to set Ben up with a woman who works in the statehouse. Leslie is even so out of sorts that she gives up a chance to deliver the opening remarks for the nature art show at the rec center and begs Ron to cover for her; it is Nick Offerman's only real scene in the episode, and yet it's a pitch-perfect soliloquy that encapsulates the Swanson credo as perfectly as any the show has offered, which is saying a lot. ("There are many paintings in here, some are big, some are small.")
Jerry's artwork has taken a turn toward the impressionistic since Leslie threw his landscape into the lake in the season premiere. His painting shows a topless, braided Centaur, Diaphenia, who looks an awful lot like Leslie, flanked by a fat brown baby cherub (Tom). Though she's initially taken aback, Jerry's explanation — that he'd been thinking a lot about powerful women and she must have entered his subconscious — is the precise bit of validation she needs. She shows up for work the next day with a braid in her hair and a brassy demeanor. But Marcia, town morality cop, doesn't just want Chris to ensure that the painting is never hung in a public building, but that this animal pornography is destroyed.
Ben decides it's time to move out of the motel he's been in for the past seven months but has nowhere to go. April and Andy need a roommate to replace their departed friend Burley, who paid most of the rent and did all of the cleaning. Ben agrees to April's amazingly deadpan house rules but almost immediately regrets it, especially once he sees the newlyweds eating turkey chili for breakfast out of Frisbees, sharing the house's lone fork. Ben must play Henry Higgins to their Eliza Doolittle, teaching them how to live like humans, if not adults, and gives them cash for a much-needed Bed, Bath and Beyond excursion. They blow the budget on the As Seen on TV products — ;is there really such thing as a marshmallow gun and may I please have one? — before Andy realizes that they actually do need some of the staples on Ben's list and it won't make them any less themselves.
Once again, Leslie is in the middle of a morality debate in Pawnee, and her appearance on Ya Heard? With Perd muddies the issue while giving the world a new definition of pornography, via local adult-film star Brandee, and with it, one of the greatest pregnant pauses in sitcom history. Leslie is shocked when the arts panel she gathers actually votes to have Jerry's painting destroyed. She steals it from the gloating Marcia and brings it to April and Andy's house, apparently because it's close by … because when you're trying to hide controversial contraband from an angry government official, trust the guy who just ate a pen to stash it safely. But really, this is just an excuse for Ben to try to not look at topless Leslie.
Ultimately, Leslie turns in the painting to Chris and Marcia, although it's been altered — the centaur is now a strapping, bare-chested, ripped, penis-free Tom Haverford, and suddenly the painting isn't pornographic anymore. But Leslie's learned a thing or two from her sudden immersion in mythology and becomes a trickster. The original painting, her lone source of empowerment in the face of Chris's infantilizing social policy, is still intact. As is her power.