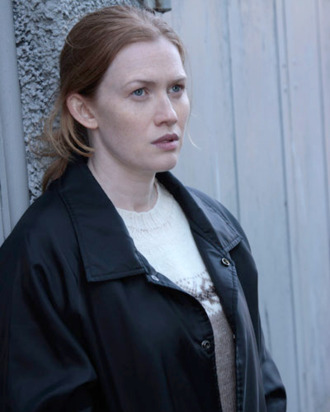 Photo: Chris Large/Copyright: AMC 2010
Sunday was a big night for cable premieres: AMC launched The Killing while Showtime and Reelz battled it out with their respective loosely-based-on-history epics The Borgias and The Kennedys. Predictably, all three networks labeled their shows hits. But how'd they really do? Let's break down the numbers.
Over on AMC, the network's first procedural crime drama drew the biggest overall audience among the cable openings — but it was a somewhat older-skewing crowd for the network. The two-hour debut of The Killing attracted 2.7 million viewers from 9 to 11 p.m., making it the second-largest night one for an AMC drama (The Walking Dead remains safely No. 1, bringing in over 5 million viewers with its bow last fall). The Killing did far better than the now-canceled Rubicon series premiere and even compared favorably to recent season premieres for Breaking Bad and Mad Men. But while Walking Dead brought hordes of young folks to AMC, The Killing seems to have more older adult appeal: Its overall adults 18 to 49 audience was 891,000. That's better than the 663,000 adults 18 to 49 who watched the most recent premiere of Breaking Bad, but well below the 1.2 million adults 18-49 viewers for the last Mad Men bow.
Showtime's sexy costume drama The Borgias continues that network's winning streak among subscribers. Just under 1.1 million folks (out of around 18 million Showtime homes) watched the first airing of the series, which is 22 percent higher than the premiere of The Tudors a few years back and even better than January's premiere of Shameless (982,000 viewers). Bottom line: The Borgias is Showtime's biggest drama debut since 2004's Dead Like Me.
Finally, viewers focused on all the hype (and not the awful reviews) for The Kennedys: Apparently 1.9 million folks managed to find Reelz on their cable dials, according to a release from the network. It says the first part of the controversial mini-series was the biggest tune-in ever for the network (well, duh). Assuming Reelz is correctly reporting the Nielsen data, the number is pretty impressive when you consider the fact that the channel is seen in only 56 million homes (vs. nearly 100 million for a fully distributed network such as AMC).