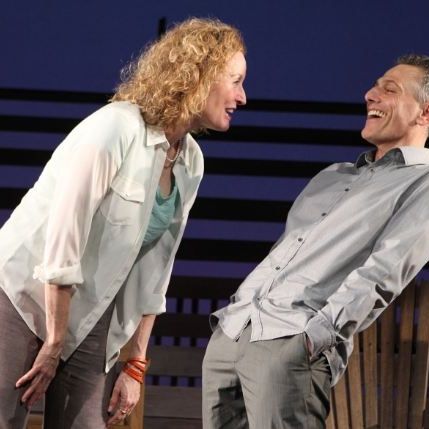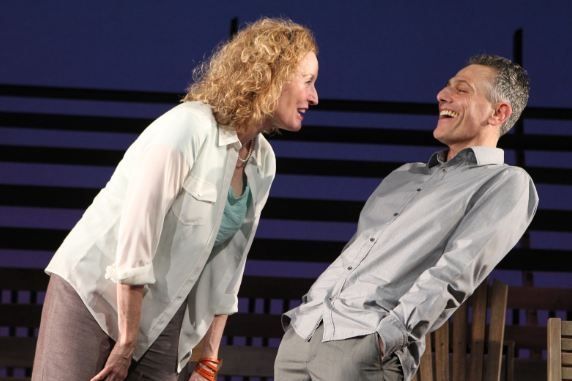 Go Back to Where You Are (at Playwrights Horizons through May 1)
Theater folk, a beach retreat, a lonely playwright, and the Puckish demon-spirit of a long-term chorus boy from ancient Greece: Sounds like quite a weekend, though it's less eventful than you'd imagine from that description. David Greenspan's self-annotating, promiscuously Pirandellan melan-comedy marshals a lot of meta-machinery (some of it delightful, some of it distracting) to tell a fairly simple story of love lost and found, roles played and cosmic typecasting defied, against a backdrop of tidal mortality. Greenspan himself plays the demon, Passalus, sprung from hell by God himself to disguise himself in various fleshly vessels and aid a character who never shows herself onstage. While he waits to fulfill his (rather aridly sketched) divine mission, he's doomed to eavesdrop on the unhappy inner monologues of the other guests (an aging diva, an aging character-actress, an aging director — you get the idea). But Passalus can't bring himself to play his role as it's written, and neither can anyone else — all the characters break the fourth wall regularly to appeal for a rewrite. Ominously quiet is the playwright Bernard (a deadpan Brian Hutchison, underplaying almost to the point of suspended animation), who's recently lost his lover and now battles a lifetime of disappointment. Surrounded by lives of quiet coastal-yuppie desperation, Bernard tries mightily to write himself a happy ending. Your ability to enjoy it with him depends in large part on your opinion of Greenspan as an actor: The latter half of the play is dominated by his peculiar charms, and if you feel (as I do) that he's a bit furtive and aloof, even when as he begs hammily for your laughs and your love, well, you're unlikely to find yourself entirely won over. Something about Greenspan's spotlight presence in his own self-deconstructing fable feels like one authorial indulgence too many, but Leigh Silverman's austere direction helps keep him in check. Go Back feels both emo and elusive, and its moodiness often sits ill with its playful conceit; nevertheless, it's an ambitious little work of clever tonal harmonies and dissonances. Like certain restless spirits, it might need to be revived a time or two to see its true potential released.
Urge for Going (at the Public Theater through Sunday)
There's many a play about the antsy optimism of the young contending with the coagulating fatalism of the old; there's many a play about kids cutting themselves to ribbons in the bear traps their well-meaning parents unwittingly set for them. But there aren't many plays that replant this age-old struggle in a Palestinian refugee camp near Lebanon's embattled southern border with Israel. In Urge for Going, Jamila (Tala Ashe) is the ambitious teenage daughter of defeated academic Adham (Ramsey Faragallah), a Wordsworth scholar whose budding career ended abruptly after his family was de facto evicted from the West Bank during the 1967 Arab-Israeli War. (Also known as the Three Days War — but even the name of the conflict is a point of contention for Jamila's squabbling extended family, all the members of which are packed into a small shack with spotty electrical service and one tiny TV that's always playing reruns of Baywatch.) Jamila, born in the camps and essentially apolitical, is struggling to complete her exams for an exclusive school in Damascus, her first step toward the middle-class life her father was denied. Adham is constantly, quietly, half-consciously undermining her: He's obsessed with the motif of "return" in Wordsworth's "Tintern Abbey," a proxy for his inability to cope his status as a permanent exile. (Underlining the stakes here, but also getting underfoot a bit, is Jamila's older brother Jul [Omid Abtahi], a promising kid permanently disabled by a Lebanese checkpoint guard's truncheon.) This is a small play on a big theme, and its neatness and symmetry can't quite elevate itself past Very Special Episode status. But Mansour is unafraid of the music of human speech, its pitches and dynamics, and she's good at getting us comfortable in an uncomfortable world, then unsettling us just as quickly with flashes of violence and incalculable despair.