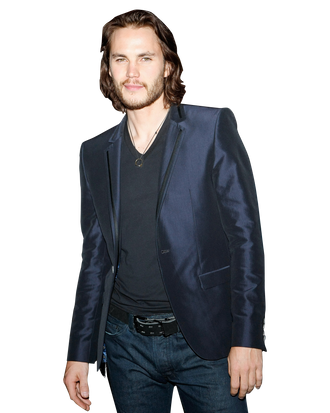 Photo: Ethan Miller/Getty Images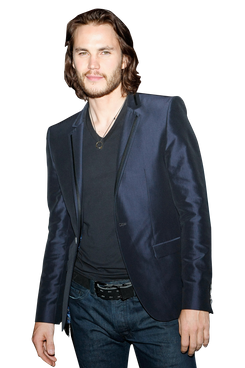 Taylor Kitsch is either on the verge of megasuperstardom or some vicious strain of overexposure. The final season of the show that made him a lusted-after TV icon, Friday Night Lights, has already had its DirecTV finale, but the final season just premiered on NBC. He's already wrapped the megablockbuster Battleship with FNL creative guru Peter Berg, just signed on to Savages with Oliver Stone, and called us shortly after leaving the set of John Carter of Mars, a hugely anticipated reimagining of the Edgar Rice Burroughs story that will be the live-action debut of Pixar god Andrew Stanton (Wall-E). Long before those films hit theaters, he's taking Bang Bang Club to the Tribeca Film Festival. In Steven Silver's intense film, set in the everyday blitzkrieg of unraveling Apartheid South Africa, Kitsch stars opposite Ryan Phillippe and Malin Ackerman as Kevin Carter, the photojournalist whose image of a poor child being stalked by a vulture won a Pulitzer Prize, not long before a distraught Carter killed himself in 1994. Kitsch says the part, for which he lost 35 pounds and eventually sought psychiatric counseling, was a dream come true.
You're working on John Carter right now. Have you seen any of the CGI?
He's got a good chunk of minutes cut, but I just won't watch it until it's done. They want me to watch it, but I need to wait a bit. I don't want to get all fucking mind-fucked for it. It's hard watching myself, so I just gotta trust that they're killing it in post.
How is Stanton doing the aliens? Are there four-armed, super-tall green guys?
He's made it his own, but they're definitely honest to the books. And Willem Dafoe [who plays an alien] is up on stilts, doing his thing, just killing it.
Then there's Battleship, which everyone is gossiping about. Can you explain the actual plot?
There's definitely a heartbeat in this one as well. There's two brothers. When you first meet me, I'm a guy who has zero purpose or drive, and my brother [Alexander Skarsgård] kicks my ass through the Navy … and then it's just chaos.
And Rihanna is acting. What does she do?
She's a weapon's officer, my right-hand gal, basically. Just annihilating everything that moves, more or less.
And then there's Savages, with Oliver Stone.
It's going to be raw as fuck, man; it's Oliver Stone. I'm playing Sean, the Navy Seal who's come back from Iraq and Afghanistan, and is quite jaded, to say the least. I'm just excited to go shadow these Navy Seal cats in San Diego and just really fucking get into it.
Friday Night Lights has already had its series finale on DirecTV, but it's only now having a finale on NBC. How does it feel?
I think it's fun to relive it. I think if it's a piece of shit, you'd want it to go away. But it's not. The integrity of that show never wavered.
The ladies love you. Women's blogs went crazy celebrating your birthday. One site, The Hairpin, invented beer Popsicles in your honor. Do you enjoy that?
I mean, it's flattering, man. I know I'll be fat and bald soon, so I'm going to wring that cloth for everything it's worth. I'm just going to keep doing my thing. I never really changed, and I don't see that happening anytime, either.
You've said your role in The Bang Bang Club was your "dream role, the most challenging of [your] career." Can you unpack that for me?
It really was. I didn't have much time to lose the weight, grow the beard, do the accent, and do this guy the justice he deserves. It was hell for me, man.
What was hard, specifically?
Losing all that weight so quickly was very tough on my body. I had a bunch of kidney problems. I lost around 35 pounds in two months.
How'd you do that?
It wasn't smart. I tried to run at least ten miles a day on fruit and coffee. Just barely any protein — I was ripped at the time, so I had to lose all the muscle. I remember doing the physical in Texas, and because I was running so much, I had a very low heart rate, and it got super low. The doctor couldn't find it, and then finally he found it and goes, "If I write down your actual heart rate, you're not going to do this film." So I went and did some push-ups and got it up to a reasonable number. I literally didn't have the energy to walk around the mall.
So that was physically, and then just the challenge emotionally to get there every day for Kev: The last few scenes, he's just a wreck, and to play that honestly, it just took a lot out of me. You almost fucking kill yourself to get there. You need counseling, you need all this shit to come out of that character.
You really had to do counseling?
I did, yeah. Maybe a bit too Method, I guess, because he is suicidal. You just try to reengage slowly with family and close friends, you know. Because you just go on this crazy endeavor and then all of a sudden, a day later, you're back in Austin, Texas, going for your morning coffee at your place, and you're like, "Man, what just happened?" I was super skinny, and I just got this whole new weird tool set that I didn't know how to use.
There's a parallel between photojournalists and actors who step into these political, historical roles and get criticized for profiting personally. Like other actors, do you try to reconcile that by getting involved as an activist?
I don't think it's ever a reconciliation for me if I'm involved in a charity. I think, for me, it was telling the story of Kev Carter and being honest. I don't want him to be remembered as just that drug addict, what people may peg him as. I agree, everyone is exploiting something at one point. But what's the final price? That picture helped raise millions upon millions of dollars and created awareness worldwide. And all these people, sitting on their couches, judging. These are the people ripping into Kevin's shit, but I don't see them taking a fucking tiny little propeller plane to the Sudan in the middle of the civil war and risking their own life to take a picture. You know?