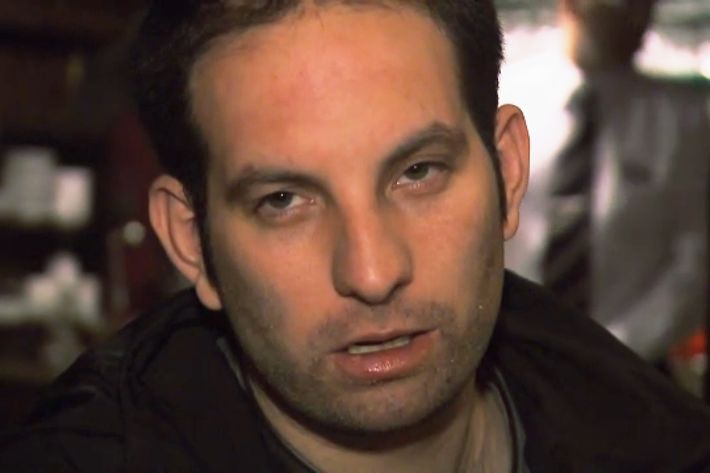 Last night's Amazing Race took our racers through three different countries: Austria, Lichtenstein, and Switzerland, with no rest for Easter Sunday. Kent and Vyxsin announced at the start of the leg that they had been "bickering like bratty little kids" and would stay positive from now on, but things didn't go so well the last time they said that. So, last night's first lesson? If your hair is pink, don't say you're going to be positive from now on, because it won't happen. The episode also taught us a lot of lessons that seemed obvious, yet the teams struggled with them anyway.
Learn How to Read and Follow a Map
As soon as the teams arrived in Lichtenstein from Austria, they were tasked with riding a motorized bike along the entire length of the country, using a pedometer to guess how long they rode. Luckily for them, Lichtenstein is only about 22 kilometers long, which is roughly equal to the length of Manhattan (we're really good at math Google). Thanks to the motor, no teams struggled physically with this pretty cool task, but instead just struggled with getting around, despite what looked like a fairly clear map and lots of street signs. Some teams got lost, some teams couldn't read their maps, some teams dropped their maps, but almost all guessed 22 kilometers correctly — all but Jet, who guessed 35 and had to go all the way back to the start and do it over, leaving Cord as the "lone ranger" at the finish line. To be fair, singing Flight Time got a leg up from his buddies Kisha and Jen, who told him the correct answer, which he then passed on to speed-bumped Gary. Sub-lesson: Be nice to all the other teams, because they'll help you out when they're way ahead.
Don't Fill Up on Bread*
The racers then left Lichtenstein for Zematt, Switzerland, at the base of the Matterhorn, where they immediately hit the detour: Cheese or Wheeze. Zev and Justin and Kisha and Jen got there first and picked Cheese, which required teams to finish a pot of fondue, because they were hungry and because fondue is awesome. Kisha and Jen gave up early owing to a stomachache, but Zev and Justin pressed on, with Zev making the first of his many amazing fondue puns, including, "I'm not very fondue of this fondue" and "It's nice to fondue you," while Justin made weak threats like, "I'm going to kill you for this, you know that, right?" and "I'm doing what I can right now, okay? I'm trying not to projectile vomit all over you." But vomit he did, because of a crucial error — they kept wiping drippy cheese off the bread pieces! If the task is to finish the cheese, then loading as much cheese as possible onto as few pieces of bread as possible would have left them a lot less nauseous.
*Also a life lesson that our father repeats every time he takes us to dinner.
Keep Everything You're Given in a Safe Place, Especially If You Know You'll Need It Later
The other half of the task, Wheeze, had the teams deliver twenty pieces of luggage from the train station to at least five hotels and then present the twenty luggage tags to a bellhop at the station. Most teams only struggled a little with the awkwardness of all those bags, but they caused Kent and Vyxsin quite a bit of strife, whining, and fighting. By the time they finished, Vyxsin just put Kent in the empty cart and wheeled him back to the station, perhaps in an attempt to stop his whining and keep herself from calling him stupid and a girl. The cowboys arrived late and yee-hawed their way through the streets as they fought to catch up to the Globetrotters, who lost some of their luggage tags and had to go back and deliver more to get to twenty.
It Is Acceptable to U-Turn Someone If It Saves You From Elimination
Despite the vomit, Zev and Justin were able to finish first again (their fourth time this season), winning another tropical getaway. Kisha/Jen, Kent/Vyxsin, and Gary/Mallory easily reached the pit stop, but the cowboys and Globetrotters ended up racing to the last clue and Double U-Turn. The Globetrotters found it first (just barely, based on the editing), and U-Turned the cowboys to ensure their safety. We normally frown on U-Turning as it's usually done spitefully, but as it is likely the Globetrotters would have gone home otherwise, we're okay with this instance. The cowboys did the other detour even though they knew they were last, and thus went home rather gracefully as the credits rolled to their theme music one last time, and our mom, watching with us as we recapped from Easter at home, exclaimed, "They still can't get rid of Pinky?!"
Next week our teams stick around the Matterhorn. Look forward to a lot of struggling with cold and snow, some painting with chocolate, and the Globetrotters getting into a showdown with "Pinky."