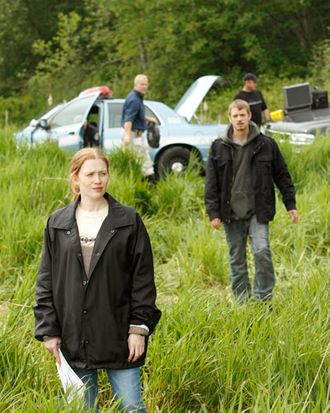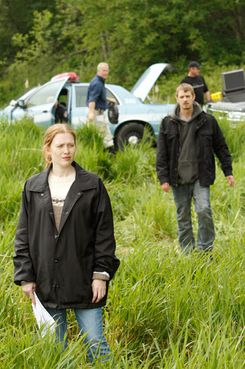 Last night AMC premiered its latest series, the serious-minded murder mystery The Killing. (You can watch the first episode here.) Based closely on a Danish show (that just got super popular in Britain), the drama focuses on the murder of a teenage girl from three perspectives, that of her family, the police, and local politicians. AMC has a pretty great track record in airing shows we want to watch (give or take some Rubicon), but how does The Killing compare? We decided to break The Killing down into its component part, and add them all up again to give you a scientific (hey, we're using mathematical operations here!) sense of the show.
The Killing =
(Prime Suspect's tough female detective / The Good Wife's working mother)
+ Twin Peaks' Northwestern inclement weather
+ ((Damages' season-long focus on one convoluted case / State of Play's untrustworthy politician) / Mad Men's stately pace)
+ (A detective who sounds like he's from The Wire + a mayoral candidate who looks like Tommy Carcetti - black people)
+ (Skins' portrayal of bad teenage behavior x Law & Order: SVU's portrayal of the consequences of bad teenage behavior)
+ (Grieving parents on TV shows like ER, Criminal Intent x 13 episodes)
Did we miss any key integers?