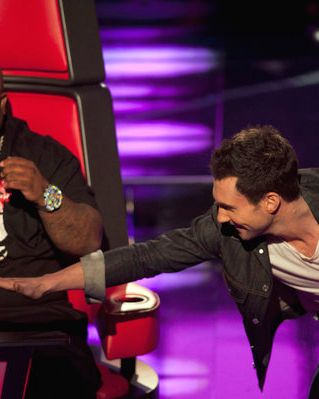 They'll be blaring Xtina's "Fighter" throughout the halls of 30 Rock today: NBC's The Voice came through loud and clear with viewers. Per Nielsen, just under 12 million people watched Tuesday's insanely hyped premiere episode; even more important, the series scored a 5.1 rating with adults 18 to 49. That was big enough to beat the final 30 minutes of Fox's supersize Glee (from 9 to 9:30 p.m.) and all of ABC's Dancing With the Stars in the demo (though DWTS, with more than 15 million viewers, drew a larger overall audience). Tuesday's performance made The Voice the biggest series to premiere on a broadcast network (at least in the under 50 demo) since Undercover Boss — and that bowed after the Super Bowl. So does this mean NBC has a monster hit on its hands?
Well, maybe. What can't be predicted right now is whether The Voice will cool down after its premiere — as many super-promoted new shows do — or whether it might actual build based on word of mouth and buzz. That's happened in the past with reality shows: Idol and Survivor premiered solidly back in 2001 and 2000, respectively, only to grow even bigger over the weeks ahead. It's a far more crowded environment for reality shows these days, however, and NBC's would-be hit is launching just as the May sweeps get under way (top-rated CBS was in repeat mode last night but won't be for the next month).
Still, there are plenty of good signs for The Voice. For one thing, it grew each half-hour it aired, starting at a 4.6 in the adults 18 to 49 demo at 9 p.m. and finishing at 5.4 by 10:30 p.m. It's also interesting that, while The Voice did nicely in overall viewership, it did really, really well with younger viewers — so well, in fact, that it actually beat the final half-hour of Glee in both teens and women 12 to 34. The show will also continue to benefit from enormous promotion from all of the NBCUniversal cable properties, including E! (could be awkward seeing Seacrest throw to a puff story on The Voice), as well as plenty of goodwill from an entertainment media that seems to be embracing the idea of an alternative to Fox's big, bad American Idol and Simon Cowell's already overexposed The X Factor (pick your judging panel, already!).
But the best news for NBC regarding The Voice? It's proven that the tattered Peacock can still successfully launch a show. Some industry insiders had worried the net's ratings had fallen so far, it might have lost the ability to draw a crowd for anything. Clearly, that's not the case — and new NBC chief Bob Greenblatt (along with his Kabletown bosses) is no doubt a very happy man this morning. Now, if we could only figure out just what the hell Xtina was writing in that notepad all evening?