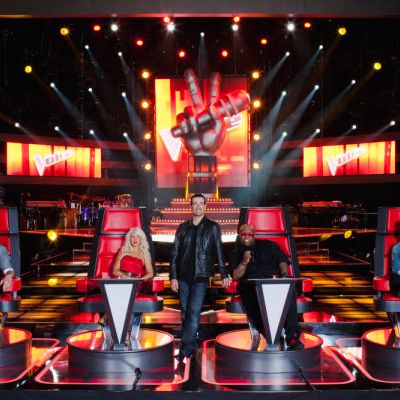 Photo: Chris Haston,Chris Haston/? NBCUniversal, Inc.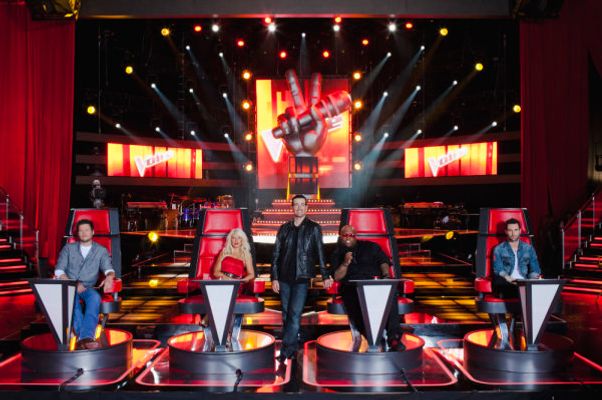 We're still more than a month away from crowning the next American Idol, but NBC is undeterred: The House of Peacock has decided what this country needs right now is … another musical competition designed to find/manufacture a pop superstar. It's called The Voice, and it's technically based on a Dutch format which debuted last year; in truth, it's just a slightly tweaked version of The X Factor, a much older international TV format that's headed to Fox this fall. When NBC first announced it was mounting The Voice in December, we pretty much wrote it off in our minds, thinking there was no way American viewers would want to deal with an Idol-like series during the height of Idol season. But then the network went and hired a pretty impressive roster of celebrities to serve as judges/coaches: Cee Lo Green, Christina Aguilera, Adam Levine, and Blake Shelton. Tonight — following an exhaustive marketing campaign highlighted by relentless ads on all of the Kabletown networks and Soviet-style propaganda billboards urging viewers to "Demand a Better Voice" (not-so-subliminal message: Idol sucks!) — The Voice shall finally be heard. But should you watch? Based on a preview screening NBC held for reporters Monday, we've come up with a guide to determining whether The Voice will have you hitting Xtina-worthy high notes or bellowing "Fuck You" to your flat screen.
You Will Like The Voice If …
You're not satisfied with the talent level among this year's Idols.
Tonight's premiere introduces less than half of the eventual field of 32, but there are already a couple of contenders who could easily take on any of the remaining Idol wannabes. The difference on the country side is most dramatic: We counted three heartland-friendly acts whose vocal skills underscore why Idol's Scotty is all hat and no cattle, including one chubby 22-year-old who's an early front-runner. Bonus: Unlike Scotty, all of these contenders know the proper way to hold a microphone.
You never want to hear another purposely bad tryout.
Idol dramatically cut back on the comically awful auditions earlier this season. But The Voice goes one better and doesn't subject us to any delusional or fame-seeking souls. There are some unlikely contestants — a New Jersey mom who no doubt secretly fancies herself the next Susan Boyle, for example — but even these would-be stars demonstrate a minimum level of proficiency.
You like your pop-star wannabes to have some vague recollection of the early seventies.
There's no upper age limit for Voice contestants, which allows for a few singers with actual Hard Luck Stories to get a chance in the spotlight. There's the bald lesbian, for example, who belts out (a bit predictably) a pretty good Janis Joplin cover. While most of the talent pool is still young and pretty, the variety of ages helps break up the monotony of the audition round. We still suspect the winner of The Voice will be well under 30 and — title be damned — be a very good-looking person.
You believe in network karma.
For years, Fox reality chief Mike Darnell made a habit of quickly copying other networks' reality ideas. When NBC recruited Mark Burnett (now producing The Voice) to do a boxing reality show called The Contender, for example, Darnell tried to beat NBC to the punch by fast-tracking The Next Great Champ (they both flopped). He rushed to beat ABC's Wife Swap with his own Trading Spouses. Now, however, it's NBC that's trying to out-Fox Fox: Network insiders have conceded that the whole reason The Voice is being rushed on now is so that NBC can try to get in front of Fox's Simon Cowell–led X Factor. Such brinksmanship rarely results in good TV, but, if The Voice should somehow steal X Factor's thunder, it would be appropriate payback for Darnell's past sins.
You Won't Like The Voice If …
You were hoping for judges who offer more than clichés like, "You really made that your own."
Because, yes, the celebrity officials on The Voice actually say "you made that your own" at least twice during tonight's premiere. And in general, they offer very little criticism of contestants, whether constructive or Simon-style bitchy. Worse, you'll also have to put up with contestants offering shameless flattery toward the stars. Those auditioning often have to choose between coaches, and in doing so, they inevitably feel compelled to rationalize their decisions: "Xtina, you're a goddess! I used to rock out to all your songs! But I'm just feeling Cee Lo more." Can't we all just not get along?
You're tired of oversinging.
Just about everybody on The Voice sings like they were dying: Loud, dramatic, over-the-top. Even when an act is ostensibly a quiet folk duo, the singers choose to cover the super-dramatic "Falling Slowly" from Once. It's sad Mariah Carey hasn't ended up judging one of these competitions, because almost all of the contestants pay homage to her melisma-ized method of overcrooning.
You don't like having social networking forced down your throat.
Not only has NBC added a silly online host (perky Alison Haislip), but The Voice annoyingly flashes alleged tweets from the coaches and host Carson Daly on air between performances. As if that weren't enough, NBC is copying Fox by superimposing a Twitter hashtag on the screen (#thevoice), so we all know what we're supposed to be labeling our tweets about the show. This is not what Mark Zuckerberg intended when he created the social network.
You suspect that America has used up all of its unsung talent.
Because The Voice requires you to accept the theory of American-singing-talent exceptionalism. This philosophy, which has become dogma among TV execs, states that our great nation has an unlimited talent pool of pop stars just waiting to be discovered. As a result, there's no reason Idol and The Voice can't co-exist and air at the same time, closely followed by the return of America's Got Talent and the debuts of Bravo's Platinum Hit and Fox's X Factor. If you don't buy this notion, however, you can safely skip The Voice.