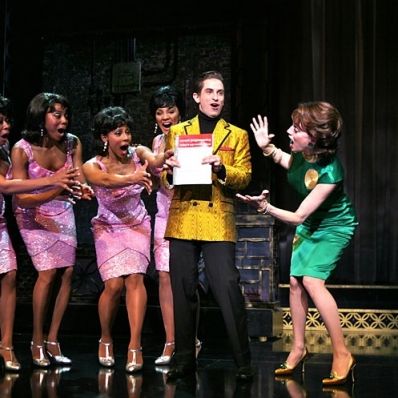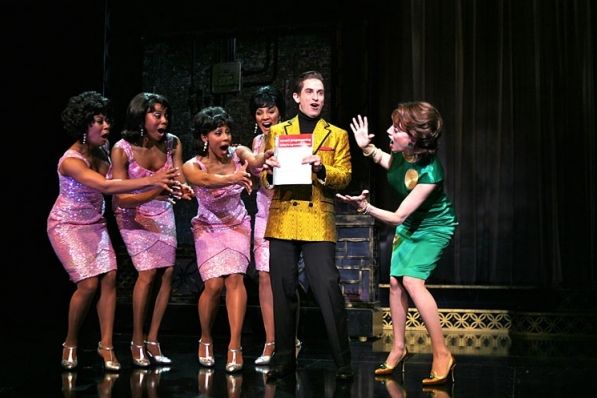 Perhaps the most expensive Miami rest-home clap-along ever produced, Baby It's You! is this season's Memphis: Another "fact-based" musical about how tough it was, back in the fifties and sixties, for those hardworking, boundary-breaking white producers who invented pop music (with a little help from some mostly-interchangeable black singers).
Granted, Baby — created and directed by jukeboxer Floyd Mutrux (Million Dollar Quartet) — is based on actual people and features actual music, not loose composites (à la Memphis) and homogenized homages: It's advertised as the story of the Shirelles — New Jersey teenagers Shirley Reeves, Doris Jackson, Addie "Micki" McPherson, and Beverly Lee — who were briefly the world's most popular girl group, with amaranthine hits like "Mama Said," "Dedicated to the One I Love," and "Will You Love Me Tomorrow." (Owing to what I suspect are rights issues, you won't be hearing that last one.) But, in its first and only narrative surprise, Baby isn't actually about the Shirelles, who function mainly as background singers: This is actually the story of Florence Greenberg (The Drowsy Chaperone's Beth Leavel), a Passaic housewife turned mini music mogul who discovered the foursome and shepherded them to fame. Along the way, she fights sexism and discrimination, embarks on an extramarital affair with her chief songwriter and business partner Luther Dixon (Allan Louis), and generally walks through all the well-trod beats of a music-biz rise and fall, minus the drugs.
There's a remarkable story here, but you'd be forgiven for missing it: The writers certainly have. They're more interested in reminding you when the story's taking place, with help from LED screens that drip with clip-art nostalgia and scene-setting screen savers. (Remember the drive-in? Doris Day? Sputnik? Hell, why not just buy Billy Joel a beer and have him sing us a string of Wikipedia entries.) This deadly stuff is delivered manfully by the show's unofficial emcee, D.J. Jocko (Geno Henderson, who also ably embodies and gives voice to Ronald Isley, Gene "the Duke of Earl" Chandler, and other lumpen rock/R&B pioneers, as needed). The Shirelles themselves, outside of their songs, are nearly invisible: Christina Sajous, Crystal Starr Knighton, Erica Ash, and Kyra Da Costa all perform to spec, even if their ages are a bit off. (They also double as other contemporary acts and artists.) Even Leavel's Greenberg, the show's ostensible focal point, takes a backseat to the set list. Mutrux (working with his Million Dollar collaborator Colin Escott) is just trying to pack in as many K-tel hits as he can, and the fact that smallish Scepter Records produced and/or distributed an astonishing number of hits in the early sixties (including Lesley Gore's "It's My Party," the Kingsmen's "Louie Louie," and Dionne Warwick's "Walk on By") gives him a good head-start. The covers are competent, never brilliant (though Henderson, heating up chestnuts like "Any Day Now," comes closest to recapturing the seat-wetting excitement of the past); close your eyes, and you can imagine yourself on the dance floor at a rather unimaginative bar mitzvah.
Still, it's hard to mind the music, considering the alternative: the less of Mutrux and Escott's book, the better. Flo and Luther's forbidden love story holds promise, but quickly degenerates into suds and woodenly written recriminations; Flo's fights with her overbearing and eventually estranged husband Bernie are basically a "who nu?" fusillade of "oy!" "zhlub!" and "meshuggeh"; and Flo's strained relations with her children (especially her blind son Stanley, played by ensemble member Brandon Uranowitz, who literally lurks in the background and is basically forgotten for entire scenes at a stretch) are of no interest whatsoever. Flo herself is a Strong Sassy Lady so plainly traced from type, you can practically see the outline perforations. Leavel bears up and sings well, but there's little to rescue here. The real Flo Greenberg was, in her own words, "a white woman who was in a black business and who couldn't carry a tune." Whereas the stage version sings her heart out — only, whoops! There's nothing in it.