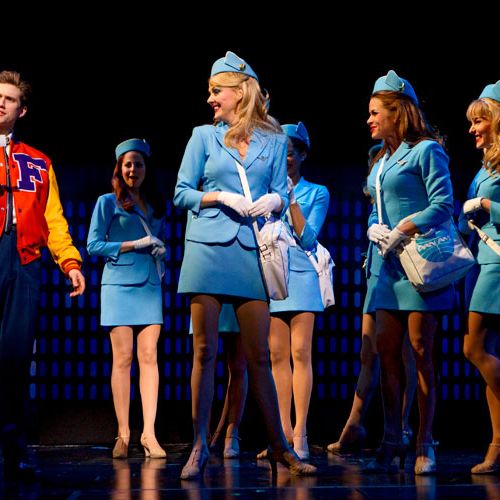 Photo: Joan Marcus/Joan Marcus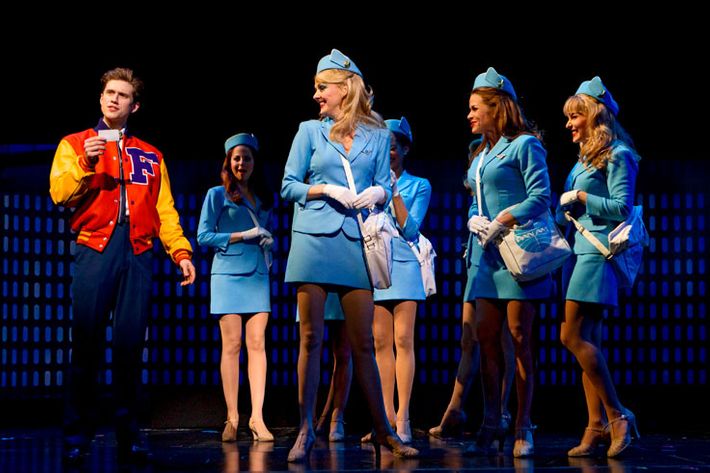 A true story about a genuine phony, Catch Me If You Can has already been a ghostwritten autobiography and a high-gloss Steven Spielberg crowd-pleaser starring Leonardo DiCaprio. Now its latest assumed identity takes it to what some might consider the pinnacle of insincerity: The incredible and often-not-credible tale of Frank William Abagnale Jr., a sixties teenager who stole millions of dollars and forged thousands of checks while flying around the globe, eluding the world's top law-enforcement agencies by posing as (among other things) an airline pilot, a lawyer, and a doctor, is now passing itself off as a splashy Broadway musical. So can we believe a word that comes out of this show's mouth, spoken or sung? What's this show trying to take us for? More to the point: Do we want to be taken?
Curiously, yes. Catch Me, a natty little boutonniere of ear-tickling pastiche and ersatz Rat Pack swagger, won't win any awards for originality: It's the story of a Great American Fake, told in the fakest performance mode conceivable, scored by the most gifted Silly Puttyist working in the theater today. (I mean that as a compliment.) But these encrusted layers of artifice don't trouble Catch Me's swinging soul in the slightest. Composer Marc Shaiman, lyricist Scott Wittman, and director Jack O'Brien (the Hairspray team), along with book-writer Terrence McNally, signal their intentions from the start: The show's structured as a variety hour (or two), a way for Frank (Aaron Tveit) to self-direct his "confession." (His dogged pursuer, FBI agent Carl Hanratty, played by Norbert Leo Butz, prefers "a misdirection.") Frank is both emcee and headline act — the show depends deeply, though not exclusively, on his ability to charm — and his musical disclosure is backed by a creamy onstage orchestra poppin' enough to knock Sinatra's ghost off his bar stool a few doors down at the Russian Samovar. Nobody's going for a long con here. They're all just looking to get you through the night, and this they achieve ("in style," as Frank promises) with flying colors and a few bonus miles left over.
The problem with Catch Me If You Can, in all of its incarnations, has always been Frank himself. He's just so goddamned adorable, this folk sociopath in Tiger Beat miniature, a kind of bonsai hybrid of Tom Ripley and Holden Caulfield. He's barely a character in his own story, cloaked as he is in the golden mythos of indomitable mid-century masculinity, the last gasp of the kind of white-hetero-male authority that needed only to wear the right stripes to walk unopposed through an arcade of privilege, sampling the wares. (Or, as we now shorthand it, Mad Men.) The leggy ladies of the "Glamazon" chorus (who morph from stewardesses to nurses to all-purpose nymphs, as Frank's fantasies demand) can't resist these antics. Seized by the acrobatic nostalgia of Jerry Mitchell's excellent choreography, they uncurl like newborn butterflies who've been doing nonstop Pilates in the chrysalis — though, interestingly, the show is actually quite chaste (nearly asexual, in fact). Frank's late-breaking love is good-girl Brenda Strong, played with admirable oomph by Kerry Butler, and where she gets the juice for her somewhat incongruously Aretha-esque eleven o'clocker "Fly, Fly Away," I have no idea. It certainly doesn't come from her scanty dialogue.
These, we sigh, were the days before brainy antihero ciphers learned to program computers and turned all Zuckerbergy and ick. But even the "real" Frank, the one beneath the fraud and the fake I.D.s, is a blank check, a creation of his own fiction and that of his admirers, and this was the point where the Spielberg movie punted — and where the musical enjoys a bit more success. Tveit has hungrier, angrier eyes than DiCaprio — they give you the feeling he wants it more, even if he's not sure what it is. McNally and O'Brien pull the How to Succeed trick of having him shoot the audience a knowing glance every time a scam falls into place, but he scarcely needs it. He's running the cues from the beginning, and even if we never quite buy him as the master of ceremonies the show's positioned him to be — even if, for that matter, we never quite buy the show's "television-show" frame, which feels as overexerted as the panting opening number "Live in Living Color" — we certainly feel him struggling to maintain control of his own spectacular spectacular.
Of course, it's the man he's struggling against who's holding up the other end of this bargain. Here, as in the Spielberg movie, the musical's creators orient Frank in a paternal love triangle: His soul is contested between two fathers. First there's the biological one, Frank Sr. (a majestically dilapidated Tom Wopat), himself a bush-league chiseler. A tippling, self-romanticizing loser who's always raging impotently against "the big boys," "the bankers," the government, etc., Frank Sr. croons his bile with Sinatran panache: Wopat's "Butta Out of Cream" is one jigger muted pathos to one jigger nicely aged testosterone, served neat. Then there's Butz's Hanratty, a committed pay-as-you-go square who can't help admiring the flashy young bon vivant he works obsessively to collar. (They're both nerds and throwbacks, really: Hanratty a black-and-white 1930s G-man, Frank a counter-counterculture nostalgist whose idea of high-living tracks closer to Old Blue Eyes than Mick Jagger.) Butz is, predictably, the first to bring down the house, pushing an otherwise undistinguished patter-gospel number ("Don't Break the Rules") to impressively incensed heights. By the time the orchestra goes silent and things get dark for swingin' Frank, their relationship feels a lot more earned than I'd ever expected. Maybe I got conned. If so, I didn't mind.
At the Neil Simon Theatre.