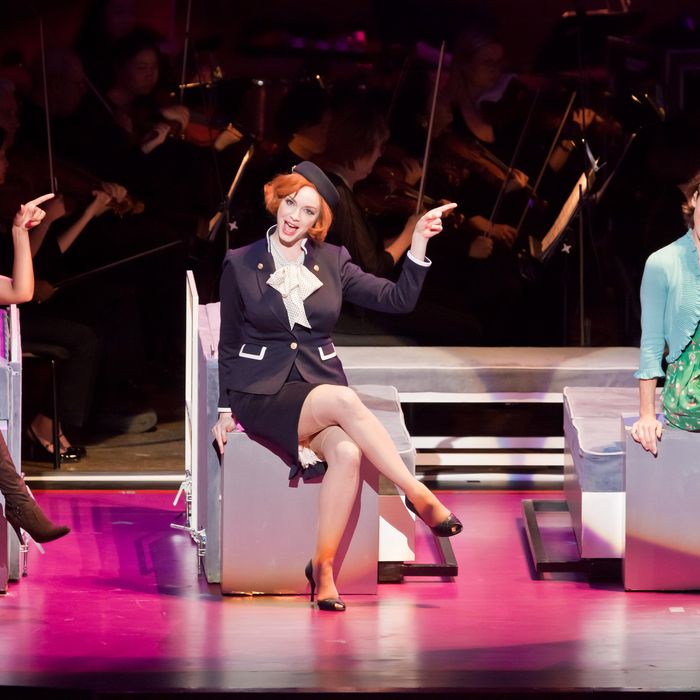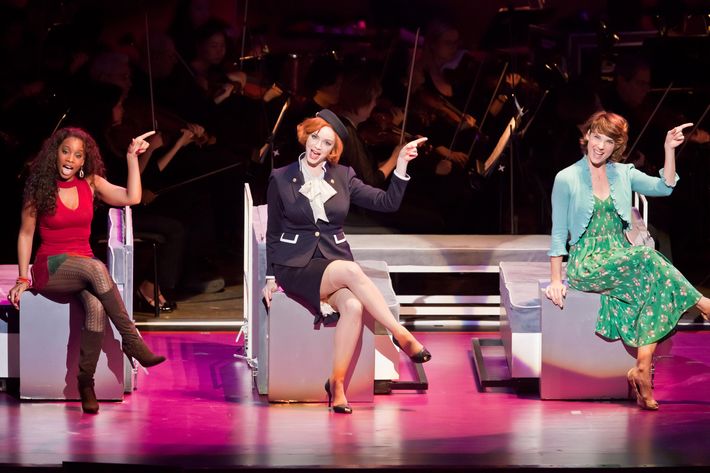 Friends, I've finally discovered a form of celebsploitation I don't mind in the slightest: the star-studded, ad-hoc Sondheim show. Director Lonny Price's Company at Avery Fisher Hall — backed by Paul Gemignani conducting the Philharmonic and Jonathan Tunick's original stops-out orchestrations — was rehearsed in pieces on two coasts, via Skype and iPhone, to accommodate a cast of boldface names. Some are from the inner core of musical theater (Patti LuPone, Jim Walton, Katie Finneran), some come from TV and film (Jon Cryer, Stephen Colbert, Christina Hendricks), and some straddle those worlds: Craig Bierko (more musical comedy from this man, please), Anika Noni Rose (whose titanic "Another Hundred People" just became my New York anthem of choice all over again), the fantastic Martha Plimpton, and, most notably, Neil Patrick Harris, who was, let's face it, kinda born to play Bobby. (Harris is a truly great interpreter, which more than makes up for a few squeezed high notes here and there: His "Being Alive" is precisely the house-bringer-downer you're hoping it is.) And the supplemental chorus, helping out in the balder patches and balancing the singers against the Phil, is visibly invisible, in the bunraku tradition.
What it adds up to isn't the smoothest performance you've ever seen. Price, who has pulled together similar stunts with Sweeney Todd and Candide, and choreographer Josh Rhodes have staged this thing within an inch of its life (and sometimes, it seems, within an inch of the apron). It's frankly astonishing that their motley dream team keeps all those moving parts moving in concert. Occasionally, they don't: a dropped cane here, a missed cue there. The hiccups of live performance have their own special charm, especially when screen stars are involved. And the acoustics of Avery Fisher don't always favor the vocalist, especially in the competition with a full orchestra — and most especially when he or she isn't a trained singer. But everyone's up there for a reason, everyone's contributing (can any price be put on Jon Cryer's all-too-believable weariness?), and polish is kinda beside the point. Colbert's unadorned "Sorry-Grateful" solo is in a different weight class than Katie Finneran's furious "Getting Married Today" (haven't you wanted to hear her do this number since the second you became aware of her talent?) or LuPone's "Ladies Who Lunch," yet each fully embodies, to scale, the emotional moment on order. (This is hardly Colbert's first time stretching his cords, nor was it his first Sondheim solo, but this is definitely his nakedest, most irony-free warbling since "Cheap Reward.")
What it adds up to is Dancing With the Stars for Broadway nerds, and I'm absolutely fine with that. In fact, I felt like I was watching the high-school drama club get back together — all my favorite theater dorks, popping on their straw boaters and singing "Side by Side." Maybe that's the proper deployment of celebrity dissonance: Look (your brain fools you into believing): It's those good and crazy people, my friends! Those good and crazy people my faaaaamous friends!
Company plays three more performances at Avery Fisher Hall, through Sunday, April 10.