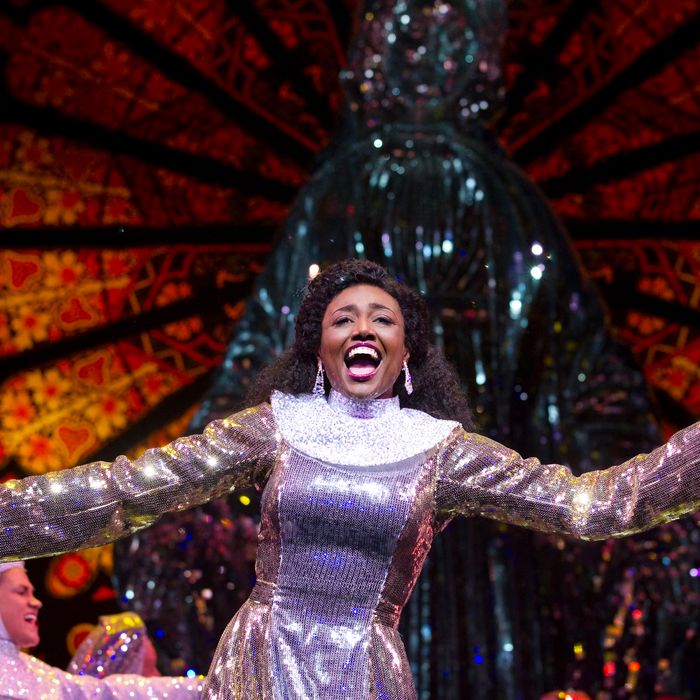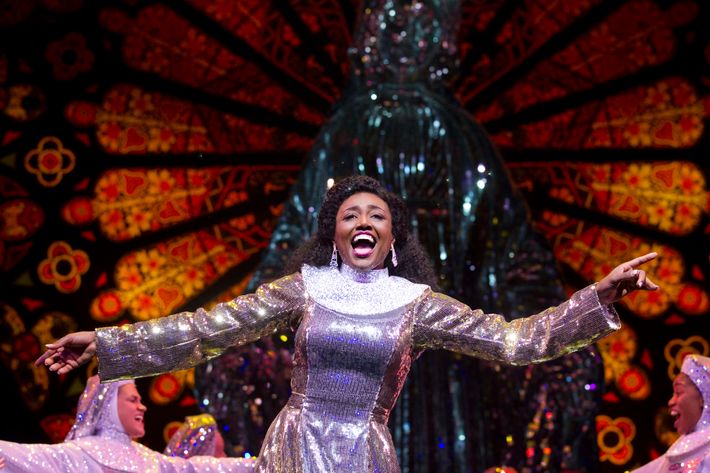 Sister Act isn't trying for anything newfangled: It's barely fangled at all. Fangles cost money, after all, and this show is a stripped-down affair that reflects the new austerity over at Disney Theatricals. It looks penuriously designed, possibly by Paul Ryan, and it's lit like a Baghdad suburb. True, this Sister has jettisoned its source movie's San Francisco locale for grittier Philadelphia, but golly, it looks like Oslo. Never south of the 38th parallel have I see such persistently hypoxic blues and bruised purples.
The plot, however, is unchanged: Blowsy, ballsy nightclub chanteuse Deloris Van Cartier (Hair's Patina Miller) witnesses her gangster boyfriend Curtis (glowering Kingsley Leggs, doing a refined Ike Turner) as he guns down a snitch, and is secreted away to a struggling downtown nunnery by the authorities, there to await Curtis's murder trial. Her impenitent worldliness quickly pisses off the Mother Superior (dour-hilarious Victoria Clark, doing a mock Cherry Jones), but also transforms the hapless, tone-deaf sisters into a soulful gospel choir that becomes a church-saving sensation. This isn't, as you might expect, a jukebox show, as the clever medleys of the movies have been set aside for original compositions by Disney mainstay Alan Menken (The Little Mermaid, Aladdin, Tangled, etc.). He's gotten really good at ripping himself off, to generally toe-tapping, Motown-inflected effect. (The comedy numbers — notably Leggs's sexy-homicidal "When I Find My Baby" — are especially well done.)
Miller's an enormous presence, and what she lacks in character detail (there's precious little to build on in Douglas Carter Beane's very funny, very thin book) she generally makes up in brass and goodwill. Be warned: This is a show that's not afraid to do a rappin' granny number (the same rappin' granny number, in fact, from The Wedding Singer). If that sort of thing doesn't put a hitch in your rosary, you'll likely get religion at Sister Act.
At the Broadway Theatre, Broadway at 53rd Street.