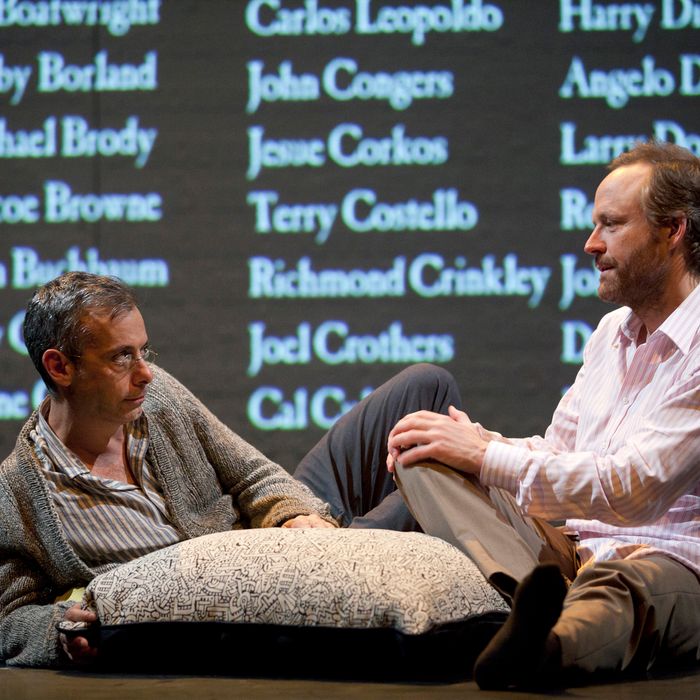 Photo: Joan Marcus/??2011 Joan Marcus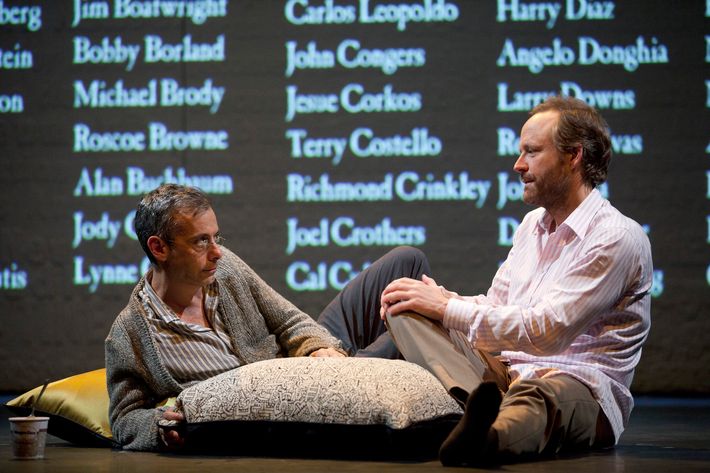 How long's it been since you were angry? And I don't mean "upset." I mean biblically angry — angry at whole institutions, cultures, abstractions, homo sapiens as a species. If it's been too long since you've been ravished by fulminating righteousness, then perhaps it's time to get reacquainted with Larry Kramer's 1985 play The Normal Heart.
The play holds a place in theater history as the foundational AIDS play, but it's really an autobiography of Rage. Kramer famously based it on his experience as an early eighties crusader against the disease and its silent abettors in society. (For his perceived extremism, Kramer was ejected from the organization he founded, Gay Men's Health Crisis; he went on to form the more militant ACT UP!) The hero of Normal is Ned Weeks (an electrifying Joe Mantello), a writer, rabblerouser, and (by his own admission) "asshole." Furious at what is plainly a plague — one that's spreading quickly and without stint, flourishing in the penumbra of national neglect — Ned skips over the usual suspects (conservative politicians, religious bigots) and strikes closer to home: In print, on TV, and on the record, he goes after discreet closet cases in positions of influence, a certain bachelor mayor, the New York Times, and, finally, the gay community itself, which, in Ned's opinion, fetishizes promiscuity as their unique cultural perk and can't or won't recognize that "being defined by our cocks is literally killing us." His arc is pure Ibsen: For his emetic truth-telling, Ned becomes perceived as an enemy of his own people.
Mantello's joined by a symphonic chorus of talents, all of them operating at the top of their voices, including Ellen Barkin as a wheelchair-bound public-health doctor trying to dynamite a wall of denial; and Broadway newcomer Jim Parsons (The Big Bang Theory) as a "southern bitch" named Tommy. Directors Joel Grey (who starred in the original production) and George C. Wolfe scrub the stage to near-barrenness and let the actors tear into each other, and us — which they do — with alacrity (and off book, despite rumors to the contrary). It's common critic-ese to praise and pillory The Normal Heart in the same sentence: It's a screed, not a play; its language is docu-informational, not dramatic; it's got no swing, no poetry, just facts and spittle, and yet, its passion is important. I'd say it's more than important: It's life itself — life fighting desperately and often repellently for life. The Normal Heart endures not only because AIDS (many tens of millions of deaths later) still has no cure, but because the place of the inconvenient activist (the gadfly, the irritant, the minor terrorist) is still unresolved in a society where compromise is prized above all else, but often leaves us, well, compromised — sometimes fatally.