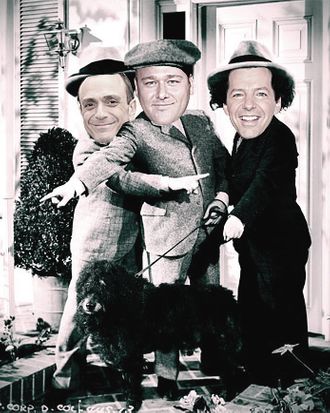 Photo: Photo-Illustration: Everett Bogue, Photos: Frederick M. Brown/Getty Images, Alberto E. Rodriguez/Getty Images, Bryan Bedder/Getty Images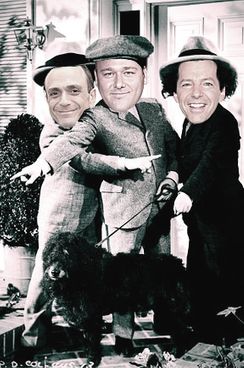 Two weeks ago, news broke that Will & Grace star Sean Hayes had been cast as Larry in the Farrelly brothers' Three Stooges movie and would be joining $#*! My Dad Says's Will Sasso, who'd been set to play Curly. (Hank Azaria is rumored to be up for the Moe role.) And when we read this update we checked the calendar, because if there's a new Stooges casting notice in the trades, it must mean it's time to change the clocks. For over fourteen years, there have been constant excited articles about this project, which is just about to start!, whether with Sean Penn, Benicio Del Toro, and Jim Carrey, or the current roster. With the constant casting stories, you'd be forgiven for losing track of the history, especially its far more interesting sordid moments, as reported by the trades: Litigious heirs! Heidi Fleiss's coke whores! Bankrupt studios! So as a refresher course, here is a timeline of the news that's been published about the whole Stooges fiasco. We'll be back in another 35 years for another update.
• 1934–1958: Columbia Pictures produced 190 black-and-white shorts of the Three Stooges. "Nyuk nyuk" becomes synonymous with physical comedy.
• 1976: A year after the death of Ur-Stooge Moe Howard in 1975, Mel Brooks abandons plans to make a Stooges film with new actors, believing there's not enough in pratfalls to sustain an entire feature. Instead, Brooks makes Silent Movie.
• 1988: Norman and Joan Maurer, Moe's son-in-law and daughter, and his grandson Jeffrey Scott, reach a two-year agreement with Columbia Pictures to develop a series of feature films using the Three Stooges characters.
• 1990: The option on the Three Stooges is renewed at Columbia Pictures, at the request of the studio.
• August 1992: The Maurers and Scott refuse to grant any further extensions and tell Columbia execs that they have to exercise the feature rights or relinquish them. The heirs also terminate the studio's rights to sell Three Stooges merchandise. For its part, Columbia agrees to exercise the rights, promising that production on a Stooges film would begin within a year.
• August 10, 1993: The Maurers and Scott both seek to nullify their contract with Columbia Pictures, alleging bad faith. They claim Columbia demanded the rights to Stooges merchandise in exchange for getting a Stooges motion picture made.
• August 18, 1993: According to a Variety report, sources at Columbia suspect that funds earmarked for a Stooges film were actually used for "illicit activities." (The studio claimed it spent more than $1.5 million on development, while these sources could only account for $1.1 million.) The specific illicit activities were never reported or proven, but hey, here's a fun fact that's probably totally unrelated! Two months before this, Hollywood madam Heidi Fleiss was arrested for pandering, and rumors swirled that she had been servicing Columbia's executive suites. Premiere magazine commissioned a story on the (alleged!) use of Stooges as a coke-whore slush fund, then killed it.
• August 19, 1993: The two heirs of the Three Stooges are countersued by Columbia Pictures, with the studio saying, essentially, "We don't need your stinking rights, anyway." Variety reports that Columbia asserts it has the rights to use the personae of the Stooges "because it owns the vast collection of Stooge films and shorts."
• December 1996: The heirs, represented by Bela Lugosi (Jr.!), sue Columbia Pictures for breach of contract, negligence, misappropriation of funds and theft; they (through their company, C3, which was started by the original Stooges) are ultimately awarded the right to license and merchandise Three Stooges clothes, action figures, and paraphernalia on their own. But Columbia maintains movie rights, and around this time, the Farrelly Bros. are attached to the film.
• January 1997: Variety reports that "[Peter Farrelly] and brother Bob are zeroing in on their next film, with a Fox comedy called Something About Mary a possibility. The Dumb and Dumber duo are also eyeing The Three Stooges movie, though [Something About Mary] has the edge, after Columbia Pictures halted Stooges talks over deal points."
• Spring 2000: Mel Gibson executive produces an unrelated Stooges TV biopic based on From Amalgamated Morons to American Icons: The Three Stooges, by Daily Variety columnist Michael Fleming. Michael Chiklis stars as Curly, almost dooming his chances of ever becoming Vic Mackey.
• March 2001: After making the Farrellys' Osmosis Jones with Chris Rock, but before that film becomes a box-office disaster, a smitten Warner Bros. agrees to also acquire the rights to the Stooges from Columbia for the Farrelly Bros.
• October 2002: Post–Osmosis Jones, Stooges cools at Warner Bros. Peter and Bobby Farrelly "choose" to make the conjoined-twins comedy Stuck on You with Matt Damon and Greg Kinnear at 20th Century Fox. Stooges is pushed to "early 2004."
• September 29, 2003: Stooges is given an official green light at Warner Bros. Variety insists shooting begins "early next year for a summer 2005 release."
• May 31, 2005: Still no Stooges. Peter and Bobby Farrelly make a deal to remake Neil Simon's The Heartbreak Kid at DreamWorks. Reports Variety, "The Farrelly brothers remain committed to directing The Three Stooges but haven't yet nailed down how they want to put the picture together." Still, no mention of casting.
• October 11, 2006, via Variety: Warner Bros. lets option on The Three Stooges lapse; tiny First Look Studios picks up the film rights, but does nothing with them for two years.
• November 3, 2008: First Look Studios' two-year option lapses. MGM jumps in. A Variety headline blares: "Farrellys to direct 'Three Stooges'; MGM to release comedy Nov. 20, 2009." Among the tidbits in its story: "Peter Farrelly said the Stooges feature was revived because of the enthusiasm of MGM Worldwide Motion Picture Group chairman Mary Parent, who has acquired the rights to scripts owned by WB and made a deal with Stooges rights holders … With Parent, the Farrellys have worked out a blueprint for a $45 million budget comedy that will be either PG or PG-13 … "
• March 25, 2009: MGM and the Farrelly brothers set Sean Penn to play Larry, and negotiations are under way with Jim Carrey, who is already trying to gain 40 pounds to approximate the physical dimensions of Jerome "Curly" Howard. Talks begin with Benicio Del Toro to play Moe.
• June 16, 2009: His marriage to Robin Wright on the rocks, Penn bails out of the film two months before shooting is scheduled to start. The production is postponed.
• September 2009: Production start date comes and goes; "MGM has still not set" a release date for The Three Stooges, per Variety.
• January 5, 2010: Fox comes aboard to co-finance Stooges, but the struggling MGM's financial travails must still be sorted out by a bankruptcy-court judge. The Farrellys start production on Hall Pass instead.
• May 2010: Variety: "The much-anticipated Three Stooges project — tentatively starring Sean Penn [sic], Benicio del Toro and 'very possibly Jim Carrey,' according to Hall Pass executive producer Marc Fischer — will start prepping in Atlanta in January 2011."
• December 3, 2010: Twentieth Century Fox takes over from MGM and sets a March 2011 start date to go before cameras.
• December 10, 2010: "The script is ready to go, and we are opening up these roles to the world right now," Peter Farrelly tells Deadline Hollywood Daily.
• March 10, 2011: Variety reports that "Helmers Peter and Bobby Farrelly are looking to set [Johnny] Knoxville as Moe Howard in their modern update of The Three Stooges, and Knoxville is interested in the coveted role."
• March 25, 2011: Deadline Hollywood reports that Will Sasso has been cast as Curly and says James Marsden is in the lead to play Larry.
• April 4, 2011: Well, maybe not quite the lead: Sean Hayes is cast to play Larry. Still no Moe, though Azaria's name keeps getting mentioned.
See you in 2046! Look for the casting notice, "Modern Family's Manny to play Curly in Farrelly Jr.'s Stooges flick."