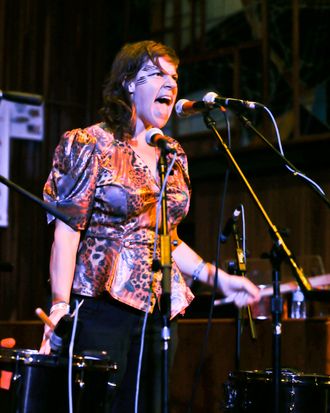 Photo: Andy Sheppard/2011 Andy Sheppard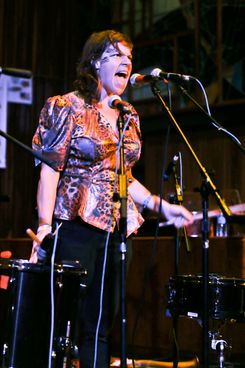 Merrill Garbus, the woman who records as Tune-Yards — or, if you like, tUnE-yArDs — is not afraid of big ideas. For some sad reason, this feels like a rare and precious trait among musicians. It's possible that "big ideas" are just the only fitting accompaniment to Garbus's formidable voice, which she tends to use in about the same way a really daring kid uses a trampoline: It runs from coy piping to a joyous bellow, its lines interrupted with growls, bleats, leaps, and authoritative hollers. Garbus is a woman who sounds genuinely in love with the amazing variety of noises she can make.
Within the first three songs of her new album, w h o k i l l, she's plunged through so many ideas that you get the feeling she's overstocked and needs to clear out inventory to make space for new ones. She constructs chord patterns out of little peeping loops of her own voice. She writes fascinating lyrics about American class inequality, body image, and the racial dynamics of Oakland, California — turning her voice, at one point, into a European-style siren, then using it to inspire some limited headbanging. There's a quick, thrilling break of saxophones trading rhythms, and another that's like a cutup tape deconstruction of the chorus preceding it. There are so many interesting notions wrapped up in here that you can begin to feel like a lot of other musicians don't actually do anything: There they are, playing chords and crooning about nothing in particular, while Garbus bounces around finding some new way to approach every last little thing.
Part of what keeps all this from turning into a mess is the audible evidence that Garbus has built her sound from the ground up — she's spent time redrawing the lines, rather than just coloring outside them. Her early live performances were solo ones, built around a loop pedal; she sang and bashed away at drums and a ukulele, sampling and looping layers of sound until a song emerged. A similar process was behind her first album, 2009's BiRd-BrAiNs, which had her recording tiny, hissy pieces on a handheld tape recorder, then stitching them into songs on her laptop. w h o k i l l, in great contrast, was recorded in a real studio, and mostly sounds like it — it's rich and spacious, with synths and saxophones dancing through most of its songs. Its sensibility, though, is the same fresh amalgam Garbus has spent years piecing together: clattering drums, the melodic pulse and raised-high voices of African pop, the sly growls of blues and the sly coos of R&B, the overlapping rhythms of contemporary classical, and plenty of that big, bellowing voice. Parts of the album — say, its stunning single "Bizness" — sound like either a dance party for wild things or a far less mannered Talking Heads. They also have a primal-scream quality, a feeling of happy release.
Music this antic, lateral-thinking, and concept-stuffed isn't exactly for everyone, but something about Garbus's personality makes it accessible to a lot more of "everyone" than you might think. Her background might explain a lot of that. She was a Smith College theater type and a subway busker, so she knows how to perform in a way that gratifies the attention of strangers. She's a middle-class white American who loves African music (and speaks Swahili), and had to sort through a lot of issues about justice and exploitation to let herself play it — with the result that she's grafted African ideas into her own on a deep, rich level, instead of just imitating their surface. But the most exciting thing you hear, when Garbus sings, is the sound of someone who, in her own words, "spent a lot of years as a self-hating, deprecating, and passive woman" — and at some point made a conscious decision to bellow and growl, make every big noise she can think of, write songs about things like class privilege and the police shooting of Oscar Grant, and fear more or less nothing in the process. It's hard not to be moved by how joyful and commanding she sounds doing it, or get caught up in the feeling of release that comes along in the bargain.