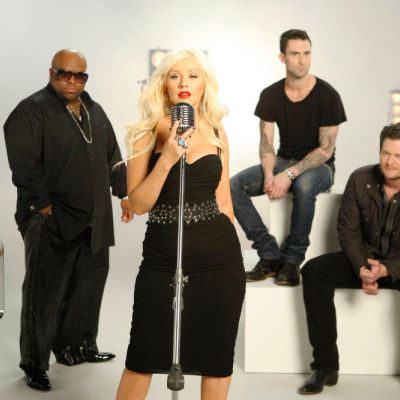 The Voice is a big hit, as well it should be: Take the format of American Idol, multiply it by the age range of America's Got Talent, and divide it by the gimmick of the Monica Lewinsky–hosted Mr. Personality, and you've got yourself a reality competition built cleverly from the shows that came before it. But what about the judges? Though the panel for The Voice boasts a lot of star power, are Christina Aguilera and her cohorts settling into the same personality types that have populated many a reality-judging dais? As we did with The Killing, it's time to employ some TV arithmetic to find out.
Christina Aguilera =
Jennifer Lopez's warm platitudes
+ Ivanka Trump's The Apprentice hauteur
- either woman's impeccable hair and makeup team
+ RuPaul's Drag Race catchphrase "May the best woman win"
x RuPaul's fake blonde hair
Adam Levine =
Simon Cowell's "I want to hate-fuck you" chemistry with the female judge on his panel
x your embarrassing, still potent attraction to America's Best Dance Crew judge J.C. Chasez
Cee Lo Green =
Miss J's Top Model flamboyance
+ Randy Jackson's bald head
x Tom Colicchio's bearish huggability
+ Michael Kors's Project Runway season-finale habit of wearing sunglasses indoors
+ Simon Cowell's T-shirts
/ Steven Tyler's nail-biting forays into talking
Blake Shelton =
Kara Dioguardi's somewhat superfluous position as fourth judge
+ Bret Michaels's cowboy hat
Carson Daly =
Ryan Seacrest's radio-honed patter
x Julie Chen's waist size
Is there anything more to the formula that we missed? Don't forget to show your work!