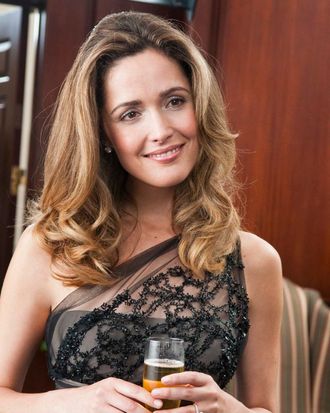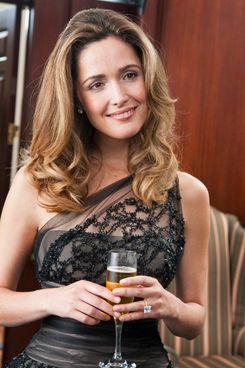 Staring at a computer monitor at the Paley Center for Media, Rose Byrne is cringing. Dressed down in "utilitarian" jeans and Converse high-tops for what she calls an "anti-fashion day," she's watching David Brent, Ricky Gervais's character from the UK version of The Office, attempt to woo a woman on a blind date. He starts off by making reference to her dead mother's breasts.
"Oh god. Oh god. Oh my goodness. Ooooh, myyyy, goodnessss," Byrne coos, her voice descending to a shocked whisper, her hand covering her eyes to escape Brent's humiliation. "Oh my god," she says, peering back. "That's great."
After years of dramatic roles, including her Emmy-nominated turn as lawyer Ellen Parsons in Damages, Byrne broke into Judd Apatow's tight-knit comedy clique with 2010's Get Him to the Greek, where she played Russell Brand's vulgarity-dropping pop star girlfriend, Jackie Q. Now, she's opening opposite Kristen Wiig in Bridesmaids as Helen, a posh and moneyed interloper in Wiig's relationship with her lifelong best friend (played by Maya Rudolph), who one imagines could only encounter Jackie — or, for that matter, Brent — with nostrils pinched shut. "I know that girl, and I'm scared of her. She's poised — kind of like a princess," says Byrne, who sits suddenly straight, pulling an imaginary string from the top of her head to illustrate the posture and breeding. "I have friends like that who always look immaculate, and I always look like I've been dragged through a dumpster."
After The Office, we search the Paley database for Seinfeld, another of Byrne's favorites — she had already watched an hour's worth the night before, to "decompress" after flying in from L.A., when the network broke in with news of Osama bin Laden's death — and wound up with the episode where the main characters compete to see who can go the longest without masturbating.
As Jason Alexander's George recounts being caught in the act by his mother, Byrne goes alternately wide-eyed and cowering. Laughing hard, she scrunches her feet up onto her chair, grabbing her knees almost to her chin like a high school girl watching a slasher film. When the topic of female sexuality is broached, Byrne stutters, the one time today she seems flummoxed. "Maybe I shouldn't have chosen this episode," she says. "It is, because it is … gosh. Female masturbation. How do you talk about that without sounding like," she breaks for a laugh, "without sounding a bit self-conscious. I think I'm blushing." She is, and gives her face a Scarlett O'Hara wave to cool down.
Byrne has been nowhere near as bashful on screen. As Jackie Q, she performed a not-so-subtle music video about anal sex, based on the children's nursery rhyme, "Ring Around The Rosy," that included the lines, "Some say one hole is enough … then why did God give me two?" Lest viewers miss the point, she ends with the line "I'm talking about my asshole," while making a tight circle with her thumb and forefinger, then, as a kicker, places her index and middle fingers around her mouth, giving a good tongue-lashing between them.
Those last two bits of raunch were not in the script.
"I think I came up with the hand gestures," she says, subconsciously making a V sign to demonstrate — then, catching herself, stopping her fingers two inches from her mouth. "I felt quite comfortable with Jackie Q. She was so different than me. It's easy when they're not like you because you can hide a bit more."
A discussion of female performers and physical comedy leads us back to Seinfeld's Julia Louis-Dreyfus, and Byrne lightly mimics her famous Elaine dance, a series of spasmodic, thumb-jerking, arrhythmic contortions the character of George described as "a full-bodied dry heave set to music." "She did all the dancing stuff, and the 'Get Out!'" Byrne says, pushing her arms forward like Louis-Dreyfus shoving her castmates. "She was such a little firecracker."
We watch an underwhelming episode of Family Ties that makes Byrne realize how much Alex P. Keaton reminds her of her agent, then revel in the physical absurdity of John Cleese in Fawlty Towers, the one show that, while growing up in Australia, her TV-averse father would "occasionally sit down for ten minutes to watch."
That evening, at a Bridesmaids screening at the AMC Loews Lincoln Square theater, Byrne's anti-fashion day has ended, and now she's a knockout in tight black Juicy Couture jeans, a beige, bejeweled blouse, and four-inch Brian Atwood heels. During the cast Q&A after the film, Wendi McLendon-Covey tells of a trip to a Chippendales-type establishment in L.A. called Hollywood Men, where she spent $10 on a failed lap dance for Byrne.
Once the crowd clears out, Byrne, sitting in the theater's back row, elaborates. "I couldn't relax. I was like, who is this weird man, who's clearly a homosexual, dancing on top of me? I kept asking him questions, so he couldn't really concentrate, but he was doing gyrating actions over me, and I was so paranoid. My blouse was, like, $300! I thought, This is a beautiful Chloé blouse! I cannot get oil on this!"