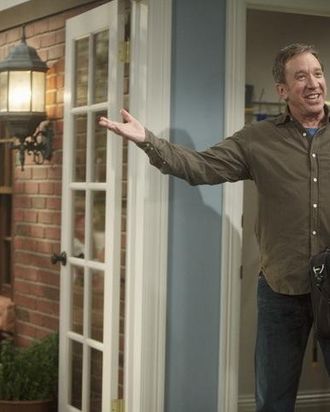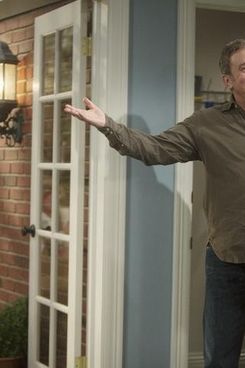 Let's be blunt: ABC is a network in crisis mode. New Alphabet chief Paul Lee's calm exterior and British stiff upper lip aside, any broadcast network that orders thirteen new series for a season — thirteen! — has issues. NBC, which, when last we checked, barely had a pulse outside of The Voice and The Office, only green-lit twelve shows for next season. Talking to reporters this morning, Lee certainly didn't sound desperate; he touted increasing ratings for Dancing With the Stars as proof that all is right with the Alphabet. He made the baker's dozen of green lights seem perfectly normal, as if launching that many new shows was something that happened all the time in TV land. "I come from a world where we get just as ambitious throughout the year [as in fall]," the former ABC Family president rationalized. If he were being completely honest, however, he would've said something like this: "Virtually all of my predecessor's new shows tanked, Desperate Housewives and Grey's Anatomy are in their twilight years, and I really have no choice but to throw on as much new crap as possible next season and pray a couple of things click with viewers." Because, really, that is the ABC strategy for 2011–12. And it is not necessarily a bad one.
The reason we're sympathetic to Lee's throw-it-all-against-the-wall-and-see-what-sticks game plan is because, after a disappointing 2010–11 that saw few new successes emerge, next season is starting to feel like one of those big, transitional years when audiences suddenly embrace a whole new crop of obsession-worthy shows across the dial. (Okay, there are no dials anymore, but "across the cable box" doesn't have a ring to it.) Compare it to 2009, when Glee and Modern Family became TV's biggest hits overnight. Or the 2004–05 season, when ABC launched Desperate Housewives, Lost, and Grey's Anatomy into the stratosphere within the space of six months. Sure, ABC (and NBC) are going to be lousy with failures this time next year, but with cable nets churning out cheapo reality shows by the dozens, it's hard to criticize major conglomerates such as ABC owner Disney and NBC parent Comcast for being willing to bet hundreds of millions on original scripted programming. And ABC, like NBC, is wisely trying to roll out its something-for-everyone buffet of new programming in a logical fashion.
Specifically, ABC is keeping most of its tentpole series in place and saving most of its biggest changes for time slots where it's hard to imagine the network doing much worse than it did this season. Mondays, for example, are stable with Dancing and Castle. On Tuesdays, Body of Proof will continue to get a lead-in from the Dancing results show, giving ABC a good shot at winning those two hours. Thursdays are also unchanged from 9 to 11 p.m., and Friday could get a boost from having Extreme Makeover: Home Edition anchoring at 8 p.m.
The Alphabet is taking a major roll of the dice trying out comedies on Tuesdays, with Tim Allen's TV return (Last Man Standing) at eight paired with the equally masculine Man Up at 8:30 p.m. NCIS remains a powerhouse (and appeals to the same blue-collar audiences one would expect would be interested in seeing Allen again); Glee is starting to fade but still has a mighty hold on women under 35. Vulture today is also officially declaring its (mild) opposition to Lee's decision to hold Cougar Town until December and then stick it Tuesdays at 9 p.m. with no established lead-in. We (like co-creator Bill Lawrence) had accepted the show would lose its post–Modern Family slot, but the delay is a momentum killer. That said, ABC hasn't had much luck with dramas on Tuesday, so comedy could prove to be a good alternative for the network.
There's also a lot of change on Wednesday night, though it's change we can believe in. Better With You didn't earn another season behind The Middle, so slotting Suburgatory in at eight-thirty is logical (though we're going to be misspelling that title for months, we think). We like Happy Endings, so giving it a shot behind Modern Family isn't a bad thing; still, why not save it for later in the season, giving producers time to make some tweaks and get season two 100 percent right? And long-term, it feels like a much better fit with Cougar Town than Modern Family. We kind of wish ABC had just stuck with comedies at 10 p.m. in the fall, holding off another drama launch until later in the season; Revenge seems a pretty pedestrian choice for the start of the season. We're much more encouraged by the Sunday shifts: Extreme Makeover: Home Edition had grown stale, and there has been hardly any interesting new scripted programming on the night the last few years. Sandwiching Desperate with the somewhat cool-sounding Once Upon a Time and the even cooler-looking Pan Am could make the end of the week feel like an event again (something cablers like AMC and HBO learned long ago).
Finally, the most interesting part of Lee's first schedule as head of ABC is his belief in taking lots and lots of chances on very ambitious dramas. Over the next year, he'll be trying out soaps (Good Christian Belles, Revenge), thrillers (The River), fluff (Charlie's Angels), period pieces (Pan Am), and fantasy (Once Upon a Time). There's not a single conventional cop, doctor, or lawyer series in this bunch, and that's a good thing; ABC does best when it's at its boldest. With Castle a hit and Body of Proof promising, the Alphabet can take a season off from the relentless pursuit of new procedurals. It needs buzz shows more than anything, and it's not unreasonable to expect at least one or two of these ideas might catch on with audiences. Yes, there will be failure, but you can't expect to get a home run without taking a lot of swings.
Josef Adalian is tweeting from all the upfront presentations; follow him at @tvmoejoe