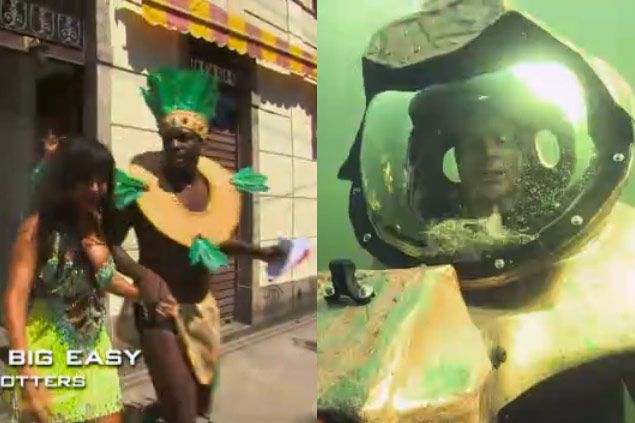 Even setting aside the fact that it was a double episode, last night's two-hour Amazing Race finale seemed more jam-packed with challenges than any other. As soon as the teams landed in Rio de Janeiro from Switzerland (with the Globetrotters' advice of "some of the girls in Brazil are men, so check the neck"), they were fighting for the lead, teaching us lots of extra lessons along the way of how to keep — and lose — a leg up.
Don't Be Afraid to Embrace Your Inner Dancer
After a trolley ride to tiled steps hiding their first Brazilian clue, the teams headed to another part of the city for the first of many Road Blocks, which asked one team member to dress in an amazing, skimpy Carnivale costume and dance the samba. We really couldn't decide which part of the boys' costumes we loved more — the Speedo or the sparkly loincloth, but we were fairly certain that, once again, Big Easy won this costume contest. He had a little trouble getting the dance right, but not as much as Zev, who, despite getting to the Road Block first (and despite Justin's advice to "be like Jay-Z"), finished last thanks to his "white boy rhythm." He should take lessons from Mallory, who could not have had more fun with that challenge.

Selling Things in Foreign Countries Is Hard, So Avoid It If You Can
The next task was quite possibly our second favorite of the season (nothing will top the kangaroo costumes), in which all team members had to submit to fifteen minutes of Brazilian waxing. Mallory had no problem with it, as she was used to it, but the very hairy Zev and Justin screamed like they were being stabbed. Man up, boys! Our hairless racers then headed to the beach Detour, where they could choose to make 100 caipirinhas or sell about $60 worth of bikini tops. Zev and Justin were the only ones to choose bikini selling, and were forced to switch tasks after they couldn't get a single (butt-blurred-out) sunbather to buy one. All the teams messed up their first of many drinks, but everyone moved pretty quickly once they got into a rhythm. The Globetrotters really got into a rhythm, singing and dancing with the Brazilian band that played as they bartended. This annoyed Zev and Justin, which was surprising since they've been such buddies with the Globetrotters this whole race. We suppose it was knowing they were in last place that made them grumpy, though they did take a romantic walk on the beach to the pit stop, where they were eliminated, extra caipirinhas in hand. Zev summed their time up nicely: "He was the Race, and I was the Amazing."
If You're Last Off the Plane, Make Sure Your Cab Driver Knows Where He's Going
Our final three teams then boarded a plane to Miami for the last crazy leg. The Globetrotters and Kisha and Jen raced to a marina, where the next Road Block had a racer successfully move a boat to dry dock. We're pretty sure we could hear our dad, who fixes boats recreationally, yelling from a borough away about how they were doing it all wrong. Gary and Mallory's cab driver had no idea where the marina they needed to reach was, and seemingly refused to stop or ask for directions for quite some time — so much time that the other teams finished the task (without dropping a boat) before they even arrived.
Cab Drivers in Florida Will Drive Hundreds of Miles While NYC Cabbies Won't Even Go to Brooklyn
The next clue directed the teams to the not-at-all-nearby Key Largo. We have spent many a family vacation in the Florida Keys, and Key Largo is at least an hour from Miami. All the cab drivers agreed to go no problem, but we have to fight every time we take a cab over the East River? Not fair, cabbies. In Key Largo, teams faced yet another Road Block, with this one placing racers in a personal submarine to look for a clue in a treasure chest under water while mermaids swam around. Yes, mermaids. And an underwater band to help round out what just might be the weirdest challenge yet. Kisha and Jen found the clue after the Globetrotters, but left first thanks to their cab not disappearing. That clue sent the teams and their poor cab drivers on another hour-plus journey to Big Pine Key at mile marker 29 (Key Largo is around marker 100). How can we get these cabbies imported to New York?
If You Make the Finale, Be Ready to Do Lots of Tiring Tasks in a Row
Once at mile marker 29, teams had to wade across the shallows of the bay to a nearby mini-Key and find the tallest tree on that island, only to be told to turn back around and return to where they came from, where a high-speed boat would take them back up to Marathon Marina. The racers then immediately headed to a trailer park retirement community, where they had to decorate a small trailer to match a picture in the park's brochure. The wind picked up at this point and made it very hard to complete the task, but also allowed Gary and Mallory, who were still behind after the lost cab driver incident, to catch up. Once that was done, teams then hopped into (new, Keys-based) cabs back down to the old Seven Mile Bridge, where they had to ride a giant tricycle across to the finish line. Now we know the teams were exhausted at this point and being dramatic, but let's make one thing clear: They did not actually have to ride those trikes for seven miles. Old Seven Mile Bridge is broken about halfway through to let boats across (new Seven Mile Bridge is much higher), so they really only had to ride for about three to four miles. It looked like finding that mermaid clue first having a cab driver that doesn't disappear made all the difference in the end, because Kisha and Jen were finally able to come in first in a leg — the leg that mattered, and became the second all-female team to win the Race. They promised to use some of their winnings to help their mom start a business as a thank-you for all she's given them over the years, a sentiment perfectly timed with Mother's Day. The Globetrotters humbly came in second, joking that they "got beat out by a couple girls, but that's all right," while Gary and Mallory were, as always, just so happy to have done this together. And we are all the more excited to try out! Who wants to be our teammate?