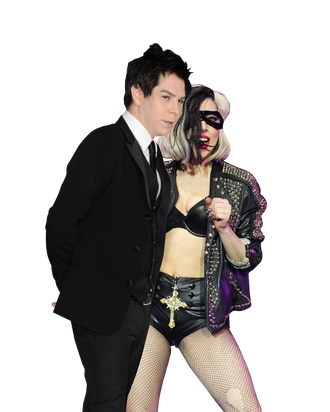 Photo: Jason Merritt/Getty Images, Dave Hogan/Getty Images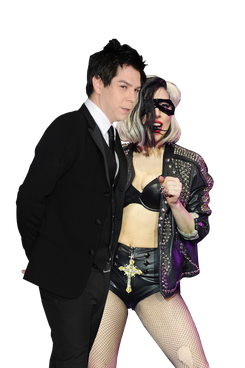 Lady Gaga's newest album, the highly anticipated Born This Way, drops today (though any true Little Monster probably heard the leaked version last week). Pop producer Fernando Garibay is the album's musical director, a role he describes as "all-encompassing." We caught up with Garibay in advance of the release to discuss the evolution of the album, bringing the sax back, and just how much whiskey is consumed at a Gaga recording session.
Your role on Born This Way was to help Lady Gaga express her vision. What does that mean on a tangible, day-to-day level?
This is the first time I've musically directed an album. A true musical director usually arranges the house band for an artist or a show. In this case, Gaga wanted someone to oversee the direction of the album and be sure it remained true to her artistry. When you have a lot of producers on an album with a major artist, production tends to lean a certain way to the producer's bias. I came in to really keep the vision she had for this album — the message of equality and the freedom to be yourself and not be persecuted for who you are — intact.
This entire album was basically produced on the road, what was that like?
We had this bus with a fully equipped studio in the back and whenever we had a chance to record — whether it be backstage at an arena, her dressing room, using our laptops in a hotel room — we did. Gaga had ideas at all times of day, it didn't matter if she was in the middle of an interview or trying on outfits or designing outfits. When we were doing the U.S. leg last summer, we'd be in the middle of Ohio and I'd get a text from her saying, "Pull over the bus" because she had a song idea. We'd lay something down on the side of the road.
Did any specific tracks evolve in unusual places like that?
"Edge of Glory" was written when she, unfortunately, got back from her grandfather's funeral. She called me just before she was set to perform and said, "I wrote this song and have the sketch of it, let me play it for you." She played me the basic elements of the song — the lyrics, melody, and the piano — and we finished the record backstage before one of her shows.
Everyone's talking about Clarence Clemons's sax solos in "Edge of Glory" and "Hair."
Isn't that crazy?
Are you responsible for making the saxophone sexy again?
I can only take partial credit. It was entirely her idea to bring in Clarence Clemons. It started with "Edge of Glory," when we were tweaking around with the production. She was like, "I want to put sax in this. Do you think Clarence Clemons would do it?" I said, "You're Lady Gaga, I think he'll do it." It was cool because her family was in New York at the studio when Clarence came in and heard the track and, as I said, the song was inspired by her grandfather. Clarence heard the song twice and was like, "Okay, I'm ready." He laid down the sax part pretty much off the cuff. What you hear on the record is how he played it. It was emotional for all of us, especially her family.
You've said that a lot of the dance tracks on the album started off as ballads. What is that evolution like?
You know, whenever Lady Gaga plays back a song, she starts with the fundamental elements, a basic slow version. She wants whoever is doing the tracks to learn every inflection and where the melody and lyrics are going. She always says — and a lot of really great songwriters say — that if it doesn't sound like a hit on the piano or the guitar by itself then you don't have a great song. A great song starts with a great song, not with production.
There's a YouTube video of you performing "Americano" with Gaga in Mexico City. You're on the guitar and she's on the piano. What was that like?
Insane. She invited my family out to a show in Mexico — we're all Mexican — and we're backstage and she's like, "Hey, do you want to debut 'Americano' with me onstage?" I was like "Uh, yeah? Sure?" This was months after we'd written it, so I had to go backstage and quickly remember the guitar chords. Fifteen minutes later I'm onstage with her in one of her jackets and her scarf, playing "Americano." It was pretty surreal, especially for my culture. I don't know of any Mexican pop producers at all, let alone someone in my position. It is such a blessing to have her support. It's amazing for the Latino community all over the world.
Tell me about the recording sessions. Was it all pot and whiskey?
It's funny, because she's always pushing the Mexican aspect out of me, wanting more and more in each song. She's like, "Dude! You're Mexican, whip out the tequila." So yeah, pretty much whiskey and tequila were the fundamental inspirations. But it's not about the drink. It's about being yourself and not pretending like, "Oh, we're this perfect set of traditional professionals." No. She's herself; she's genuine. We have drinks and we celebrate when we write a great song or during the process. It's always been a fun and festive environment when we're working.
You've worked with a lot of big-time artists — Enrique Iglesias, Ricky Martin, Will.I.Am, Britney Spears, U2, to name a few. What makes working with Lady Gaga different?
This is the first time I was able to be myself, doing the kind of music that I love. Like with "Americano." When I was working with Ricky Martin and Enrique Iglesias, it was all part of the Latin invasion. But then there was a big burn-out, and the industry was traumatized, thinking Latin? No, cheesy, we can't do that. Lady Gaga is the first person since that time that has asked me to put my roots, my heritage, into the music. I mean, I always thought of Latin music as cool. I grew up in Southeast L.A. and for us, salsa music, mariachi music, that was cool. I was able to use that inspiration in his album because of Lady Gaga, because she pushed for it.