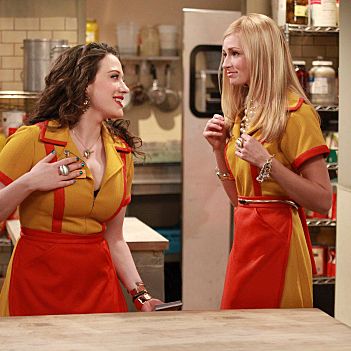 Photo: RICHARD CARTWRIGHT/?2011 CBS BROADCASTING, INC. All Rights Reserved.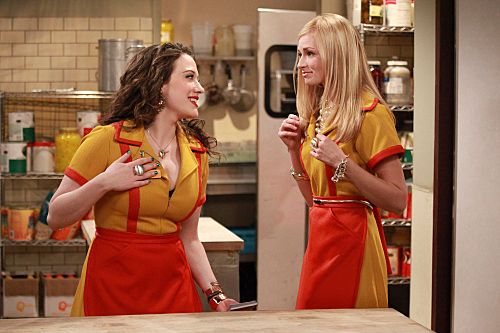 It's not uncommon for network TV types to declare around this time of the year that they've just concluded their Best. Development Season. Ever. It's almost always hyperbole, but at a press conference Wednesday morning to unveil their new lineup, CBS brass seemed pretty believable when they touted their freshman crop's Obama-in-'08 level of perfection. The J.J. Abrams crime drama Person of Interest, they said, got higher marks from test audiences than any Eye pilot since Chicago Hope in 1994. New comedy 2 Broke Girls did even better. Per one exec, it's the highest-testing pilot ever at CBS, comedy or drama (yes, rating higher even than Meego). Throw in the fact that the Eye is bringing back three of its five new shows from last year and boasts the most-watched schedule in all of TV (by a mile), and CBS Entertainment president Nina Tassler's insistence that the biggest problem she faced this May was figuring out where in the world to put all this TV goodness rings true. In planning meetings, "I kept asking if we could add another night of the week. We need Schnursday!" she quipped. Had Ben Silverman made such a crack, we would've rolled our eyes and cringed at his arrogance. But CBS has actually earned the right to show some swag, and its new lineup seems genetically engineered to extend its win streak at least one more year.
The Eye is adding just five new shows this fall, less than half the tally of ABC and NBC. But while it won't be flooding its airwaves with a ton of new product, CBS is actually making quite a few changes: At least one hour per night has something new in it this fall (assuming you count the rebooted, Kutcher-fied Two and a Half Men as new). But because so much CBS programming is thematically similar, the disruptions likely won't appear that great to viewers. Spiritually-tinged medical drama A Gifted Man, airing Fridays at 8, feels a lot like The Ghost Whisperer and Medium, two shows which have aired on the night before. And while it's certainly monumental that CBS is taking CSI off of Thursday nights at 9 after a decade-long run, its replacement is the crime-focused Person of Interest; CSI, meanwhile, should feel very comfortable in its new 10 p.m. Wednesday home, which had been occupied by the short-lived Criminal Minds: Suspect Behavior.
The Eye's most high-risk move is its Thursday play. It's been clear for over a year that CSI had aged enough to warrant a shift out of the key revenue-generating time slot. Many industry insiders had expected The Mentalist to shift into the position, with CBS putting its best new hour at 10. But as CBS chief strategist Kelly Kahl noted, the broadcast networks have been having trouble launching new hours at 10 p.m., and with Mentalist drawing more viewers than any other 10 p.m. drama on TV, shifting it now was a gamble the Eye didn't see the need to take. The question now becomes whether Person can draw an audience without the benefit of a drama lead-in (and opposite Fox's red-hot Bones). CBS seems to thinks so: It believes Person will generate enough buzz to explode onto the night. "We were looking for an opportunity to hit a home run," Kahl said.

Less risky but just as high-profile is the Eye's shift of marquee drama The Good Wife to Sundays at 9 p.m., where it'll face ABC's Desperate Housewives. While TV journalists immediately salivated over the prospect of many, many warring wives headlines, this battle shouldn't be too brutal. DH is a fading franchise and not nearly as strong as it once was. But CBS probably isn't even counting on Wife to do much damage to ABC's series. All it really needs is for the show's affluent, somewhat older core audience to follow it to Sundays, which it seems pretty logical to assume will happen. Among viewers under 50, Wife generally averages in the 2.5 rating range – a number which would pretty much equal what Undercover Boss had been doing in the Sunday slot. If CBS can stay stable on Sunday, while possibly getting a little younger with Wife's 10 p.m. Tuesday replacement Unforgettable, the switcheroo will be very successful.
The final highlight of the CBS schedule is the network's push to expand its comedy footprint. Last year's move of The Big Bang Theory to 8 p.m. Thursday worked out fine: The show remains a big hit and CBS now has commercially lucrative half-hour programming on a night other than Monday. But the thankfully now-dead Shit My Dad Says twit-com, combined with Fox's surprise shift of American Idol to Thursdays slowed CBS's comedy momentum on the night, stalling any notion of expanding to a four-hour comedy block on the evening. Kahl and Tassler, however, said they still wanted to inject more laughs into CBS's drama-centric lineup. Their solution: Bring back first-run programming on Saturdays by scheduling David Spade's Rules of Engagement in the 8 p.m. hour, and pairing it with comedy repeats at 8:30 p.m. Ratings expectations are low for the block, but the profit potential is huge: "Our guys sell the hell out of comedies," Kahl told us, referring to the Eye's sales division. And since CBS owns a piece of the syndication rights for Rules, the network benefits by keeping it on the air, even in a low-profile time slot.
For all of CBS's talk of ratings dominance, the fact is, the network's schedule is showing some signs of age. The CSI franchise may still boast three installments, but none is a juggernaut. Newer shows such as Blue Bloods and Hawaii Five-0 did fine last season, but neither broke out as a monster hit. And yet, no other network on TV is as strong and stable as CBS (Fox draws bigger under-50 numbers, but it also programs fewer hours and relies heavily on the power of American Idol). What CBS's new schedule does is help minimize the impact of audience erosion (CSI might be down, but it'll do much better than Criminal Minds: Suspect Behavior did at 10 p.m. Wednesdays) while giving the network another shot at finding that big new hit it (and its rivals) are all frantically searching for. If the Eye's new shows are as good as Tassler and Kahl say they are, CBS seems poised to meet its goal.