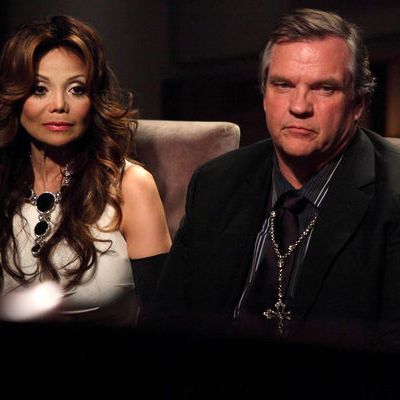 Photo: Douglas Gorenstein/? NBC Universal, Inc.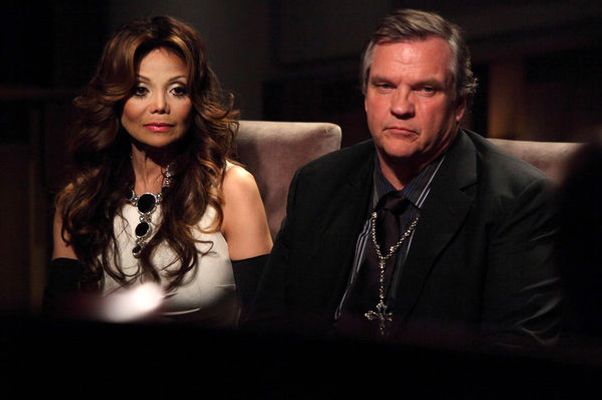 Three hours. There's not a whole lot I want to do for three hours. I would not want to watch my favorite band play for three hours straight. A three-hour movie is pure torture to me. So when I heard that tonight's episode of Celebrity Apprentice was three hours long, you can imagine the joy that spread through my hearth and heart! I'd like to take this opportunity to thank the makers of The Cape for not creating a show that could've stayed on the air long enough to have potentially filled at least an hour of this dead May night. Thanks, guys!
But I have other people to be mad at tonight. And this episode promises some fireworks: The ads have bragged that Trump will fire three people this week, thus making this installment his The Process of Weeding Out, so to speak. Now let's get to it! NeNe Leakes and Star Jones survived the turmoil of last week as they kinda teamed up to send Hope home — I will not write her last name because I refuse to search for it on the Internet for the tenth week in a row. It begins with a D.
They go back into whatever that tacky room is that all the surviving contestants hang out in — is this the kind of room that rich people hang out in? With those stuffy-looking chairs and the oppressively heavy curtains and leather-bound books? Because I am a Slob and I generally don't sit in places that are much nicer than the lobby of a Courtyard by Marriott these days.
After winning his second challenge as project manager, Lil Jon presents his check to the head of his charity, the United Methodist Children's Home of North Georgia Conference. It's a seriously great charity, helping out people in need in a variety of ways, from helping them get their GEDs to supplying diapers to people who can't afford them. Lil Jon's brother and sister were adopted from the charity. So I give him a world of credit for going to the mat for a deserving and underpromoted organization. Good for you, Lil Jon!
The contestants are gathered at the Gotham Comedy Club and already I'm worried about what this is going to be. Those fears are sent through the roof when it is revealed that Jim Cramer — he of Mad Money fame — is onstage with the Donald and Ivanka. I was hoping that they were going to break into some improv — "Hey, my name is Donald and we are called Chump Towers! Can we get a location and a first line from the audience? What's that, Meat Loaf? Okay, we're at a cheerleader camp!" — but it is sadly/gladly not to be.
Instead, we have Donald Trump trying to broker some peace between NeNe and Star, but it's not gonna happen. So he switches up the teams, sending Meat Loaf onto Team ASAP and NeNe onto Team Backbone. The challenge is revealed, and each team has been asked to produce a comedy show for which they will sell 50 tickets for their shows for however much they can raise.
The two teams immediately talk about which mirthmakers they can get to participate in their respective shows. Jon Rich says he knows Larry the Cable Guy and can call him. I'm shocked — I would've thought that John Rich was more of a Rick Shapiro kind of guy, but you learn something new every day.
La Toya Jackson steps up to be the Project Manager of Team Backbone, and Meat Loaf is appointed the PM of Team ASAP. And in response to this, Meat says, "I didn't take The Celebrity Apprentice because I needed attention. I took CA for one reason only — to earn money for those kids." And even though this guy gets on my nerves and is like a carnival wheel with his emotions — "click, click, click… and it lands on … Unbridled anger! He's probably gonna have a question or two about those motherfucking sponges he bought!" — I do think his heart is in the right place. He seems vaguely overmatched on this show at times, but he's trying.
The teams disperse, but Nene fails to show up in the Team Backbone boardroom. The remaining members can't wait for her anymore, so they just jump in and start working their connections. John Rich tells the group that he's got connections to Jimmy Fallon. In addition to Larry the Cable Guy!? This guy is a regular down-home Budd Friedman!
Rich leaves Fallon a message asking him to participate in the charity, saying it's a one in a million chance that he'll even participate. One in a million? That's really the odds on this? John Rich realizes that Jimmy does his show on the same channel that this show is on, right? And guess what? Fallon calls him back saying he'll do it! Jackpot!
And as we come back from commercial, we see random establishing shots of NYC, but one of them shows a MISSING flyer pasted on a construction site with NeNe's face on it. The guys doing postproduction on the show are clearly bored out of their gourds, between this and the fake Meat Loaf fart and toilet-flushing sound effects from previous weeks. In their defense, I could only imagine what it could be like to assemble this travesty, getting editing notes from Eric Trump complaining that it looks like he swallowed his own chin in every shot.
Jim Cramer rolls in to check on Team ASAP and he basically says, "MONEY MONEY MONEY MONEY!!" before stepping into a nearby corner to watch the proceedings like a housebroken James Ellroy.
Star heads off to film a segment with Tracy Morgan for their show. And man is it ever low rent — it's basically her Flip videoing Tracy in his dressing room at 30 Rock, and I'm sure that NBC didn't weigh in on this one either. I was expecting a real battle of the titans between Tracy and Star — his impression of her was pretty brutal during the View parodies on SNL — but before you can say "I'm gonna get you pregnant!" it's over.
Trump calls NeNe from that cheap-looking office of his to implore her to come back on the show. NeNe says no, she can't, because Trump showed favoritism to Star when he split the teams up. And to her credit she straight-up quits the show, telling La Toya in a text that she's out for good. So wait, that was one of the "firings" that was hyped this week? Is this the type of false promise we can expect from President Trump?
The two teams audition some comics for their shows, and they all seem like nice enough sorts. I was worried that the editors would start messing with the stand-ups by making them "bomb" via a strategically placed lumbering oboe riff, but they didn't. So good for them? Meat Loaf was working the phones pretty hard for his charity and after a slow start the calls start coming in, with Billie Jean King and Herb Alpert checking in to donate. Billie Jean King and Herb Alpert? Where were they calling from, a pay phone on the set of The Merv Griffin Show in 1974?
But it's not enough for Meat Loaf — he's really feeling the heat from this competition and doesn't want to lose because he's terrified of asking people to donate to his charity only to have the money go to La Toya Jackson's charity if they don't raise enough. Yeah, I'm sure Herb Alpert is gonna scream bloody murder at Meat Loaf when he realizes his money went to help sick people with AIDS rather than sick children.
John Rich is starting to doubt La Toya's fund-raising abilities — she gets the Hilton family on the horn but only hits them up for a thousand bucks because she didn't want to push it. Which I'm sure tees up a couple primo Paris Hilton jokes — "Hilton family + a thousand bucks + not wanting to push it =?" — but I'm not writing these recaps for some low-rent site like Zap2It or TVGasm. This is Vulture, damnit! Let's show some class around here! Although people are welcome to put their punch lines into the Comments section below.
Meat Loaf starts freaking out about the possibility of losing this money to the other team. And I mean Freaking Out — he's a complete wreck, violently bawling his eyes out. And yes, now we are watching a TV program that is using the concept of donating money to sick children as entertainment. What's next, a show where fat people try to lose weight for our pleasure?
Meat Loaf is blubbering so much that Star picks up the phone and asks Trump if he would consider instituting a team-by-team money split like he did the last time there was a lot of prize money on the line. Trump says that he can't agree to that right now and maybe Meat Loaf should just focus on winning the task instead of trying to negotiate some pre-boardroom deal.
And you know what? Trump is right! It's a TV show! And if Meat Loaf wants to raise money for the kids, do some concerts! Get the cast of Roadie in a dunk tank for charity! I for one would love to throw a baseball that might knock Art Carney into a tank of dirty carnival water! Wait, what? Art Carney is dead? Does it make me a horrible person that I still might want to do that?
Jimmy Fallon shows up to the Team Backbone trailer and gives John Rich a check for ten grand. He sits down and debuts a song he wrote called "You're Fired" and plays it for the group. It's a nice moment and Jimmy Fallon's honest-to-goodness nice-guy-ness comes through.
Meat Loaf is coming apart at the seams, so Marlee gives him a pep signing and her interpreter Jack joins in with a pep interpreting. She basically tells him "when you start something you have to finish something." Could Marlee Matlin be my favorite on this show any more than she is? No! But that doesn't mean she's not playing the game — she says she has seen Meat Loaf's weakness as a project manager. Which kinda makes me like her more.
Now it's show time. The crowd trickles in for the Team ASAP show, with celebrities like Billie Jean King in attendance. It looks like Kevin Kline and Phoebe Cates are in the front row, but no mention is made of them, so either they're friends with Marlee or one of them is gonna have a show on NBC really soon. I don't see them hanging out with Meat Loaf, unless they are fans of crying guys who can't control their bowels polluting their presumably awesome NYC apartment.
The comedians do their sets and it's perfectly fine — we get one or two lines from each of them and they all seem funny. The Tracy Morgan video is played and it's just as boring and lifeless as it seemed when they filmed it. Then Marlee takes the stage to do some stand-up, and it's impressively funny, and Jack the Interpreter hits his comedic marks like nobody's business. Does anybody out there remember whether he was in Children of a Lesser God with Marlee? And if so, did he get a co-Oscar? Or does she have to share it with him? Or at least break off a part of the Oscar for him to keep at his apartment (there's no way he owns a home!)? These are the things I need answers to and I don't seem to be getting them!
Team Backbone then does their comedy show, with noted humorist La Toya Jackson hosting. Maybe she could've asked Jay Leno to lend her one or two of the eight tons of Michael Jackson jokes he wrote over the last 75 years and told on the network she's currently appearing on. The comedy from these comedians is equally fine, and then Jimmy Fallon takes the stage to perform a live version of "You're Fired." Hearing Fallon say "I wanna thank Team Backbone" kinda creeped me out, because this was taped months ago and he had no idea who or what Team Backbone is at that point.
Now it's time for the boardroom. And within seconds Meat Loaf is crying again. He tries to explain his fears about the whole thing, saying that the possibility of losing this money to the other charity is comparable to "a father going to Las Vegas with the rent money and the child's food money." I would suggest that this fictional father check out one of Trump's casinos in Atlantic City instead — it must be easier to win there because his casinos seem to be filing for bankruptcy every few years. But Phantom Dad should stay away from the Taj Mahal's buffet at all costs — it was one of the worst meals I have ever had in my life. Don't believe me? Then read what the people at TripAdvisor had to say. It's truly hilarious stuff!
Speaking of nonexistent people, Trump fires the absent NeNe, noting that "everybody who leaves prematurely says it was the worst decision they've ever made because everybody calls them a loser and a quitter." Everybody says it? Really?
He then focuses on Team Backbone, saying that this show is not good for Lil Jon's image, because it portrays him as "solid" and "establishment." Because of course hip-hop is all about appearing as unsuccessful to your audience as possible. Unbelievable, Trump. Simply unbelievable.
John Rich — who seems vaguely exhausted by Meat Loaf's sobbing — tells Meat that he will personally donate whatever their team had raised to his charity if he loses. Which then sends Meat Loaf into overload. He leans into the boardroom table and gives the following insane speech to Trump:
"This show has made me want to be a better person and has taught me things that I didn't know I knew, and I have to look you right in the eye and say to you personally thank you very, very much, Mr. Trump. I really from my heart to you mean that more than you could ever imagine and I thank you." It's like a Trump 2012 campaign commercial, except read by a man who will scare 99 percent of America's voters, only appealing to the faction that had their voting privileges revoked by way of the American judicial system.
The numbers are revealed and Team ASAP wins! Which makes Meat Loaf cry even more! How does this guy have any fluid left in him? Meat Loaf says he's sorry to La Toya Jackson. Wait, he's keeping all the money for his charity?! Trump never said it was impossible to share the money! What a total creep — when he wasn't sure if he was gonna win he wanted Trump to offer him protection. But when he won, he took all his spoils without looking back!
It's this kind of underhanded cowardice that makes Meat Loaf my least favorite contestant — he's whiny when it suits him but all business when he's ready to be. Just think: If the people of 1977 would've done the right thing and bought Rocket to Russia instead of Bat Out of Hell, we wouldn't be dealing with this jerk right now and maybe we'd have Marky Ramone in that boardroom instead!
Trump fires La Toya, saying that she is the first contestant to ever get fired twice on the show. As she leaves the building, she puts on some sunglasses over some mock-"Billie Jean" music and a couple sidewalk tiles light up beneath LTJ's feet. Hey, postproduction guys — if you're that bored, I'm sure there's a computer in your office that needs to be defragged! If you're leaning, you could be cleaning!
And this is usually the point when I get to wrap things up. But not tonight! Because there's a whole other challenge to go! Before the next challenge is presented, Star notes that from this point on the show becomes more of an individual competition, "and that's when you go in for the kill." Threatening words indeed — but who will they end up killing?
Trump greets the contestants at some NYC auto place to reveal that the awful corporation behind this challenge is OnStar. Each team will create a commercial for OnStar that highlights the fact that you can now have it installed in any car at your local Best Buy. Any other company names we want to fit in here while we're at it? Is there a brand of soda the customers should be drinking while waiting for the Best Buy employees to install the OnStar? And for the record, the two execs from OnStar on hand are looking pretty wormy — one brings to mind a shrunken-head version of Richard Hatch, and the other guy just looks like the product of human-hamster cross-breeding. Happy Mother's Day, everybody!
Marlee Matlin is named the PM for Team ASAP, and John Rich steps up to be the PM for his two-man squad. Rich makes note that there has never been a three-time Project Manager in the history of the show. He might also be the only person on earth who knows or cares whether that's actually true or not.
And if that wasn't enough Celebrity Apprentice Sabermetrics in action, Rich then explains that he has "raised more money than any man in the history of this entire show and only one human has ever beaten me." Any man?! Couldn't you just say you raised the second most in Celebrity Apprentice history? I'm not sure if he's more macho than weird at this point. I do like his dedication to the cause, but when you have to qualify your victories like that, they might not be that victorious.
The trio of Meat Loaf, Marlee, and Star jump into their campaign, with Meat Loaf squarely in the creative driver's seat. And the spot he comes up with is pure insanity — it will cut back and forth from Star Jones as an OnStar rep who is dealing with a woman in trouble and the cop who helps her, but then the whole thing transitions to a doughnut shop that the cop wants to eat at, with all three of them eating at the counter while a kid on a skateboard does a stunt holding an OnStar unit.
He may be a two-faced crybaby, but I'll give Meat Loaf credit for not holding back. With a concept this out of control you'd think he was lobbying for the chance to direct Magnolia 2: Froggy's Revenge. Star marvels at how much control Marlee is handing over to Meat Loaf, which seems like a pretty good strategy — if she can turn this whole thing against Marlee and get her canned, it's her against Meat Loaf from that point, which seems like a bet worth taking.
John Rich is having a hard time working on his spot because he's fighting some sort of sinus infection. (Was it was the worst sinus infection that any male on Celebrity Apprentice has ever had?) But Rich is having a hard time seeing straight and eventually ducks out to try to find a place to write the script in quiet. He's falling apart, but he rallies himself because he knows he's here for his charity and that he has to do what needs to be done. And while I have been hard on John Rich for so much of this thing, whether it be his truly horrendous music or his creepy Republican values, he has done the work each and every week and always seems to bring some level of inventiveness to the proceedings.
Team ASAP starts shooting their commercial, and as they start rolling, the show's camera crew shoots directly down Marlee's shirt as she bends over to watch the monitors. And I mean right down Main Street. Come on, camera crew — save your pervert action for America's Got Talent!

Their commercial seems a little out of control, a situation not helped by Meat Loaf insisting that there be no actual script. Great, he's now bored with being Paul Thomas Anderson and is now fit to become the next Christopher Guest. I figured this was because Meat Loaf was such an artiste that he couldn't be pinned down, until he told the DP that they would film everything he wanted to because he once did a movie in which he did 47 setups in twelve hours. Yeah, but what movie was it? I'm guessing it was Rustin, in which he famously played Coach Trellingsby. Please check out Meat's IMDb page and list your guesses in the comments!
Team ASAP manages to get everything that they want, including Meat Loaf's hilarious gag involving a cop who is hungry for doughnuts. Star is not happy, though, feeling that the commercial is out of control. I'm sure she'll hum a different tune when she sees Meat's interpretation of Officer Dominic Boddy in all its glory on the flat screen.
Team Backbone chooses a simpler approach, modeling their spot on the Apple Mac versus PC spots that used to feature John Hodgman until they replaced him with Jackie Martling, a decision I think they will all live to regret. Their decision to play it short and sweet seems like the smarter call — everybody knows that these commercials are all shot and edited in day and don't expect them to look like anything better than a pile of steaming garbage.
With the spots filmed, it's off to the editing bay. As someone who has spent a decent amount of time in the Chopping Den — it's industry lingo, guys — I know how frustrating it can be. It took us a couple weeks to get the Titus Andronicus video I directed to the finish line. So it is with no small amount of expertise that I say the editor working with Team Backbone seems like the most nervous dude on this — or any! — planet.
He seems absolutely terrified of the whole process, almost like he's trying to talk them out of finishing the thing. It's a bizarre stretch and feels like show is killing time more than ever. But it's not all gray skies — maybe this will inspire Meat Loaf to include a nervous film editor character in Magnolia 2.
Both teams are summoned to the boardroom, and what Trump kicks off with is so strange I'm still trying to process it. He comments on the fact that Meat Loaf looks more relaxed than he did in the last boardroom, saying, "I'm not a gay man, okay? I think gayness is wonderful, but I'm not a gay man." And his son and George the Eternal Sidekick and just about everybody else fake-laughs their way through the Emperor's undeniable hilarity.
The evaluation of each team's spots are pretty comparable — they liked both teams' energy, but there were performance issues in both spots and they weren't crazy about Meat Loaf's portrayal of Officer Dominic Boddy because he was playing cops for laughs and OnStar considers them to be heroes. As do I! Because they are! And because I could use another one of those cards that get me out of speeding tickets — the ones I have are from like two years ago! Contact me on Twitter — @scharpling!
When it's all said and done, Team Backbone wins again and the dynamic duo of John Rich and Lil Jon have done it again. And yeah, they deserve some credit — they play well together and work hard to get the job done.
Team ASAP is in the boardroom now and Trump is deciding who will get fired. And they all turn on each other — Marlee says that Meat Loaf should be fired, and Meat Loaf says that Star has to go. Trump kicks them out of the room to figure out his decision and before you can say "Meat Loaf tricked Phil Rizzuto into saying stuff that he didn't know would be used as a metaphor for sex on 'Paradise by the Dashboard Light,'" Loaf and Star are going at it in the waiting room.
Meat Loaf calls Star "sweetie" in an attempt to talk to her about their disagreements, and that sets Star off big-time. To Meat Loaf's credit, he's not scared of Star and her lawyerly ways, giving it right back to her. And his fearlessness seems to throw her — at one point she actually says to Meat Loaf "case closed!" as if she's in a courtroom!
When Meat Loaf wants to know why she won't continue to discuss the matter, she haughtily says, "You have to come with my credentials to get me to debate with you. Enough. Enough!" And that's when I was seriously hoping that Star would get the boot — that brand of intellectual snobbery is horseshit and it's what makes everybody alternately fearful and contemptuous of lawyers. I'm certainly not crazy about people belittling women with terms like "dear" and "honey" when they're in a discussion, but Meat Loaf willingly backed off his saying this. Star did not back off her intellectual snobbery one inch.
In the boardroom, things start to strangely shift against Star because she was in charge of the media portion of the ad and she let things get off track in regard to the message OnStar wanted them to embrace. And once the avalanche starts, sometimes you can't talk your way out of it. And Star could not talk her away out of it — despite her best lawyer-speak, she is left holding the bag and Trump fires her.
To her credit, she gives Marlee and Meat Loaf huge hugs on the way out, which kinda proves that she saw the whole thing as a game and was just trying to win it all. Which I can respect, because — duh — it is a game!
Next week: Trump brings back a group of past winners to grill this year's contestants and two people get fired!
COMMENTERS CORNER:
To FUNBUD23 in the Vuture comments section:
So you don't like Monk — which I wrote for — and you can't understand how it was popular. I don't know what to tell you — people liked it! Lots of them! It was on the air for eight years! You weren't one of the people who liked it but others did. Is that so hard for you to understand?
But you go on to explain in detail your dislike of Columbo (unless "Columo" is a real show?), and House and Remington Steele and Moonlighting. I'm not trying to say I'm a detective myself, but all the clues point to one thing — you don't like watching detective shows. So why don't you do yourself a favor and stop watching them. Can you wrap your head around that?
And please don't take this as an invitation to over-explain your TV preferences. But let me end this by saying that - in the manner of every episode of these shows you don't know you don't like - my summation is that you did it. And by "it," I mean "wrote the most pointless comments over the last nine weeks."
To JUST2MUCHFUN in the Vulture comments section:
You want to know why I write about the show that you think I hate.
Firstly, I don't hate it! But I am making jokes about it! It's what I do and it's the point of these recaps. If you don't like them, I'm sure there's someone else out there writing recaps that take you back to the magic moment when Gary Busey bothered the executives from the suntan lotion company without any jokes standing in the way of the memories.
And I am hardly "fed up with life." I am having a blast writing these things and I'm getting paid for it. If The Celebrity Apprentice is a means for you to "escape for an hour or two" (and what are you escaping from? The life that you are fed up with? Physician heal thyself!) I am truly happy for you. It's important to have things in your life that you find fun. But if it has taken you nine weeks to realize that I have been making jokes about the show, you might want to spend your Mondays doing something other than reading these recaps.
And for someone with a name as joyous as yours, you are hardly "2 Much Fun." Maybe consider changing your handle to "RunningFromTheNightmareThatIsLife."
To MEGAN202 from the Vulture comments:
I don't despise the show intensely. But I am not going to avoid the fact that Donald Trump has gone from a brash boor who tried to sell his junk to anybody who would listen to a brash boor who was making veiled racist remarks about the President for the last month-plus.
But I ultimately don't believe you're real. Your Obama/Osama zinger was a little too on the nose. And if you are gonna pull the "you're getting paid to do a recap," I can assure you while I will take the money they're giving me, I'm not doing it for the money. I'll probably just end up putting it into another music video like the one I did for Titus Andronicus a couple weeks ago.
Although I did like you "firing" me at the end of your comments. Nice touch!
I am pulling the plug on my goal to get the celebrities on the show to retweet about this column. No more prizes, no more nothing. If you want to do it, you are doing it for your own personal glory.
There are two episodes left so I will see you next week! Bye!
You can live-stream Tom Scharpling's weekly radio show "The Best Show on WFMU" every Tuesday at 9 p.m. or subscribe to it as a podcast here.