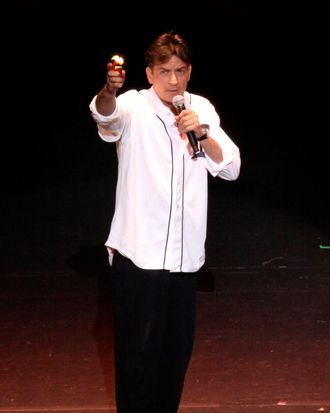 Photo: Stephen Fernandez / Splash News/? www.splashnews.com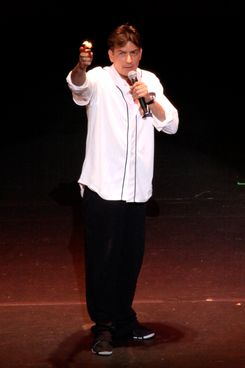 Vanity Fair goes long on the Charlie Sheen situation in its new issue, which is most notable for producing this priceless quote from Sheen's onetime flame Capri Anderson, who insists that she would never have sex in a hotel bathroom: "I am a porn starlet, if you will, but I do have class." (Though that sounds like something the second suspect would say on an episode of Law & Order: Special Victims Unit, it was at least new to us.) Otherwise, the article is filled with mild anecdotes about Sheen's stubbornness, like how he originally refused to star in Two and a Half Men, later refused to extend his contract for any number below $100 million, and recently refused to talk to Vanity Fair unless they paid him $1 million and gave him story approval. The most striking testimonial to his stubbornness comes from Sheen's old buddy Tom Sizemore, who recounts an incident where a sober Sheen visited a decidedly more addled Sizemore in what amounted to a one-man intervention.
"I get a honking at my gate, and a girl I was seeing runs down and runs back and says, 'It's Charlie Sheen,'" Sizemore recalls, "so they let him in, and he went into my backyard, and he sat there for two days." Sizemore did his best to ignore him. "Tom, come over here and talk to me," Sheen said, "Let me take you to Promises or to Exodus. Let's just go." Sizemore agreed and told Sheen he was just going into the house to get his toothbrush, then he ran through the house and escaped out the front door. "I came back at five in the morning. He's still there," Sizemore says. Sheen wrote his friend a note, which Sizemore paraphrased: "I don't know how deeply enmeshed you are with the dope. But I know this: the only thing one can do when one starts doing dope the way you do and I do is stop. Otherwise, you're going to ruin your life and career, go to prison, have a terrible life, or all of the above. Here's my number. Call me.'"
Representatives for CBS were asked for comment, but they were too busy hastily assembling a time machine to go back and woo that Charlie Sheen for a ninth season of Two and a Half Men.
Vanity Fair Did Not Pay Charlie Sheen $1 Million Dollars for an Interview (But He Did Ask) [VF]