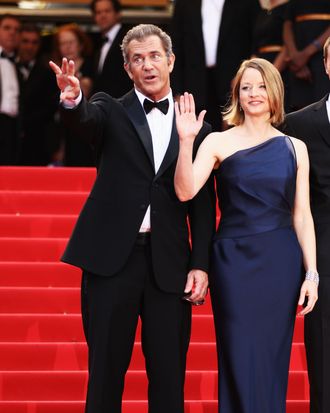 Photo: Andreas Rentz/2011 Getty Images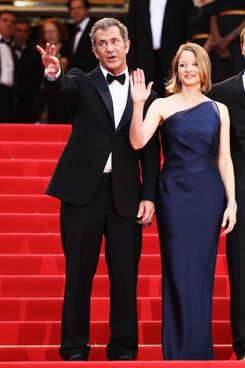 Attitude is everything when it comes to world box office. Despite The Beaver's status as a flop in the United States (it hasn't cracked $1 million, and seems to have already disappeared from theaters), Jodie Foster was all smiles as she debuted her movie at the Cannes Film Festival. At the morning screening, it was greeted with laughter and applause. At the gala screening later that day, the crowd in the theater, watching the red-carpet footage projected on the movie screen, gasped with seeming delight when Gibson appeared, just as Foster had promised in the press conference that he would. "He will be here. He won't be talking, but he will be here," she said, laughing. (He did talk, though to Foster exclusively, from what we could tell.)
Gibson's warm reception continued when he and Foster walked into the gala screening hand in hand and got the standard standing ovation. And though the applause at the end was more tepid than we've heard at other galas (and some eight people in our row and the row in front of us walked out during the screening, some in the first twenty minutes), the support in the theater was strong enough to merit another standing ovation. "Wow," Gibson mouthed to Foster. "Bravo!" a man near us shouted, and let loose a loud whistle. Gibson turned around, stuck his fingers in his mouth, and whistled right back.
The night before, a Frenchman whose father runs a movie theater in Paris told us that The Beaver was among the top five movies he'd wanted to see in Cannes. "I love Jodie Foster. I watch her in anything," he said. His cousin agreed, and said he was excited to see Gibson's performance as well. "I think maybe in France we do not know so much what he does in his personal life," he said. "I hear it may be bad, but I do not follow it; I do not care. Mel Gibson is a great performer. Mad Max, Road Warrior, those cop movies … Lethal Weapon, if they come on the television, everybody is watching them."
Moreover, to call Foster beloved here would be an understatement. She is the only American star we've seen yet who speaks fluent French. Her language skills are so good, in fact, that she and the moderator actually debated (in French) the language in which to hold her press conference. And when reporters asked questions in French, Foster translated them for her English-speaking producers and screenwriter, despite them having headsets that would do the same.
Here, the movie is being dubbed Le Complexe du Castor, which translates literally to "The Complex of the Beaver," but, so the French tell us, also connotes something about tragedy, turmoil, psychological trauma, and guilt. And that's how it's being marketed here, as a dark comedy. When Foster was asked if she thought the film would play better in Europe, she basically told the audience that she'd made it for Europeans. "It's not for everybody," she said. "That' s why it's an independent film instead of a mainstream film that's trying to be loved by everybody. It's trying to do something very different … It has a kind of European feel, though it's certainly about an American family. It's two stories. One about a father, one about a son, and trying to balance those two things. All of those things spell a special film, and very often with American audiences, they're uncomfortable if a film doesn't fit into one particular genre, and that's just a part of our national heritage. We like it to be either a drama or a comedy. So I always assumed that the film, because it does in some ways have a moody, European style to it, would be more well received in Europe, and especially in France and Germany and other places."
As for Gibson, she continued to defend him, as she has done in the States, praising his performance and his dedication to "wanting to talk about something that he knows a lot about, which is struggle, wanting to change, wanting to transform yourself, not wanting to be who you are." She called him a wonderful friend, and, yet again, "the most loved actor in Hollywood," while also pointing out, "Well, I'm not responsible. I can't excuse Mel's behavior. I mean, only he can explain that. We're all responsible for our own behavior." And if this bid for a stronger European run doesn't work out, she seemed to have hope for it, digitally, in years to come. "I can never be anything but grateful for this experience of being able to make this movie that talks and walks and exists and will exist on DVD and will have many years of people's lives for them to see it and to talk about it," Foster said. "I think I've learned after 45 years in the business that if you gauge your self-worth on your box office, you will be a very sorry person. I am not my box office."