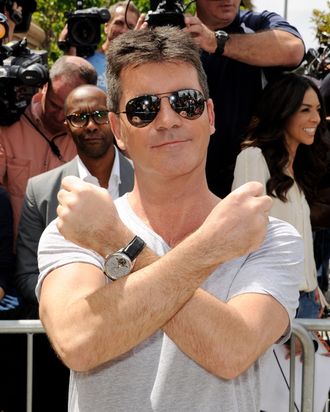 Photo: Kevin Winter/2011 Getty Images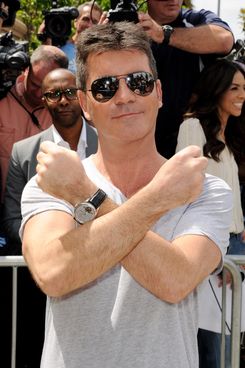 Here's how strong the Fox network is right now: Even if its two big bets of the fall — The X Factor and Terra Nova — both fail spectacularly, there's a good chance that come next May, it will end up with its eighth-consecutive victory among the all-important demo of adults 18 to 49. Which is sort of what happened this season: Fall shows such as Lone Star and Running Wilde were dead on arrival, and yet Fox still dominated. What makes Fox virtually fail-proof, of course, is American Idol, whose successful reboot this January erased all the sins of the autumn and annually gives the network an almost unprecedented ability to take programming chances without suffering too greatly if said risks don't pay off. With next season's recently announced schedule, however, Fox isn't taking too many huge leaps — which probably means its lead over its rivals will grow even bigger.
As mentioned, Fox's two big new guns in the fall are the dino-drama Terra Nova and the Simon Cowell–led singing competiton X Factor. Nova has landed Mondays at 8 p.m., a slot Fox execs say is designed to signal to viewers that the show's meant for all ages. Some had figured the network would schedule the dinos behind another big hit, but when you're spending tens of millions on special effects and marketing, a network has a right to hope that it's noisy enough to launch a night on its own. The move is also smart because, if it's a success, it could boost the fortunes of the fading House (now at 9 p.m. Mondays). And if it sputters, Nova won't do damage to local Fox stations'$2 10 p.m. newscasts.
Then there's X Factor. Its Wednesday-Thursday scheduling was no surprise: Fox strategist-in-chief Preston Beckman has been telling anyone who would listen for months that his goal has been to build a reality spine for Fox, with competition tentpoles airing in the same time slot in summer (So You Think You Can Dance), winter (Idol), and fall (X). Fox has been banging the drum for X since November, and with Cowell at the center, there's a good chance Fox could have another big reality hit on its hands. The one major caveat: NBC's sly (and successful) preemptive rushing on of the very similar The Voice. Between it, Idol, and this summer's America's Got Talent on NBC, is it possible viewers might finally tire of listening to sorta-good singers be overpraised by celebrity judges? Then again, after so much unconditional gushing, audiences could be eager to hear some of Simon's reality-checking, acidic critiques.
Both X and Nova are big commitments, and this can be classified as sort of risky. And yet, compared to last fall, Fox is playing things decidedly safe. There's no new buzzy drama in the fall that will get critics talking about Fox's ambition; even the very cool-sounding mid-season effort Alcatraz is a J.J. Abrams joint, which means it'll be relatively mainstream (although not necessarily high-rated). And X could conceivably flop — but on paper, what could be safer than using the Idol time slot for another singing series and putting former Idol icon Cowell at its center? Or putting a spinoff of Bones in the Bones time slot come mid-season? Given the cold shoulder viewers gave to Fox's quality efforts last fall, you can't blame the network for being a tad more calculating this year.
Elsewhere, Fox's biggest move this season is a bit more subtle: Despite its rep as a male-skewing network, females actually drive much of its viewership, thanks to hits such as Glee, Idol, Bones, and House. Fox is finally admitting that by serving up a Bones spinoff (Finder, coming mid-season) and new femme-focused comedies such as New Girl and I Hate My Teenage Daughter. It might have been better for Fox to have gotten in touch with its feminine side a season earlier, however, as NBC and ABC (and even CBS) appear to be doubling down on the girl power next season as well.
One more announcement by Fox today might have been the most revealing about where Rupert Murdoch's once-renegade network now stands: It announced plans to air a 25th anniversary special next April 1 (even though the network actually began in 1986, with the launch of Joan Rivers's late-night show). Fox passed on major tenth- and twentieth-anniversary celebrations, telling reporters at the time that the network didn't want to emphasize its age; it was the young network, after all. But now, as it prepares to mark its seventh season in first place, Fox seems to have embraced its status as a somewhat more boring but very successful broadcast giant.