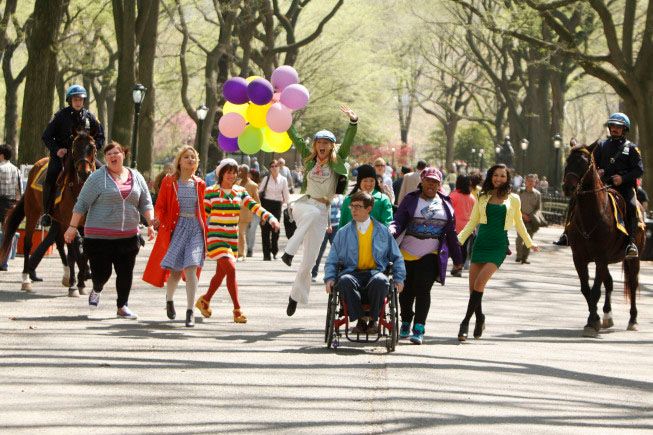 A clarinet mysteriously trills the opening to "Rhapsody in Blue," and we see the bright and shiny Times Square of today and feel nostalgic, a little disgusted, and a little nervous/excited — hey, all the emotions that often come with a Glee episode! It's the end of the season and the end of the school year, time for nationals, and of course time for big life decisions that will be scrapped at the start of season three. But despite all those quite forgettable original songs (and that sinking feeling that accompanies a "The Groff won't be back soon" realization), the season ended with quite a few moments of unexpected delight. Brittany actually singing a lot! Another amazing Wicked duet! And in the clincher for her should-be Emmy nomination: Naya Rivera with a Spanish tirade about Lima Heights Adjacent!
"My Cup" (Original Song)
Pizzazz: 4
Relevance: 3
Absurdity: 3
No sooner have the kids arrived in Manhattan than Rachel's been duped into buying Cats tickets (which Rachel would NEVER do — hello, this girl would have mourned the day Cats closed with her own personal ode to Grizabella) and Schue's locked them into their room at the InterContinental for some child labor/ultra-last-minute songwriting. In the grand tradition of New Directions odes to inanimate objects, Brittany and Artie have taken a page from the Jason Mraz songbook and written a mellow pop tune about cups, made especially charming by Brittany's smooth dance moves and surprisingly decent/un-technologically-messed-with vocals. Then Quinn suggests New York will write their songs for them! Sigh.
"I Love New York/New York, New York" (Madonna/from On the Town)
Pizzazz: 10
Relevance: 9
Absurdity: 9
We already weighed in on the relative entertainment merits of this less-awful-than-usual mash-up, so we'll simply analyze how the added production value makes the number a bit more enjoyable. Excellent moments in particular: Santana flirting with an NYPD officer; Rachel's fab yellow wedges; and the entire crew's ability to dance without slipping and falling on some of the more slippery surfaces (the TKTS steps; the ever-wet Lincoln Center fountain) in the city.
"Still Got Tonight" (Matthew Morrison)
Pizzazz: 4
Relevance: 2
Absurdity: 9
New York is such a charmingly friendly place on Glee: For one thing, Broadway theaters seem to be open for anyone who wants a chance to sing on the stage, and when the ushers do appear to finger-wag, they're all kindly older men who walk slowly, not frightening old women perpetually barking orders to put away digital cameras. Broadway, take note! Mr. Schue has decided to "try out a number" for CrossRhodes, which means that instead of singing something quirky and relevant and interesting (we were thinking a male take on "Broadway Baby" could have gone over well), he will sing a song from Matthew Morrison's new album about getting with a lady! We'll never argue with the quality of Matthew Morrison's suave tenor, but … come on! At least give us some dancing with a hat!
"Bella Notte" (from The Lady and the Tramp)
Pizzazz: 5
Relevance: 8
Absurdity: 8
New York has somewhat transformed Finn: He's still unsure of himself and smiling crookedly, but he's also now full-on in love with Rachel and giving her geographically elaborate date instructions. Central Park, the Bow Bridge, flowers, a gauzy aqua dress for Rachel, and dinner at Sardi's — the boy does know how to play into Rachel's New York fantasies. Patti LuPone makes her much vaunted appearance, acting much sweeter toward Rachel than we believe she would in real life (secretly, we hoped she'd be dining with Mandy Patinkin for a total win, but no such luck). And then, the longest and most circuitous walk home known to man — the InterContinental, via the West Village! Forget what geographic sense this does not make — we'd really like to know how Finn kept a conversation going for 40 blocks. But never mind such details: The barbershop quartet of Artie, Puck, Sam, and Mike Chang is pretty darn adorable, and we enjoy the idea of Puck finding a way to procure an accordion using only his manly wiles.
"For Good" (From Wicked)
Pizzazz: 5
Relevance: 3
Absurdity: 4
We'll say it: After this season, Rachel's relationship with Kurt is officially far more interesting than hers with Finn, and, yes, even with Jesse. Somehow, it's still a pleasant surprise that some of the episode's best moments were these two's scenes together. Breakfast at Tiffany's? Yes, they'd do it, and both would get totally coiffed and dressed up for the occasion. Breaking into the Wicked theater? A bit more far-fetched (especially considering the ticket lottery makes that place darn near impenetrable without writing a big check), but unbelievably heart-warming nonetheless. Kurt has, at least for this week, become the voice of reason in New Directions (if it's reasonable for a junior in high school to insist one must choose between love and career), and if that causes these two to sing the ultra-heart-rending final number of Wicked, well, we will happily get all choked-up in turn. We recently saw Kristin Chenoweth sing this directly to Stephen Schwartz at a concert, and that was only a little bit more tear-jerking than watching these two kindred spirits shine together. For once, Lea Michele's singing-while-crying looked genuine!
"As Long As You're There" (Original Song)
Pizzazz: 8
Relevance: 3
Absurdity: 4
After a brief interlude in Sad Quinn Land (featuring some touching cheering up from Santana and Brittany — we assume this entire scene was simply to explain Dianna Agron's kicky new haircut), it's time for nationals, which means the return of (tragically non-singing, happily still-earpiece-wearing) Dustin Goolsby, whose tête-à-têtes with Schue are delightfully catty (and a wonderful reminder of Cheyenne Jackson's pretend rivalry with Matt Morrison in "Legally Brown"). As is usually the case at a vocal competition on Glee, we see the one group that's simultaneously eerily vocally perfect and oddly attired — in this case, the all-girl choir singing "Yeah" in what appear to be bridesmaid dresses. Then it's time for the return of Sunshine Corazon, except this time, despite meeting again in the bathroom, she and Rachel have a conversation more Celine than Gaga, i.e., Rachel apologizes for sending Sunshine to a crackhouse, begs her not to deport herself back to the Philippines, and promises to send good vibes from the audience. This of course enables Charice to sing an ORIGINAL SONG, which doesn't sound original so much as hacked from the Celine songbook. We'll give her props for sounding a bit more engaged than usual, and for the fact that Vocal Adrenaline actually does appear at the end!
"Pretending" and "Light Up the World" (Original Songs)
Pizzazz: 8
Relevance: 7
Absurdity: 8
Well, the time has come for the all-ORIGINAL SONG performance we feared for most of this season, and it's half cringe-inducing, half fun. First, the bad news: Rachel and Finn's duet, penned (in pretend world) by Finn, is unfortunately the most literal of ballads, with all the life of a downer OneRepublic song and ending with a kiss that clearly made the entire nationals audience feel as uncomfortable as we did (even Jesse, in his skinny, skinny scarf). The far more lively "Light Up the World" (more along the lines of Taio Cruz, i.e. very Auto-Tune-ish sounding but fun to jump up and down to) brings out the New Directions charm far more ably, particularly thanks to yet more vocal solos for Brittany and hip choreography that's a definite improvement on season one's eternal arm-reaching-to-the-sky move. The results: As genius Jesse predicted, public kissing does not a show choir competition win, and the New Directions come in twelfth. Well, score one point for reality on Glee! And score 18 million more for Santana's "Yo soy de Lima Heights Adjacent!" meltdown! The episode ends on a decidedly quieter note — Blaine and Kurt wisely sipping lattes, Mercedes and Sam quietly appearing as a couple (sort of adorable, no?), Will (who has suddenly decided not to spend his summer on Broadway, because why be a three-dimensional character when you can be a "good" teacher) all of a sudden dangling his arm around Emma (hmmm … ), and Santana and Brittany having a truly lovely BFF talk that seemed the best outcome possible of their drama this season. We heave a sigh of relief. As with too many episodes this season, this one leaves us generally pleased, though not entirely sold, letting things slide that we know we'd have picked at in season one. Is non-awfulness the new normal on Glee? Let's hope the final scene was an optimistic sign of what's to come in season three: In lieu of the trademark Schue "Woooo!," we end on a more true-to-Glee, "Yay for the losers" note.