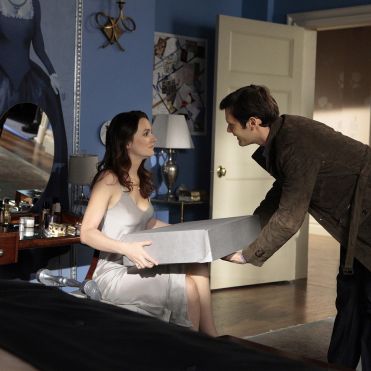 Photo: Giovanni Rufino/©2011 The CW Network, LLC. All Rights Reserved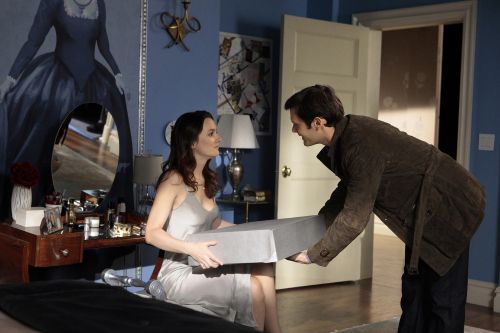 Last week, Prince William, Duke of Cambridge, married a woman he met ten years ago. This week on Gossip Girl, Blair got engaged to a prince she has spent approximately ten days with. Will she and her handsome, lispy prince really ride off into the sunset for a lifetime of macarons and "negotiating peace in the Sudan"? Or was Nate right when he predicted that, "she won't end up with him, we all know that," and her true fate is to spend the rest of her adult life ministering to the unshaven, rapey prince of darkness here in New York? Blair is only 20 years old, and in real life, it's too soon to consider those types of things. But Gossip Girl, of course, is not real life. We break it down in our weekly reality index.
Realer Than a Problem That a Bottle of Blue and the Dancers From Spider-man Can't Solve:
• The fact that Blair, formerly known as Queen B, is dating a prince, is not lost on Gossip Girl — just as the fact that Kate Middleton chose an Alexander McQueen gown is not lost on us. Plus 5.
• Blair has a crystal monogrammed rotary phone? Plus 2, because only Dorota could have thought of that.
• Blair, to Serena: "I thought you were sleeping at your mother's house."
Serena: "I did, and as it's two o'clock, I started my day several hours ago." Aw, we'd almost deduct points for this patently false claim that Serena has things to wake up for — but then we remember that the only thing that really gets these people out of bed is revenge. Plus 2.
• Blair, again to Serena: "Well, if you'll excuse me, there's a tart in my room that I'd rather attend to." Plus 1.
• Yes, Prince Albert has no legitimate children. Of course Blair would know this. Plus 1.
• For Louis, Blair went to an "actual sports bar." And she's then going to go to church to be photographed being pious in a pillbox hat. Plus 5, because she will without doubt orgasm in that church, wearing that pillbox hat.
• Rufus has sunk so low that he is watching Downton Abbey with Lily and making her crumpets. Plus 5 (and also, no dis on DA!).
• Rufus doesn't yet know why, but he already knows to warn Dan to "be careful" of Charlie. Plus 3. (Maybe it's because every girl Dan has ever dated has either been a crazy celebrity, a crazy hippy, a crazy socialite, or just a crazy?)
• Nate to Chuck: "It's four o'clock, it's smoking-jacket hour. Why are you still in your robes?" Plus 2, because, aw, Nate and Chuck's bromance is so close he knows Chuck's couture o'clocks. (Come to think of it, how much more loyal are they than Serena and Blair? Plus an additional 4, because feminine men are so much more easy to get along with than feminine females. This is Intel Chris writing this.)
• Dan to Charlie: "Enthusiasm is great." For this line alone, we forgive her for the ultimate insane, dark turn she is about to make in his direction. Plus 2.
• Louis: "[My secret] may be too much."
Blair: "Too much is just the right amount. Is it something I need a bikini for?." Plus 1
• Eric can recognize his sister's fake enthusiasm, because it sounds like Jenny just before she put gum in a girl's hair. Plus 3 for reminding us that all of these people are children.
• Plus 1 for Blair's pearl-cluster necklace.
• Dorota, on Charlene Wittstock: "I call her 'fish stock.' Not nice." Plus 1. Also plus 1 for Blair's helpless grin when Dorota mentions the possibility of her actually getting engaged to Louis.
• Rufus has "lucky Dr. Martens." Plus 2. (Although those are suspiciously un-worn-in Docs if they're supposed to be from the early nineties).
• Chuck looks terrible with facial hair. Plus 1, because that's how we know he's falling apart for REAL this time. Also the fact that the camera is shot from a tilted angle every time he's onscreen.
• When Blair thinks Louis lied to her, Dorota offers to send Vanya over to "do some Eastern European damage." Realism or racial caricature? He did get Georgina on that flight to Moscow that time … but then this episode is also called, "The Princess and the Frog," so no points.
• Nate covers up his emotions by talking about sports. Plus 1.
Total: 40
Faker Than the Princess of Monaco "Negotiating Peace in the Sudan"
• Instead of running after Blair to explain that he's not getting married right away, he allows her to torment herself for a good fifteen minutes while he runs out to buy what look like deli flowers. Minus 2.
• The New York Post would never have that many words on the cover — nor would they move a prince and a socialite to only half the page to make room for an immigrant rally. It's not the News. Minus 3. The "Page Six" layout is also totally fake, but the headline "C'est La B" is pretty genius, so, wash on that. (But still, why is Chuck reading three separate copies of the Post?)
• Blair self-consciously looks at her bare ring finger on her left hand when she mentions how "quickly" things move with princes. Come on, even she wouldn't see that coming so soon. Minus 2, because that would be RIDICULOUS.
• Louis is not Prince Albert's next male nephew, nor as such would he be next in line for the throne. Princess Caroline is next in line for the throne, and after her, her equally dashing son Andrea Casiraghi. Minus 10.
• Blair: "I'm sure his parents have their hearts set on an empire-expanding union with a hapless Habsburg." Um, Blair. "Empires" aren't expanded by marriages anymore. And there really aren't any Habsburgs anymore, either. Minus 10.
• Aw, it's so cute how the Monégasque Embassy is in the Ukrainian Institute of America on Fifth Avenue! Minus 10.
• Okay, as much as this show has tried to teach us that nobody can be trusted and any friend will turn on another at the drop of the hat, we really don't believe that Serena would go so far out of her way to ruin Blair's chance to be a princess just because Blair once kissed Dan (whom Serena isn't dating and is related to). It just doesn't make sense. How many times is Pippa Middleton getting laid right now? Proximity to princesses is a blessing for all! Minus 5.
• And, wait, sorry. There is no way that an actual princess would fly in ten potential brides for her son just so he could "assume his rightful place" as an heir. What is this, the Princess Diaries? Minus 100, and don't answer that. Some of those ladies must have had plans.
• Rufus's new band is named "Panic"? No. This is a new indie band. It would be named something tragic like "I Can't Go On, I'll Go On." Minus 4. (And minus four for you, readers, if you get that reference.)
• No one would actually read a book called Mr. Right in Front of You, with chapters called "How to Go From Best Friends to Boyfriends." No one who has a crazy, seemingly photographic memory of every social detail ever uttered in front of her, that is. Those people go the stalker route, not the subtle route. Minus 5 for Charlie.
• Wait, Gossip Girl's chronicling of Blair's ridiculous social life is helping Blair? All the other European girls have Heat and OK and Grazia to contend with — it's not like they've been living in obscurity. Minus 4.
• Even Blair would know better than to say "I can be the next Grace Kelly" to someone who is apparently Grace Kelly's daughter. Minus 10.
• With the exception of Princess Sophie and her son, everyone on the Grimaldi family tree produced by Dorota appears accurate, so we won't deduct any points. But the coat of arms on it is completely made up, so Minus 5.
• Blair: "We should send out change-of-address cards because I'm moving to cloud nine." Minus 4. And she really thinks as a princess of Monaco she will be negotiating peace in the Sudan? Minus another 4, because what happened to independent Blair, who knew "up" from "up her own ass"?
• There is a Princess Maha from Thailand, but she doesn't look ,like that. Minus 2. Meanwhile, there isn't a Princess Lucy of Bavaria, or any of those other girls. And how would these women have assembled at a day's notice anyway? Minus 50.
• Dan agrees to let Charlie cook for his dad's important business meeting? No. Minus 5.
• Minus 1 for the queen smiling a little when Blair quipped that she'd be the "next Grace Kelly." Please. Can't be the first time she's heard that one.
• Also, on an unrelated note, minus 1 for Blair's Jheri curls at that party.
• People who walk into other people's homes unannounced this episode: Louis, into Blair's. The Queen, into Blair's. Anthony Tyler, into Chuck's. Blair, into Chuck's. Minus 3, not because we're complaining about the lack of security in these fancy buildings, because we're way past that, but because it just occurred to us how weird it is that everyone is always fully dressed and/or never peeing with the bathroom door open when this happens.
• Vanessa is going to "get out of everyone's hair" by doing a study abroad next semester. Until then, she'll apparently literally be IN THEIR HAIR, listening to the secrets whooshing around in their head. Minus 2 for her failing to inform Blair about Serena's sabotage.
• Incidentally, does anyone go to classes anymore? Minus 5.
• Wait, we're still stuck on this. How is learning that your mother died while still loving you so much worse than learning that she abandoned you out of cruel heartlessness? Minus 2.
• Also, we're sorry to say that the main thing that struck us about Chuck's big domestic-violence scene was that that apartment would honestly never have a wall made of glass cubes. Minus 3. So eighties.
Total: 247
Unsurprisingly, the episode featuring an engagement between educated people who aren't old enough to purchase alcohol in the U.S. fell on the side of unrealistic. They could make it up in the coming weeks: Broken engagements featuring disputes over large canary diamonds are so Upper East Side.