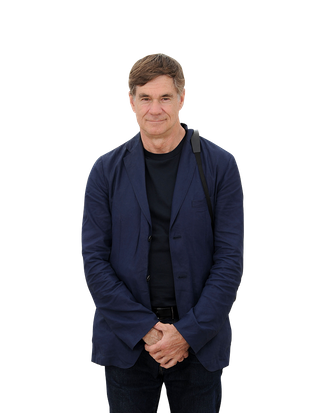 Photo: Venturelli/WireImage
Last night, Gus van Sant returned to Cannes with Restless, another exploration of the inner lives of wayward youth. Eight years ago, in his first trip to the festival, van Sant had won the Palme d'Or for the much more menacing Elephant, about an ordinary high school day that turns into a Columbine-like massacre. (Interestingly, the festival buzz this year seems to lie mostly with Lynne Ramsay's We Need To Talk About Kevin, also about a high school massacre.) A labor of love for producer Bryce Dallas Howard (daughter of Ron) and Jason Lew, her friend from NYU who spent years transforming a series of short plays into a screenplay, Restless is pretty much a teenage Love Story, centering on the sweet, quirky romance between a dying girl (Mia Wasikowska) and a sad boy she meets while he's crashing funerals (Henry Hopper, son of Dennis). Restless isn't eligible for a Palme d'Or, but it did get a standing ovation when it premiered at the Salle Debussy. We talked to van Sant at the film's after party, a dinner on the beach, naturally.
How does it feel to be back at Cannes?
I was here three or four years ago for Paranoid Park. It seems really recent. There was a stretch when I was here a lot, like every year or every other year, and before that, I hadn't been here at all. I didn't have films that were ready in time, but you know, it's great.
How would you describe Cannes to someone who'd never been here?
It's like, it really is like those Bridget Bardot pictures you see of her going into the water and, like, dancing on the beach. It's still like that. The modern version.
Have you done that?
I've seen people doing that. It's like, if you do anything there's always a lot of press around, so you can just, you know, order a bottle of water and it can be an event. So I think Bridget Bardot was, like, sunbathing and, like, it was an event.
How did you come upon this project?
Well, Bryce Howard, who's here, she was producing it with her dad's company's help [Imagine films], and my agent sent it to me. I had done Psycho with Imagine, so I'd worked with them before, and I thought, "I know those guys, and I like the script a lot." Those types of decisions become really tactical. Like, "If I do this, this happens." It involves your time, your destiny, other people's interests, other things you have going, what you have to put aside to do it. It usually takes me a year and a half to do a film, and in this case it was a year and a few months. It's tactical in the sense that you just have to structure out part of your life.
But not tactical in the sense that, "If I do this type of movie, I'll get to do a different type of movie next"?
There's that stuff, too. You can't really count on, like, the results, but a lot of the times it has to do with what you want to be doing, what you have done before…
I've been hearing people say this is softer and sweeter than your other work.
Yeah, I don't think I'd ever done anything like that. I didn't see it as a soft movie when I read it. Now that it's all done… you guys are telling me that. I guess it is. I was too much involved in it. It's delicate. I think rather than soft, you would say "delicate." I didn't even see it as delicate, because I can read something that's delicate and relate to it, and if I relate to it, I don't really consider it as delicate. But later, now that we're showing it, I realize that there is a delicate nature to just the whole balance of the story and the characters. I don't know. I think everything that I have done has been delicate in some fashion. But not delicate, like, literally delicate, but delicate emotions.
I cried at the end.
You did? Oh, good. I cried. For different reasons.

Why?
Certain things, when they work, I start crying.
Anything in particular?
I don't know. I think I start crying after… there was a love montage, and they [the actors, the characters] started working together.
It was a cute, old-fashioned love montage. Was that how it was written in the script?
Um, well, let's see, yeah. There was. Um, sure. We made [the love montage] as long as we could. We made it, like, the whole song. But we made more incidences. In the script they have like three things that they do. We made, like, twelve.
Did the actors participate?
In inventing scenarios? In that case, no. But they have something to do with, like, the nuances of the scenes.
[Ed note: We asked Mia Wasikowska about the love montage, and this is what she had to say: "There was a love montage in the script, but then Gus was like, "We want to do a love montage everywhere! Everywhere that we're filming we're just going to, like, steal moments to film everything." And then it was like, "And you're going to be in the most amazing costumes, and you're going to be riding cool bicycles." It was great, like, 'You're going to be playing badminton in a fur coat.'" He just involved us in the whole thing. We got passionate about it very quickly."]
What now?
We try and sell it. We try and get paid.
That standing ovation was intense. Does that happen all the time here?
I'm not positive. I've seen it happen in Cannes, and I'm not sure, like, if it's common.
It's never happened to you?
It has. But not in that theater. I was in the bigger theater. So not in that theater. In the Palais they do it a lot. They're really so excited here that there's kind of a requirement of long ovations, so that was not… I mean, at first I thought, "This is outrageous!" Then I went to somebody else's film and I was like, "Oh, I see. This is a thing." It's not the same as if you get a standing ovation in America. I don't think I've ever had one except for here. It's like a thing. Check around.