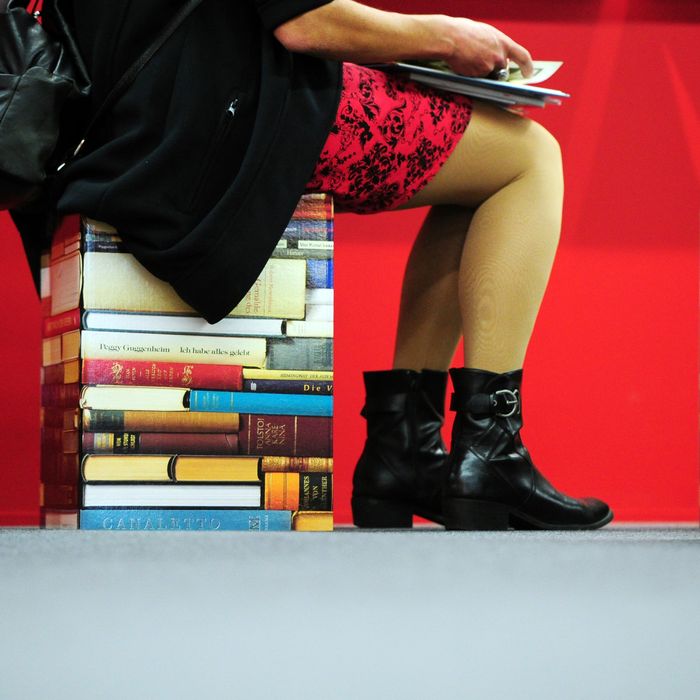 Photo: JOHANNES EISELE/2010 AFP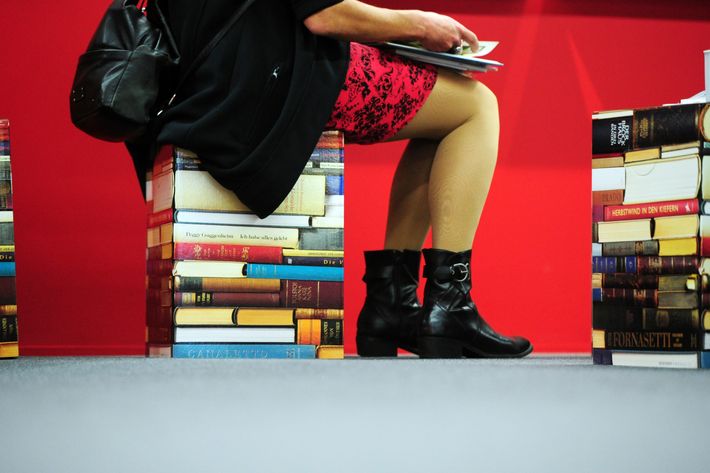 Just as Rapturists are feeling a bit more optimistic about the end of planet Earth, so too are publishers about the end of their world, judging by the talk at the just-wrapped Book Expo America, the annual convention during which the publishing industry does its best to grapple with the floods and earthquakes of technology. Just last year, the mood and the books were dystopian; this time, publishers were rising up in cautious self-congratulations: Let there be growth!

"We ought to give ourselves a round of applause," Scott Lubeck of the Book Industry Study Group said as part of a pep talk to a packed room at New York's Javits Center, as part of the group's annual Big Reveal of industry stats. "We stand around water coolers and say, 'Is the Apocalypse nigh?' But the fact of the matter is the industry is showing resilience." The big conglomerates — your Random Houses and Simon & Schusters — grew only slightly, while the independents grew more. Printed books continued to decline but the exploding e-book market filled the gap. And after years dominated by news-driven nonfiction, fiction — which sells much better in e-books — is now the major growth market. Charlie Winton, head of the indie-publishing conglomerate Publishers Group West, called it "karmic payback" for all those years when the imagination played second fiddle to current events. On the other hand, he also considers sunny reports premature, or, in a word, "bullshit."
In honor of the phoenixlike reemergence of fiction, here are the hottest fiction galleys of BEA, which have a way of becoming the hottest books of the summer and fall:
The Marriage Plot, by Jeffrey Eugenides (October 11)
Every book by Eugenides is almost by definition eagerly awaited. This one gestated for nine years, just as long as his last book, 2002's Middlesex. And thanks to some last-minute changes, the galleys, too, have been delayed and were unavailable at BEA. The story of a college student analyzing nineteenth-century romances during the eighties, as her classmates indulge in hip Foucault and Derrida, is more compact and idea-driven than Middlesex, a bit of a palate cleanser from that novel's glorious messiness.
The Night Circus, by Erin Morgenstern (September 13)
This debut author blends fantasy and literature in her tale about a magical, global circus, and it seems destined for book-club-abetted middlebrow grandeur. Acquired for around $1 million, it was a triple threat at the book fair: talked up on the "Buzz Panel" by its editor, touted by nearly every bookstore owner we bumped into, and extolled even by rival editors.
The Art of Fielding, by Chad Harbach (September 7)
Everything Morgenstern's book is, but for men (and reportedly acquired for a piddling $600,000). Harbach is an alumnus of N+1 — a calling card cited by other authors (Keith Gessen, Ben Kunkel) whose debut novels never quite lived up to the hype. But this one, also hyped on the Buzz Panel, has very substantial literary chops. It's also about baseball, and Jonathan Galassi, publisher of august Farrar, Straus & Giroux, said he "was devastated to lose it" to Little, Brown: "It's one of the very best first novels I've read in a long time."
We the Animals, by Justin Torres (September 1)
A much smaller book than the first two, Torres's autobiographical coming-of-age novel about a Brooklyn boy with a Puerto Rican father and a white mother promises to be a New York favorite at the very least. It doesn't hurt that Torres's backstory involves both an Iowa Workshop MFA and a stint in a mental hospital.
The Dovekeepers, by Alice Hoffman (October 4)
Hoffman has been a crowd-pleaser among bookstores, librarians, and their customers for a long time, but this time she gets props for taking on more ambitious subject matter. Her coming novel deals with the wayward sect of Jews who committed mass suicide at Masada in 70 A.D — focusing on four very different women, who are sure to appeal to Hoffman's core readership.
American Dervish, by Ayad Akhtar (January 9, 2012)
Akhtar, the star and director co-writer of the 2005 terrorism drama The War Within, offers what promises to be one of the most complex treatments of Muslim immigration and fundamentalism to come from an American-born (albeit first-generation) writer.
State of Wonder, by Ann Patchett (June 7)
The author of Bel Canto disappointed some readers with her 2008 follow-up, Run, but her newest novel, set in the Amazon and centering on a pharmaceutical scientist who's gone native, has more range and more momentum.
Go the Fuck to Sleep, by Adam Mansbach and Ricardo Cortes (June 14)
Indie press Akashic's uncategorizable "children's book for grown-ups" (per the blurb from David Byrne) spawned an unprecedented, tech-abetted phenomenon in the past several weeks, becoming a preorder Amazon best seller on the strength of one author reading and advance PDFs that went viral. Now the pub date's been moved up from October, with some of the more than 200,000 print copies made available at BEA.
Iron House, by John Hart (July 12)
Mystery nuts clamored for this fourth thriller by the two-time Edgar Award winner, this time about a Mob hit man doing his best to reform. Full of both action and backstory, it's a possible breakthrough to genre stardom, and a candidate for non-Scandinavian thriller of the summer.
Ring of Smoke, Amitav Ghosh (September 27)
There wasn't much palpable buzz, as yet, over the second book in Ghosh's trilogy around a broad cast of characters involved in the colonial opium trade. But anyone who had the patience to absorb both the chaos and the layered language of the trilogy's 2008 debut, Sea of Poppies, has been eagerly awaiting this one ever since.