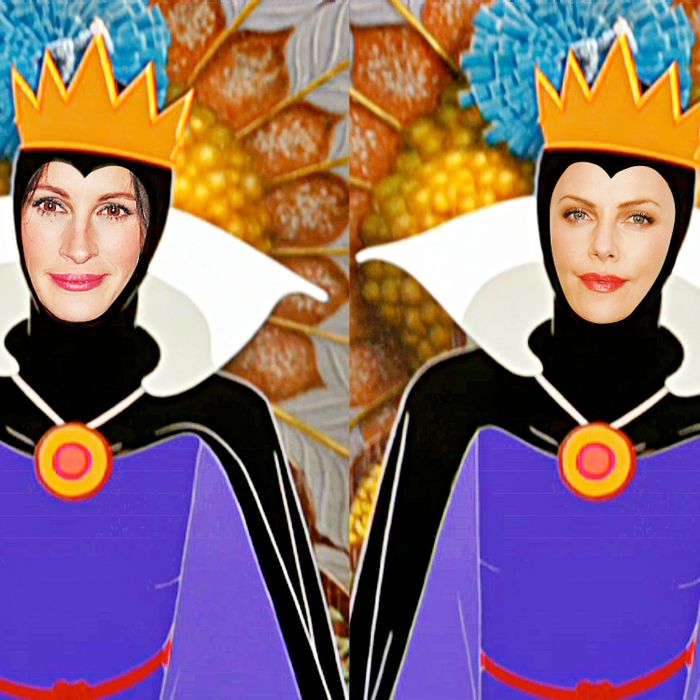 Photo: Mary-Louise Price; Photos: Disney (Queen), Patrick McMullan (Theron, Roberts)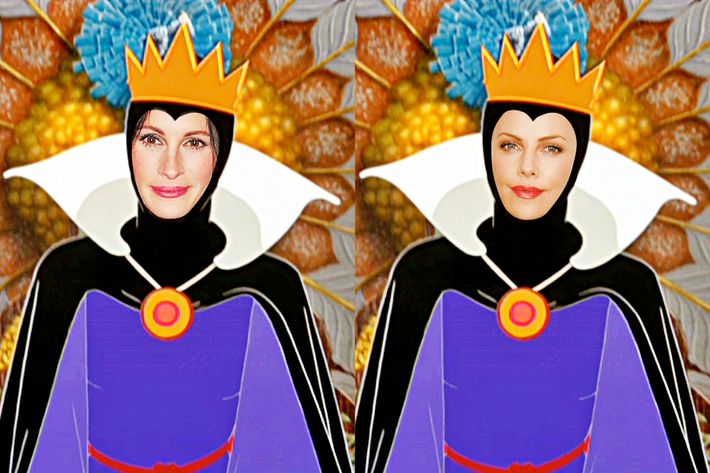 This summer may be crowded with caped crusaders, but just wait: Inspired by the billion-dollar worldwide gross of Alice in Wonderland last year, studios have begun developing a flood of fairy-tale movies to ensure that in 2012, superheroes will be outnumbered by handsome princes and wicked queens. The rush to fantasy has happened so quickly, in fact, that many fairy-tale projects are going head-to-head, meaning that we'll soon get two — and sometimes even three — variations on the same classic story. How will you know which witch is which? Let Vulture be your guide!
Snow White
Snow White is fairly meek as far as fantasy heroines go, but the box-office battle going on around her is a rager. Last year, Relativity pulled the trigger on a Snow White picture directed by lush visualist Tarsem Singh and starring Julia Roberts as the evil queen; meanwhile, Universal had set first-timer Rupert Sanders to direct Snow White and the Huntsman (where Snow gets some action-movie tutelage from a hunky hit man sent to kill her), and had Charlize Theron attached as the villainess. Some pundits thought that Universal might back off, since Singh's version filled out its cast first (with Lily Collins as Snow White and Armie Hammer as the prince) and was supposed to come out June 29, six months before Huntsman; instead, after Huntsman added Kristen Stewart and Thor's Chris Hemsworth, it leapfrogged from December to June 1. Relativity execs responded in kind by moving their picture to March 16, and just to prove how pissed they were, they slotted two more movies in development against other Universal films on the schedule. And that's not all! Disney continues to develop Snow and the Seven, which would blend the classic tale with The Seven Samurai. It's safe to say that someday soon, a whole lotta princes will be comin'.
Sleeping Beauty
How do you like your fairy-tale movies: faithful, revisionist, or only loosely inspired by the source material? You'll get your pick of options when it comes to Sleeping Beauty. True Grit breakout Hailee Steinfeld is attached to the most faithful version, though even her take has some concessions to the modern audience: When this beauty goes to sleep, she enters a dream world she has to fight her way out of. That's one way to get around the fairy-tale curse of a passive heroine, but another is to make the villain your protagonist, as Angelina Jolie is doing with Maleficent. Tim Burton was once attached to make that movie, but now it's out to directors. Meanwhile, Cannes recently debuted Julia Leigh's Sleeping Beauty, but this one is decidedly R-rated, with a call-girl heroine whose parlor trick is drifting off to slumberland during the act.
Peter Pan
Channing Tatum has been pitching an unusual take on Peter Pan, rumored to be a prequel positing that Pan and his lifelong enemy Captain Hook are actually brothers. (Tatum would play neither, but the movie has scribe Billy Ray and Alice in Wonderland producer Joe Roth attached.) Still, that's not as far-fetched as another Pan project starring Aaron Eckhart, which modernizes and darkens the story: Now Hook is a tormented detective (Eckhart) on the hunt for a Peter Pan reimagined as a childlike kidnapper.
The Wizard of Oz
For now, the land of Oz has averted a showdown even bigger than Dorothy vs. the Wicked Witch. Last summer, two high-profile Oz pictures were percolating: the Sam Raimi–directed prequel Oz, the Great and Powerful, and the big-screen transfer of the Broadway musical Wicked, which had directors like J.J. Abrams and Ryan Murphy interested. However, there's still no one attached to helm that movie, while Raimi has set James Franco, Mila Kunis, and Michelle Williams for his trip to Oz, which will be released next March. Whether that will put the kibosh on Wicked for the time being remains to be seen, but it can't be good news for two other Oz movies in development at both Warner Bros. and New Line.
The Little Mermaid
Hanna director Joe Wright has long wanted to direct a version of The Little Mermaid that hews closer to its fairy-tale origins. As he once put it to Vulture: "It will be dark. I hate the idea that they destroyed the ending of the original in the Disney version." He'll have some competition, though, since Country Strong director Shana Feste is developing an adaptation of the book Mermaid: A Twist on the Classic Tale, which expands the source story into an adult love triangle.
TV Fairy Tales
The fairy-tale boom doesn't stop at the multiplex. This fall, NBC will launch Grimm, a detective series where the hero cuffs fantasy villains and is aided by a big, bad wolf; at the same time, ABC's got Once Upon a Time, which flashes between fairy-tale characters in their own fantasy land (including Ginnifer Goodwin as Snow White) and the real world, where they end up after an evil queen strikes them with an amnesiac curse. A word of advice to both shows: stay away from Hansel and Gretel and Jack and the Beanstalk, since those are the only two fairy-tale projects in development with no current competition. The former (Hansel and Gretel: Witch Hunters), starring Jeremy Renner, and the latter (Jack the Giant Killer), starring Nicholas Hoult and directed by Bryan Singer, are both due out next year in movie theaters.