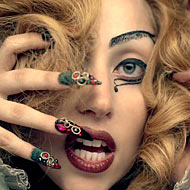 Lady Gaga just dropped off the video for "Judas," and Born This Way isn't out until May 23 — so is it suspect that Gaga's dropping another new single on Monday?
Just announced: "Edge of Glory," the third single from Born This Way, will be out Monday afternoon. First, that sounds like a Springsteen song! Second, with both "Born This Way" and "Judas" underwhelming the masses, can the quickie release of another single be taken as something of a panic move to goose up Gaga's polling numbers?
On the one hand, as Kanye's "throw it all out there as soon as it's done" distribution model exhibited, even superstars don't stick to the traditional music industry release model these days. Also, Gaga's been pretty forthcoming with her tunes overall; she's also unofficially dropped off "Americano," performing it live in Mexico, and "You and I," performing it live on a shoe piano. On the other hand: "Judas" hasn't really had a chance to fly, but the initial lukewarm response to the track has now been compounded by the equally lukewarm response to the video, and it'd make sense if Gaga's team rushed another single out in order to make sure they had an out-and-out radio banger on their hands before Born This Way hit retail. Either way: "Edge of Glory," lot of pressure on your shoulders, buddy!
Edge of Glory On iTunes STARTING MONDAY! [Official site]