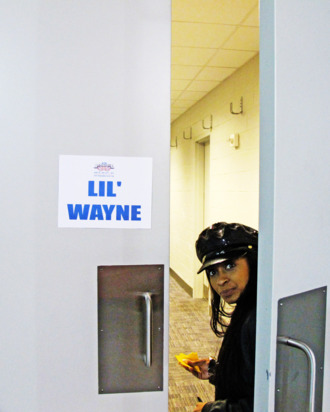 Last night, right as the news about Bin Laden was breaking, Lil Wayne was playing the Giants Stadium parking lot. It was the headlining set of the Bamboozle Festival, an annual showcase for a huge batch of pop-punk and screamo bands held at New Jersey's Meadowlands, and his performance — a breathless mash-up of mixtape verses, guests spots, and even his own recorded material — was received by the largely teenage crowd as if Wayne were the black Bieber.
Vulture arrived on the premises at the same time as Wayne's team, around 4 p.m. By that hour, red jackets and sweatshirts branded with the letters YMCMB (that'd be the acronym for Wayne's crew, Young Money Cash Money Billionaires) were popping up in and out of the dressing room. Various team members and venue security personnel reported that Wayne would arrive, à la Obama, in a motorcade, just minutes before taking the stump. "Wayne hates New York," said a source backstage. "He doesn't want any problems."
Despite said hatred, Wayne was staying at a New York City hotel, and his convoy hit traffic coming through the Lincoln Tunnel. With show time approaching, Weezy's whereabouts were unknown. Then, just past 9:30 p.m. as promised, a scrum of security and Team Wayners ran toward a slow-moving motorcade of four black SUVs. Wayne emerged, wearing Marc Jacobs camo shorts, dark shades, and a Mets hat, and was rushed to the stage as the opening beats of "I'm Goin' In" pulsed.
In July 2007, Wayne played his first-ever New York show at the Beacon Theater. His perfect performance left many in the crowd believing Weezy was about to take over music. After that show, Wayne was arrested and charged with gun possession, resulting in his recent Rikers bid. In between, he released the blockbuster album Tha Carter 3 and headlined multiple arena tours. But what's interesting is how little Wayne's set has changed since the Beacon: Yes, the hit count — including "Right Above It," "Lollipop," and that song about sleeping with every girl in the world (which, played to a crowd of 12-year-olds singing along, was maybe a touch creepy) — has risen dramatically. But the stage banter and energy were the same; Wayne still thanks the crowd the exact same way he did in 2007. Things have gotten more elaborate since, but the vibe of that '07 show, when it was just a D.J. and Weezy, was more than maintained.
Lil Wayne will be back to the area soon: He's headlining Hot 97's Summer Jam. It'll be held June 5, inside Giants Stadium.