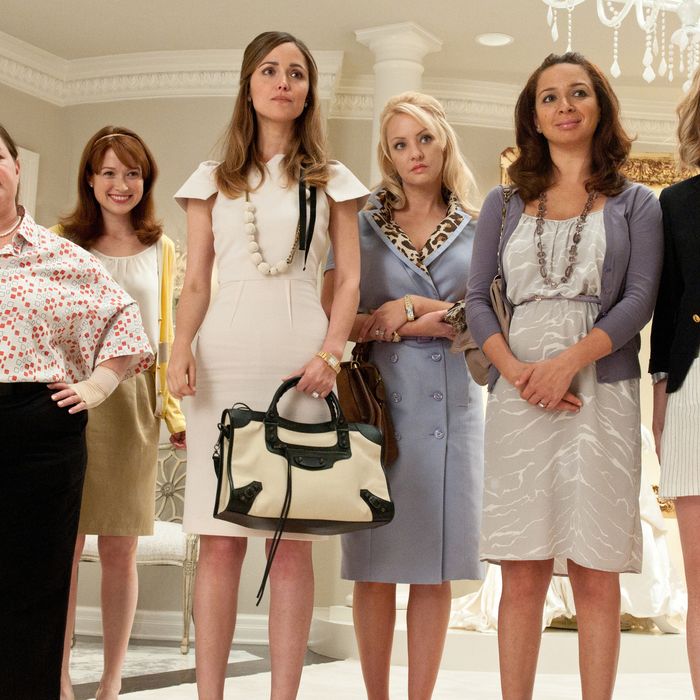 In response to critical demand ("Give us a sex comedy from a woman's perspective!"), the new film from the Judd Apatow boys' club, Bridesmaids, is a killer vehicle for Saturday Night Live's Kristen Wiig. Super-coiffed and dressed in microminis to show off her coltish legs, Wiig emerges as a likable hybrid of Jennifer Aniston and Lucille Ball — i.e., what many of us hoped Aniston would be. Wiig's gift is for putting on a mask of blandness that regularly slips to reveal panic, crazed insecurity, jealousy, and anger — and her blandly pretty face is rubbery enough to disarm you with its range of lunatic expression.
In Bridesmaids, Wiig (who co-wrote the film with her old Groundlings pal Annie Mumolo, with heavy input from Apatow) plays the lonely, single Annie, who ran a Milwaukee cake shop that went bust and now works fitfully in a jewelry store, where she routinely undermines her potential customers with passive-aggressive jabs at their supposed enduring love. Her best friend for life is Lillian, played by Wiig's old Saturday Night Live castmate Maya Rudolph, and their unforced rapport is one of the movie's pleasures. But Lillian is newly engaged to a rich guy, and there's a rival for her friendship from her new country-club circuit: Rose Byrne as Helen, the pearly embodiment of feminine perfection. Neurotic Annie hates and fears Helen on sight.
The idea of a "female mask," of women under pressure to disguise their feelings, is the key to Bridesmaids' best scene — which comes, I should add, way too early. At Lillian's engagement party, Annie gives a modest little toast, and then Helen takes the mike and gives a toast that's disarmingly polished, and then deeply threatened Annie jumps up and takes the mike back, and soon there are dueling mikes and dueling homilies (in different languages), and a musical climax. Wiig's timing is brilliant and Byrne, who's not as experienced a comedian, turns out to be every bit as pitch-perfect — she's a natural! The joke — that the competition can't be acknowledged because that's not how ladies behave in public — is remarkably fertile.
Apatow reportedly pressed Mumolo and Wiig to up the embarrassment quotient with a gross-out set piece in which the bridal party suffers food poisoning in an exclusive bridal shop — the perfect all-white set to soil. I laughed a lot — I'm a big fan of scatological humor — but I'm not convinced that women would have as easy a time as men getting past a public trauma this hideous. That's where Apatow doesn't think like a woman — and his paw prints are all over Bridesmaids. Potentially more penetrating material is undeveloped — or maybe cut, since Apatow-produced movies tend to come in overlong. A subplot involving Wendie McLendon-Covey as a cynical mom and Ellie Kemper as a ninny newlywed gets short shrift, and the wonderful Melissa McCarthy gets mostly jokes that exploit her girth. Jon Hamm does a broad comic turn as Wiig's conceited sex buddy that would have worked better if the writing weren't so coarse. Chris O'Dowd, best known for the Brit sitcom The IT Crowd, shows up as an oddly Irish cop who falls for Annie, and his awkward rhythms are very appealing. But the turning point in their relationship was either snipped or never written.
Bridesmaids is likely to be a hit with both women and men, being half formula chick-flick, half raunchy comedy of humiliation. It's hilarious — and too bifurcated to be satisfying. It's a female perspective that's a little too eager to please men — not vive la différence so much as split la differénce.