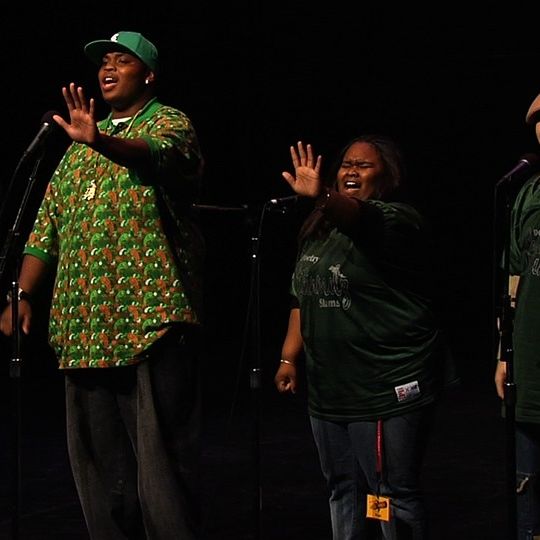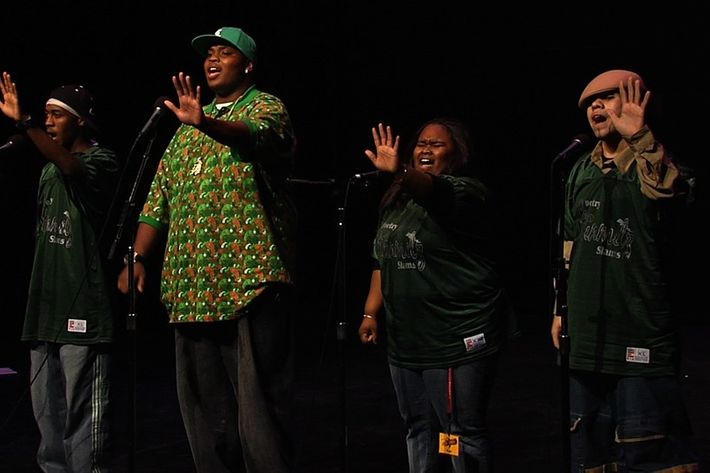 Whether the apocalypse occurs this weekend or not, it often feels like it's imminent in a documentary film world crowded with ecodisaster reports, political exposés, economic screeds, health-care cri de coeurs, and harrowing war chronicles. This week, we get two positive reprieves: The thumping, upbeat Louder Than a Bomb follows four adolescent teams as they prepare for a poetry slam competition in Chicago, and the loving Florent: Queen of the Meat Market honors the meatpacking district's late, great 24-hour bistro.
The 2002 documentary Spellbound followed eight kids struggling to spell obscure words like "hellebore" at a national spelling bee. It was a terrific film, but the audience had to hunt for meaning in an abstract competition. Not so with the super-straight-forward Louder Than a Bomb, directed by Greg Jacobs and Jon Siskel: These confessional, literate teen poets stand up onstage, grab the mike, and tell you exactly what they're thinking — clearly and loudly. Subtext and subtlety are at a minimum, and so are adults. The film lets the kids speak for themselves, their various off-screen backstories bleeding into their onstage performances: a special-needs brother or an absentee father, a father too tough to cry when his son was arrested (who then loses it when his son performs a poem onstage).
If you're someone who has grown weary of the decades-old poetry-slam aesthetic of sermonic peroration and confession, you won't find it here. These teens are sharp, honest about their lives, and crowd-pleasing in a genuine way. They aren't being pushed, like the kids in Spellbound; the competition — which aggressively encourages its young poets to figure out what makes their voices unique — obviously inspires them, bolsters their self-confidence, and focuses their energy. Only the American Idol–like elimination format rings hollow: "The point is not the points, the point is the poetry," goes the slam competition's slogan. "It's an outrageous thing, it's a stupid thing, giving scores to poems," admits one of the contest's founders. "What are we doing?" Agreed, though considering the emotional wallop the film packs, they are doing plenty right.
Like the trailblazing, neo-bohemian restaurant itself, the documentary Florent: Queen of the Meat Market is more about the vibe than the meat and potatoes. And like a night in the restaurant, the film gets sloppy toward the end, when you realize the party probably went on a little too long. But the guests are always terrific: "You got your gays, your lesbians, your rich banker people, the celebrities, the downtown wack jobs," says burlesque impresario Murray Hill, who puts himself in the last category. The film is packed with amusing talking heads (Michael Musto, Murray Hill, Penny Arcade, Frank DeCaro, Diane von Furstenberg, Isaac Mizrahi, Julianne Moore, and many more) who showed up to pay tribute to Florent Morellet, the mischievous restaurateur who helped pioneer the now-oversaturated cool of the meatpacking district through the grubby glamour of his glorified luncheonette — a place that made all sorts of activism appetizing.
Like many of New York's freaks who were born elsewhere, the ever-ridiculous and usually nude performer Tigger says Florent "felt like all the things I was running away to." As in sex, drugs, and tranny hookers (always the special of the day). The annual Bastille Day party was a cross-dressing, Antoinette-beheading bash. As the scene grew, so did Florent's hand-in-hand taste for self-promotion and agitation: At one point, Morellet actually says that he used political action to make his place famous. Incensed, for example, by right-to-die activism, he handed out living wills with menus. Supporting pro-choice groups, he baked cookies decorated with coat-hanger icing. After contracting HIV, he posted his T-cell count on the specials board. Finally, when his landlords raised the rent, Morellet called it quits.
Florent is less a chronicle of an era than a loving scrapbook: It has the amateur feel of a video guestbook, signed by all of Morellet's friends. And really, the scattershot approach perfectly captures the restaurant's lovably garish vibe. There's no denying that since Florent closed in 2008, the west side of Manhattan has been a far less fabulous place.