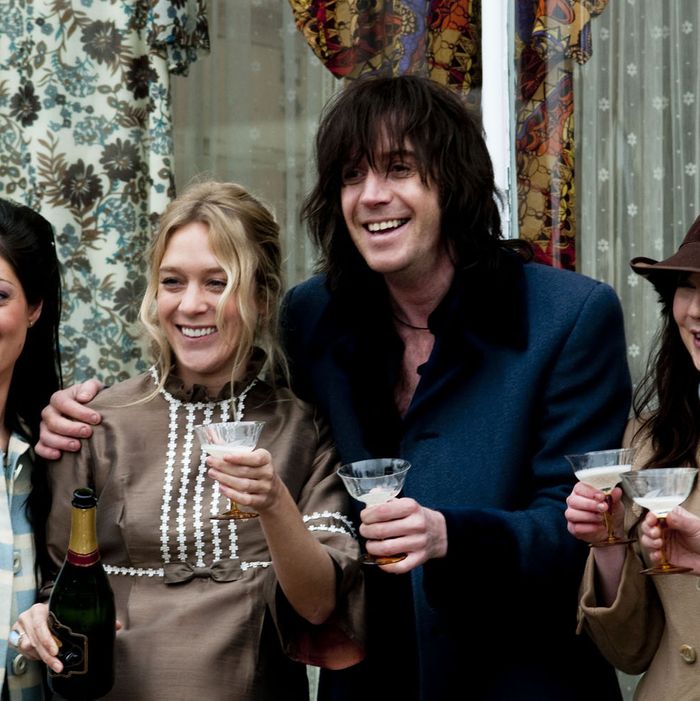 Photo: Contender Entertainment Group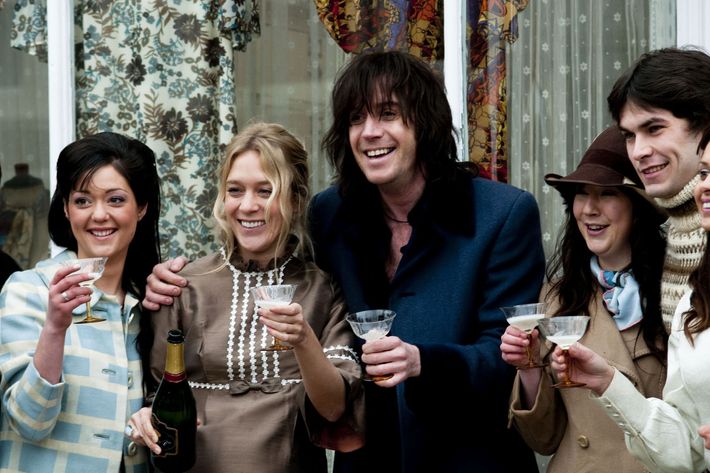 Mr. Nice
Rhys Ifans is marvelously louche as Howard Marks, a poor Welsh kid who goes to Oxford and learns to be one of the world's most successful drug smugglers. It's a plum, pickled role: In Britain's swinging sixties, Marks grows out his mullet, pops his butterfly collars, and dives deep into drug deals involving Afghani drug lords, orgies with pot-smoking young ladies (including Chloë Sevigny), and conspiracies driven by the MI:6. "Every time I crossed a border," he says of his drug-smuggling trips, "I got a religious flush and an asexual orgasm." The film, based on Marks's best-selling memoir, is framed by Marks delivering a bowdlerized version of his tragicomic life story onstage; the ridiculous self-aggrandizement is all great fun, and between his speeches Ifans gets to perform all sorts of bad behavior in all shades of bad polyester. But, like most benders, the thrill settles into dull repetition, and, finally, exhaustion. The outward markers of Marks's life are exotic, but there's little substantive drama, and the arc of this conventionally told rise-and-fall story is just too familiar: The boom goes bust, the kids get screwed, and the hangover hurts.
Tuesday, After Christmas
While other national film cultures chase blockbusters and ever-more-extreme stylistic gambits, perceptive Romanian filmmakers have staked a claim on everyday clarity in films like The Death of Mr. Lazarescu and 4 Months, 3 Weeks, and 2 Days. In Tuesday, After Christmas, the stubbled, hulking, and charming Mimi Branescu steals the film as Paul, a middle-aged man who cheats on his wife and sincerely falls for his mistress, who is also his daughter's dentist. Director Radu Muntean begins with a long, single shot of a nude, paunchy Paul in bed with a nude, younger and thinner Raluca (Maria Popistasu), who kiss, tease, and wryly charm one another until Paul falls off the bed, laughing. The scene's plain nudity and simple long take set the tone for a film that feels utterly unadorned with false pretenses, devices, or dissembling. While divorce films are typically either throw-the-vase-against-the-wall humdingers or heavy, slo-mo soul crushers, this is the rare example that doesn't judge. [A version of this review previously ran during the 2010 Cannes Film Festival.]
Puzzle
Natalia Smirnoff's uncommonly sensitive Portuguese drama stars María Onetto as María del Carmen, a quiet, even-tempered housewife who has lived to serve her kind but clueless husband and cocky, confident teenage sons, who all love her but have grown to take her for granted. María has handed over so much of her life to cooking their favorite recipes and running their errands that, even on her own 50th birthday, the good wife cooks, serves, and cleans up after her own party guests. After this party, she discovers a present, a 1,000-piece puzzle, and a new talent: It turns out that her aptitude for expertly arranging intricate plates of vegetables is trumped by her ability to assemble puzzles. Puzzle solving — no more absurd than stamp collecting or sports watching — becomes María's compulsive hobby and escapist form of self-discovery. She devotes her afternoons to practicing for an upcoming tournament, but lies to her husband and children about how she's spending her time, nervous it will be considered selfish or silly. Smirnoff never oversells María's liberation or her repression: Maria's teenage sons and husband aren't monsters. They just know what they want, whereas María has repressed her own desires for so long that she is just now still figuring it all out, fishing for a pattern in all those scattered pieces. María is played with a brilliant economy by Onetto, who conveys María's muted desperation, her thrill at a completed puzzle, and her nervousness at home with the same quiet serenity that is the animating grace of Smirnoff's surprisingly assured debut film.