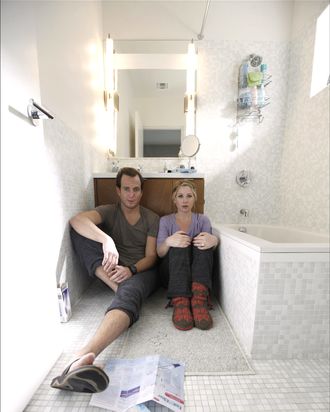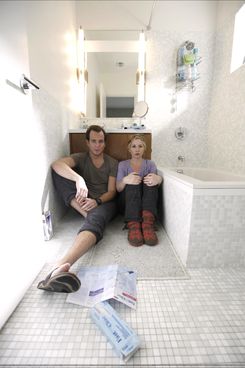 There's nothing particularly exciting or revolutionary about the new fall lineup NBC announced Sunday, and really, that's a very good thing. Under the leadership of deposed ruler Jeff Zucker, the Peacock made a habit of using its May scheduling announcement as an excuse to declare itself much smarter than everyone else in TV. The Jay Leno Show wasn't just a new prime-time series; no, at Zucker's NBC, it was the beginning of a new paradigm of low-cost entertainment programming! Today, new Peacock chief Bob Greenblatt used very few superlatives when describing his new shows and schedule. He expressed cautious optimism about his roster, laid out a couple of priorities and was blunt about his network's fourth-place status. "We're under no illusions," he told Vulture when asked about the job ahead of him. That's a good thing because, while NBC's new lineup has some glimmers of hope, getting viewers to start watching the Peacock again will not be an easy task.
Let's start with Greenblatt's best move — and, in this case, it's a move he chose not to make: rushing a second season of The Voice on the air this fall. Some industry insiders confidently predicted NBC would do just that, given how well the singing competition has performed in its first three weeks. And, as one wag told us Sunday, "There's no doubt in my mind Jeff Zucker would've put The Voice on in the fall." Indeed, Zucker loved to supersize and overplay every success he came across, from Fear Factor to Friends.
But as Greenblatt noted when we talked to him, the show "doesn't conclude [Season 1] until practically in July. Bringing it back a couple months later didn't seem smart." Indeed, when CBS and Fox found summer success with Survivor and American Idol, respectively, they held off until January for encores. Producers on The Voice need the time to tweak and expand the format "from ten weeks to hopefully more," Greenblatt said. "And we didn't want to do that willy-nilly. Finding these contestants isn't easy. They don't grow on trees. We wanted to do this right because we think it's a huge multi-year asset for us. We didn't want to blow it."
Holding The Voice will also give NBC a shot at properly launching and marketing the show widely believed to be the network's best drama newcomer, Smash. Not only will the singing competition make an appropriate lead-in, but delaying Smash until January means Greenblatt can run all 13 episodes of the series consecutively, without repeats. (You know, just like they do on cable networks such as Showtime.) Greenblatt also seems to be taking a page out of first-place network Fox's playbook. Fox has built up a "spine" of reality anchors in its schedule via American Idol, So You Think You Can Dance and the upcoming The X Factor. NBC already has America's Got Talent in the summer and has just decided to expand The Sing Off into a weekly series; combine that with The Voice in winter, and all of a sudden, NBC has a reality competition series anchor year-round. (As for another NBC reality show, The Celebrity Apprentice, Greenblatt said the network expects Donald Trump to be back, but that if he actually does run for president, he'll find a new ringmaster).
Other moves made by NBC Sunday seem a bit riskier. Slotting two untested, single-camera comedies Wednesday at 8 — opposite ABC's established comedy block (which could include a Tim Allen show soon) and Fox's Wednesday installment of X Factor — is a major roll of the dice, particularly since they'll have to start off a night. Still, ABC was able to create a comedy hit out of Modern Family without having any other comedy successes on its air at the time. We're a little more suspicious of the decision to put the laugh-track- filled Whitney on Thursdays at 9:30, shifting Parks and Recreation back to 8:30. It's not that we're that worried about Parks; its fans will follow it. But NBC tried to play for broad laughs after The Office with Outsourced, and that didn't work out so well. As for 10 p.m. Thursday, some industry insiders had figured Parenthood might shift into the slot known for some of NBC's highest-quality dramas over the years. If Prime Suspect turns out to be slicker and hipper than we think, then maybe it'll be a good fit with NBC's upscale comedies.
During a conference call with reporters Sunday, Greenblatt was asked to list his goals for the season. Many network suits would have taken this as a chance to roll off a list of half a dozen things on their to-do list, or to mention just about every new show. Greenblatt instead listed just three: Launching a new comedy night on Wednesday, giving Smash a shot and making sure the network doesn't screw up The Voice. Modest ambitions, but realistic. And if he can accomplish even two of them, NBC will be in a lot better shape a year from now.