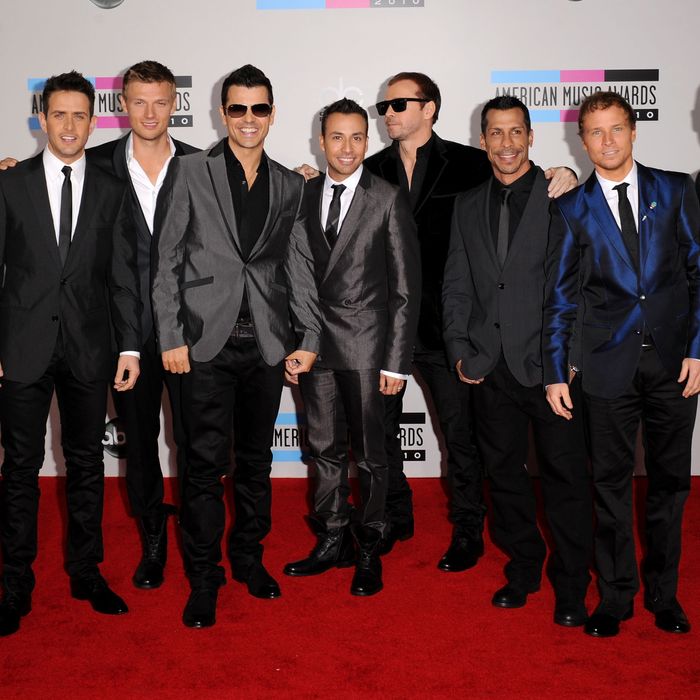 Photo: Jason Merritt/2010 Getty Images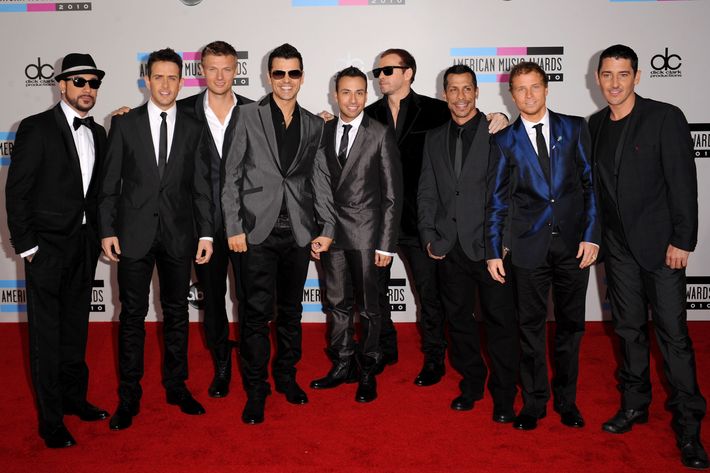 After a debut single and a few shaky television performances, the New Kids on the Block–Backstreet Boys supergroup releases its joint album today, officially launching a bid for worldwide boy-band domination. For certain music enthusiasts — the ones who bought Jock Jams and watched Carson Daly–era TRL, for example — it's the reunion tour of a generation. All the original* New Kids and BSB-ers on one stage, as God and Tiger Beat intended. (*Kevin decided to be a grown-up and quit the band in 2006.) The only drawback, of course, is that a nine-person group makes it that much harder to pick a favorite member. And what is the point of following a boy band, if you don't pick a favorite? Using the rules of Boy Band Equilibrium — which state that for every five-member band, there must be the following personalities: the front man, the quiet one, the baby, the bad boy, and the "other" one — Vulture undertook the ultimate Boy Band Face-off, comparing each NKOTB member to his corresponding BSB member. Controversial choices were made! Formerly tween hearts were broken! But in the cutthroat world of middle-aged harmonizing heartthrobs, there can only be one five winners. The results are below.
Jordan Knight vs. Brian Littrell (The Front Man)
We'll start with Brian, the most reliable Backstreet Boys soloist and the least likely to dabble in unfortunate hair experimentation. He was sweet (if a little bland); he had a heart condition; and he managed to pull off a relatively un-annoying post-BSB Christian solo career. Harmless! But let's talk Jordan — and before we talk Jordan, let's all take a few minutes to watch the "Step by Step" video, since it's unlikely that you've watched it in the past ten years.



Truth time: Can anyone honestly, in their hearts, choose Brian over the dashing, breakdancing, overall-modeling Jordan Knight? The guy was born to be a Special Edition NKOTB Ken Doll! We'll even overlook the creepy seduction-at-a-fairground vibe of his solo video "Give It to You," because: Damn, could Jordan rock a flowing orange shirt.
Winner: Jordan Knight. Clearly.
Jonathan Knight vs. Kevin Richardson (The Quiet One)
Kevin, as noted earlier, left the Backstreet Boys in 2006 and so far has chosen not to participate in this reunion tour. This decision is perhaps the greatest argument in his favor: Kevin is an actual, sensible adult. But the elder Knight brother bests Kevin in two key boy-band criteria: the ability to convincingly both sing and dance. Jonathan's totally adorable contribution to the "Step by Step" countdown momentarily steals the video from his baby brother, and he nails that side-to-side shuffle in "Right Stuff." Meanwhile, Kevin's "Everybody" zombie dance? Really too on-the-nose, as far as zombie dancing goes. And consider this bit of boy-band psychology: For every teenage girl who is drawn to Jordan, with his dreamy looks and undeniable swagger, there is another, slightly shier girl who identifies with the brooding (by comparison) older brother. Jonathan's game actually improves in the shadow of his brother.
Winner: Jonathan, unless you are a grown-up, in which case, Kevin.
Joey McIntyre vs. Nick Carter (The Baby)
Oh boy. In the pantheon of Tween Pop Idols, only Justin Bieber and Justin Timberlake outrank Nick and Joey in terms of nonthreatening adorableness, so this round is going to get particularly ugly. Nick had the edge singing-wise, while Joey had the moves, but both faces looked equally cute on the cover of a Trapper Keeper. In the interest of fairness, we'll just break this one down mathematically:
Joey:
- stole the"Right Stuff" car at the ripe age of 13 +1
- dominated "Step by Step" in a tux +1
- melted hearts with "Please Don't Go, Girl" +2
- starred in those Funny or Die "MA Men" sketches +4
- is currently the most attractive member of NKOTBSB +4
Total: 12 points
Nick:
- dated Paris Hilton -2
- rocked the butt cut for a better part of a decade -1
- actually matured past puberty while still in the band +1
- delivered the line "Am I Sexual" in a nude hyena (??) suit +2
- sang the immortal "I Want It That Way" key change +12
Total: 12 points
Winner: Joey wins on current merits (never having done a reality show, not being a drug addict), but we can't overstate the importance of Nick's "I Want It That Way" solo, and his resultant heartthrob status, on a younger generation of women. We therefore call a tie, to honor both men's contributions to boy-band history.
Donnie Wahlberg vs. A.J. McLean (The Bad Boy)
Bad boys, it turns out, don't age too well. On the one hand, we have A.J. Mclean, who's been in and out of rehab since the early aughts. (He also recently made a $40,000 investment in a photograph of Lindsay Lohan as a vampire. Do with that what you will.) On the other hand, we have Wahlberg, who's had a vaguely successful career as an actor but who turned into a (way) less hot version of his brother Mark. We're therefore going to base this decision on former strengths, which means giving it to the singer who rode a motorcycle and sang stone cold classics like "Hangin Tough," rather than the one who wore fedoras.
Winner: Donnie. Remember "Cover Girl?" Oh, so do we.
Danny Wood vs. Howie Dorough (The Other One)
Remember the girl who always inexplicably picked Ringo as her favorite Beatle? Here we have two classic Ringos, except that neither plays the drums and one spent the majority of his time in leopard print. Danny was jacked, obviously, and we'll award him points for style bravery with that leopard, but he rarely sang. Howie, meanwhile, got in a couple verses here and there — most notably on "I Want It That Way" — and delivered his single line ("I'm trying to get ahold of management") in the "Everybody" skit with feeling and commitment.
Winner: Howie — though you can pick Danny, if you want, it's not like anyone else can tell the difference.