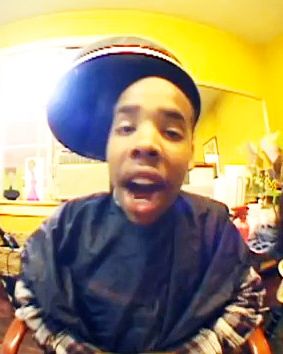 Last month, Complex tracked down Earl Sweatshirt — a member of Odd Future missing since the group first rose to popularity — at the Coral Reef Academy in Samoa, a "treatment program for at-risk teenage boys." This matched up with the common take on Earl's absence: that his mother, so disturbed by his sick and twisted lyrics, had shipped him off far, far away from his now-famous friends. This week's New Yorker, though — in which Kelefa Sanneh goes long on Odd Future (8,000 words!) — reveals a more nuanced situation. Also, Sanneh got Earl to talk.
You should really read the whole thing when you get the chance, but for now: Earl was not involuntarily shipped off to Samoa, but rather went along with his mother's plan — who is reluctant to allow him to have a public profile at such a young age — in order to sort some things out on his own. As he says:
The couple of months leading up to my departure were a mess for me \… I've had to do a lot of growing up since I left, so naturally my perspective has changed. A lot less effort is exerted toward proving that I care less than you about everything, so I'm a lot less frantic. I guess the simplest way to put it is that I'm more comfortable with myself, which is something that I couldn't have told you like eleven months ago.
And:
The only thing I need as of right now is space. I've still got work to do and don't need the additional stress of fearing for my family's physical wellbeing. Space means no more "Free Earl." If you sincerely care than I appreciate the gesture, but since you know the hard facts from the source, you no longer need to worry.
Most people were assuming that as soon as Earl turned 18 (which happens next February), he'd be back on the scene along with his pals and dropping new material. That may or may not happen; while he hasn't been writing much, he does say that "You'll hear from me without a doubt when I'm ready." And it gets more interesting: Earl's father, Sanneh discovered, is Keorapetse Kgositsile, a much-celebrated South African poet. (Because she's concerned about what OF fans might do with the information, Earl's mother has asked not to be identified.)
On a semi-related note: Sara, of indie-pop duo Tegan and Sara, posted a message on the band's site attacking Tyler, the Creator. She writes, in part:
When will misogynistic and homophobic ranting and raving result in meaningful repercussions in the entertainment industry? When will they be treated with the same seriousness as racist and anti-Semitic offenses? While an artist who can barely get a sentence fragment out without using homophobic slurs is celebrated on the cover of every magazine, blog and newspaper, I'm disheartened that any self-respecting human being could stand in support with a message so vile.
It's the same question a lot of people have been asking, and while the answer isn't one that would actually satisfy Sara, it's this, again: Odd Future are not advocating rape or homophobia, but are utilizing the subject matter to their own ends; it's provocation for provocation's sake (also: Tyler's use of the phrase 'Nazi Bar Mitzvah' seems to hit both the racist and anti-Semitic targers). Or, just to bring things full circle, as Sanneh puts it:
Odd Future's willfully repugnant lyrics — the verses contain plenty of violent sexual fantasies, and "faggot" is frequently deployed as a term of address — are designed to nettle cosmopolitan listeners who have come to think of themselves as generally unnettlable, adding an unmistakable element of cruelty to music that can otherwise seem playful. There is something profoundly nostalgic about this strategy: Odd Future sometimes seems intent on resurrecting the bad old days, when hip-hop was scary, even if that means concocting sadistic fantasies or reinforcing old prejudices.
But maybe Earl and Sara should hash this on out one-on-one.
Where's Earl? [NYer]
a call for change [TeganandSara.com]