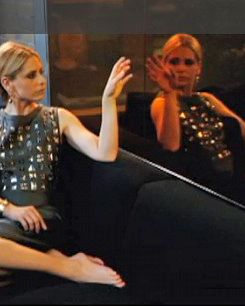 Damn you, CW! Every year we go into your upfront presentation ready to write you off as the failed love child of the WB (which we worshiped) and UPN (which … we didn't). After all, you've been around for five years now and — other than the greatness that is Gossip Girl — you've contributed nothing enduring to the pop culture landscape (fans of The Vampire Diaries, feel free to voice your anger in the comments). Commercially, things aren't much better: Your best shows draw fewer viewers than Jersey Shore or much of what's on ABC Family or History. And yet, come May, when you trot out some energetic, hot music act (Katy Perry!) and show us your well-crafted clip packages (why, hello, Hellcats), we somehow forget the lessons of the past year and start thinking to ourselves: "Wow, that CW sure has some promising new shows. Next season, the comeback will begin!" We tried to be strong today, when you unveiled your latest set of probably empty promises, but then you showed us the preview of Sarah Michelle Gellar's Ringer. And once again, our cynical hearts melted.
First, a little bit about how the CW started its presentation, held this year at Time Warner Center. Instead of Perry, we got LMFAO singing their current club banger, "Party Rock Anthem." It was suitably upbeat but lacked the big time factor of Perry. We were then informed that the CW was making up some words — like "CWingo," for a new Facebook game where viewers basically play bingo while watching the network. Then came a potentially unprecedented transition of power from outgoing CW chief Dawn Ostroff to new boss Mark Pedowitz. Normally in TV land, suits get sacked and a new boss just shows up on stage at the upfronts without mentioning a predecessor. The CW had Ostroff actually introduce Pedowitz, while Pedowitz later thanked Ostroff for her contribution. All that was missing was Ostroff handing off the wireless Janet Jackson mic she uses at upfronts. It was weird, but sort of classy.
The first major scripted series the CW showed off was Hart of Dixie, the Rachel Bilson dramedy about a Gotham girl who ends up becoming a small town doctor in the South. The network is hyping it as "from the creators of Gossip Girl," but that's misleading: Josh Schwartz and Stephanie Savage are exec producing, but they didn't write or direct the pilot. And you can tell: The duo's wit and wordplay were pretty lacking in the very, very long package the CW showed. Pre-upfront buzz was that Bilson wasn't believable as a young doctor; we agree. We particularly don't understand why she had to be portrayed as having graduated at the top of her class. We can see Summer Roberts making it through med school, but just barely. Worse, the pilot seems filled with every small town cliche you can imagine, from the hunky simpleton who seduces Bilson's character right off the bat to the cranky old guy who doesn't want to share his medical practice with Dr. Summer. Despite our many doubts about Hart, it's nice having Bilson back on TV (and not hawking phallic ice cream) and we could see ourselves growing mildly interested in the small town charms of the show.
Next up: Ringer. Feeling more like a trailer for an indie movie — Black Swan came into our head a few times — this just might be the best-looking clip we saw all week (sadly, the shorter clips online don't have the same impact). The show has SMG playing twin sisters, one of whom apparently decides to kill herself, thus forcing the surviving twin to assume the other's identity. Why? We're not sure, either, but it turns out that the supposedly dead sis is caught up in some serious spy shit. (Cue the inevitable, "Oh, other sister, what did you do?" line.) Of course, by the end of the preview, we're left thinking dead sis isn't really dead, just evil. Like NBC's Awake, Ringer left us slightly confused and thinking that this whole idea would make a really great movie and could get pretty dopey pretty fast as the series progressed. It also seems way too grown-up for the CW (but too dark for CBS, which originally developed it; Showtime might have been perfect).
Ringer was easily the highlight of the CW presentation, but there were other reasons for optimism. As hinted above, we're not as caught up in The Vampire Diaries, but The Secret Circle is basically TVD with witches (and without a villain as amazing as Ian Somerhalder). It's all about a Bella-esque girl who moves to a small town and finds out she's actually a witch — and not just any witch, a superwitch who's essential to completing a co-ed witch-y circle whose power is dependent on a complete group (a coven, if you will). So far it seems the only spells these witches are able to cast are related to rain: slowing it down, stopping it, etc. We're sure they'll get better at witchery as the season moves along.
The CW also continues its hunt for a new reality franchise to replace the quickly aging Top Model, and it rolled out two new contenders. The more interesting one was Re-modeled, which features an asshole "modeling industry veteran" named Paul Fisher who goes around trying to save small agencies from around the world while also "helping" would-be models. So it's sort of like Kitchen Nightmares, but with a bargain bin Gordon Ramsay and no pasta being thrown around. Fisher does his best to be evil, but we didn't quite buy it. Still, Re-modeled seemed far more viable than H8R. This show forces celebrities to come face-to-face with regular folks who are tired of said celeb's schtick. Only problem is, the show will never get real stars to participate (Snookie and Kim Kardashian were in the pilot), and you know that there's no chance the civilians will end the episode hating the so-called stars even more. Instead, they'll admit that the star is pretty cool and the celeb will come off looking better than he or she really is in real life. In the post-Charlie Sheen world, making loathsome media figures more sympathetic makes no sense at all.
Bottom line, we can't wait for Ringer and expect many folks will feel the same way about Secret Circle. We're also curious about Hart of Dixie and Re-modeled; H8R, by contrast, has no redeeming value. And yet, we're also skeptical that we'll actually end up truly addicted to any of these shows or that viewers will grow attached, either. Last year, Nikita was one of the most widely praised pilots on any network; it seemed a certain hit. Hellcats also seemed promising. Now, however, Hellcats is gone, having never attracted even a moment of buzz. And while Nikita is returning, it's far from a hit and is sort of being banished to Friday nights. Maybe this season the CW will actually end up delivering on its spring promise.
More Upfront Reviews:
Reviewing the CBS Upfront: Too Much Swagger
Reviewing the ABC Upfront: Gender Issues
Reviewing the Fox Upfront: Things Are Easier When You're No. 1
Reviewing the NBC Upfront: Seriously Musical