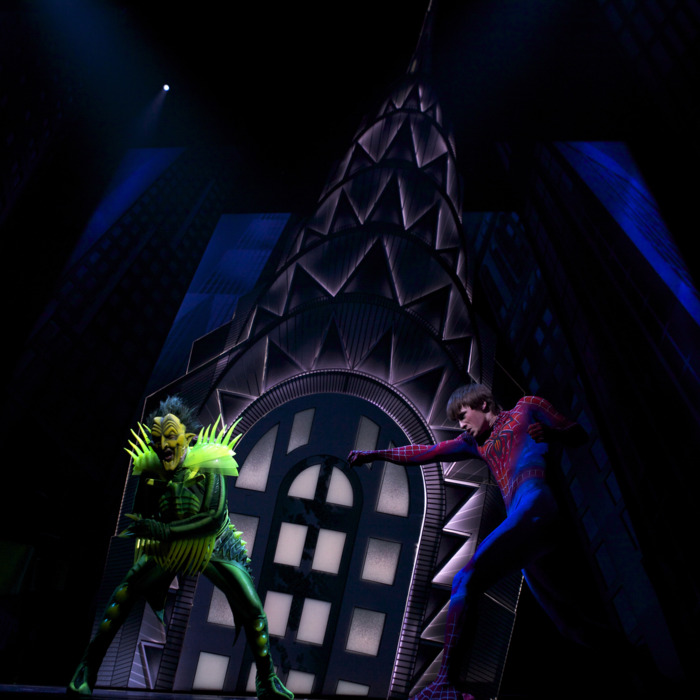 Photo: ? 2010 8 Legged Productions, LLC., ? 2010 8 Legged Productions, LLC.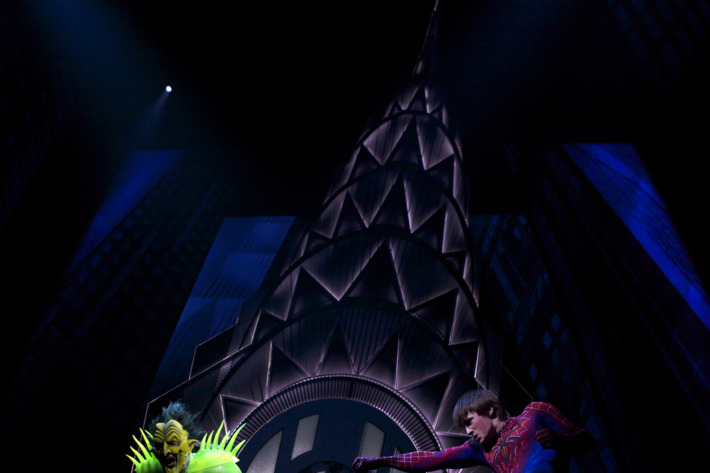 The first preview of the brand-new Spider-Man: Turn Off the Dark went down last night. How'd it go? Not bad! EW reports that there were a few mistakes, but nothing of the bone-crushing variety; stage hands were visible, cues were missed, etc. The major differences — namely, a smaller role for the villain Arachne, a larger role for Green Goblin, the excision of the Geek Chorus, and an overall uncomplicated-ness — have been previously reported, but there were a few new interesting wrinkles.
The Times explains:

imes explains:

plains:

>
Extensive dialogue has been added, at least for now, that illuminates the anxieties and dreams of the main character, Peter Parker (Reeve Carney), who becomes Spider-Man late in Act I. The creative team that replaced Ms. Taymor also expanded the romantic subplot between Peter and his childhood best friend, Mary Jane Watson (Jennifer Damiano, who, the producers announced to audience cheers, turned 20 on Thursday).
Also of note: Bono and the Edge cranked out a new song, Freak Like Me, added new lyrics to old songs, and, in general, tweaked the material; there's more flying; and, at one point, the show goes meta. EW: "J. Jonah Jameson, the fiery Daily Bugle editor, denounces bloggers and defends his newspaper by saying it's 'not the [New York] Post.' Later, the Goblin winkingly refers to himself as a '65 million dollar circus tragedy.'" Very nice.
So, is this enough to make you believe in a healthy second life for the troubled production?

'Spider-Man' reboots on Broadway: What did they change? [EW]
Revamped 'Spider-Man' Returns, With Just a Few Glitches [NYTimes]