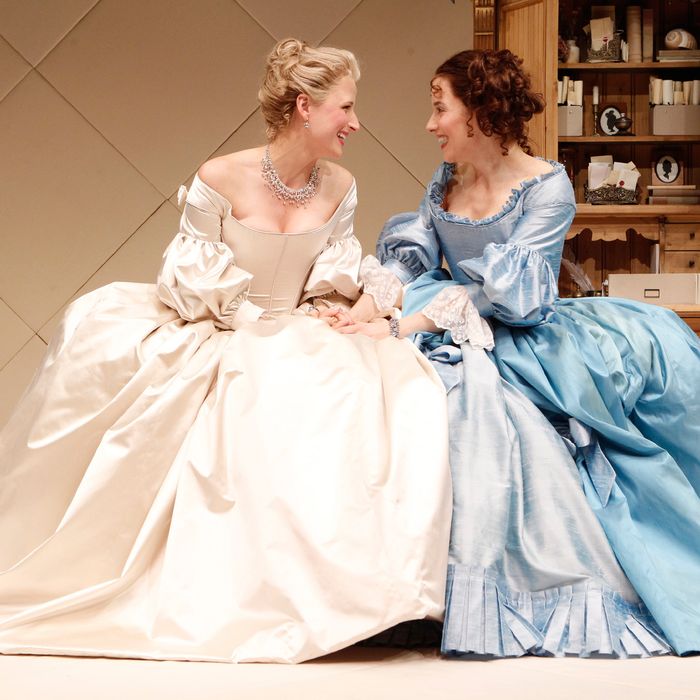 Photo: ?2011 Joan Marcus/?2010, Joan Marcus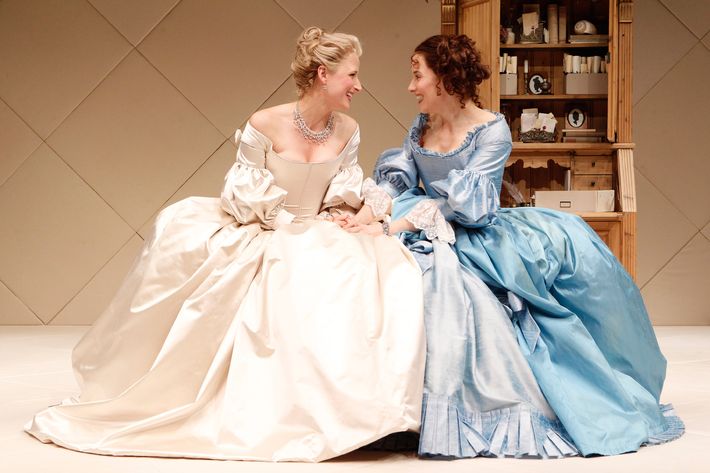 I'd hoped to open this edition of "Things to Do Before You Die This Weekend" with a plug for Carson McCullers Talks About Love (at the Rattlestick Theater until June 5), a new bio-musical storytelling hour from indie icon Suzanne Vega and Spring Awakening's Duncan Sheik. Alas, it's kind of a damp squib: a mildly good idea for a concept album brought awkwardly onstage as performance art. The Vega-Sheik mode feels, musically and viscerally, a little too easy listening for McCullers, querulous author of such outsider classics as The Ballad of the Sad Cafe and The Heart Is a Lonely Hunter, who was a genuine crazy person — and not a low-key one, either. In a helmet wig and long square-ish skirt, Vega appears to be doing a cute, unstable little party impression of her favorite authoress, and her banter with pianist Joe Iconis feels like one of those obscure SNL sketches that never quite hoists itself off the mat. But then Vega isn't really an actress (and how could she be mistaken for one when 90 percent of her stage business revolves around an unlit cigarette?), and this show isn't really a show. I guess what I'm saying is: Don't bother seeing this before you die this weekend.
So let's move on to …
King Lear (at BAM's Harvey Theater until June 5)
The great Derek Jacobi has finally come into his Lear, and it's a doozy: incensed, impassioned, insane, and often literally empurpled, well before his final infarction. As the father of all fond, foundering elder statesmen, Jacobi blows, he rages, he cracks his cheeks — and, most interesting, he whinges and whines like a toddler. Alert Judd Apatow: He's making a case for Lear as the original man-child, all the more pathetic for being an old man-child. (In fact, Jacobi spends so much time in falsetto, you wonder how much oxygen he's getting.) He's overwhelmed by his two very grown-up daughters, smiling, simpering viper Regan (Justine Mitchell) and human icepick Goneril (the sexy, terrifying, terrific Gina McKee, who wields the most frightening eye line since the salad days of Jack Palance). Michael Grandage's sere, unadorned production is played against what appear to be the scuffed-white slabs of an ossuary; color only comes into the mix when blood is spilt. (Even the Fool — the superb sad clown Ron Cook — is in muted motley.) There's little fuss or deep interrogation when it comes to text and subtext. This Lear takes place on an exalted, rhetorical level and holds us by the ears until it's finished. It's an approach that has its drawbacks: When Jacobi's offstage, we forget his Lear exists. Tremendous and technically perfect as his performance is, nothing he does quite adheres to Grandage's marble sepulchre, which seems coated in emotional Teflon. (As usual, the straight-evil characters manage to leave more of a mark.) Unless Jacobi's voice is ringing in our ears, we're not quite feeling the full impact of the fond old king's folly, his tragic insecurity, and, most crucial, his self-imposed estrangement from his beloved Cordelia (Pippa Bennett-Warner). But if we never experience this production on a personal level, we certainly absorb its reverberations on a political one: the idea of a state fracturing and fracturing, again and again, breaking down into ever-more-hardened, ever-less-generous, ever-nastier little niches, as the overall union dies of its own insecurities.
The School for Lies (at Classic Stage Company through May 22)
The School for Lies, the latest and possibly greatest bit of intertextual frottage from wit nonpareil David Ives (All in the Timing, Venus in Fur), is basically what La Bête could've been: a goofy-literate, utterly scrumptious riff on Moliere, free from self-seriousness and overstudious writer's cramp. Starting (but definitely not ending) with a near-photocopy of The Misanthrope — featuring the glorious Mamie Gummer as lovely, morally labile Célimène and sexy-spastic Hamish Linklater as an Alceste-esque party pooper named (ha!) Frank — Ives is fully in his element: beyond-clever slapstick and light, frisky intellectual calisthenics, operating on a level of verbal play seldom found outside of Stevie Sondheim's skull. It's all in the timing, of course, and director Walter Bobbie has recruited some of the city's best calibrated atomic comedy clocks — Gummer and Linklater, of course, but also Jenn Gambatese, Matthew Maher, and theater legend Alison Fraser, who comes equipped with her signature crushed-windbox vocal stylings and double helpings of Cruella DeVil–brand ham. The headline act, however, is Ives himself and his vivid, verve-y verse. ("Politeness hardly warrants self-destruction" / "Polite? When you two hugged I could hear suction.") If Cole Porter joined forces with Richard Wilbur — well, they'd still call in Ives for a punch-up.
Locker4173B (at the Monkey, 37 West 26th Street, twelfth floor, through May 21)
Two hipsters in tweedy-steampunk "explorer" mufti tomb-raid an abandoned storage locker in the Bronx and haul its contents onstage to speculate on the lives of the working-class folk who put it there. Depending on your point of view, this is the most awful thing you've ever heard described, or the niftiest idea ever. Personally, I think it's sort of both. Playwright-performers Christopher Borg and Joey Rizzolo, members of the Neo-Futurists (Too Much Light Makes the Baby Go Blind), are a little oversold on the adorability of themselves and their concept, and they sometimes grate when they get in the way of their errand (to wit, piecing together the archaeology of lives in stasis). But they're born showmen, and this inventive work of shoe-leather docu-theater gets points for taking one of the great urban mysteries — what sorts of lives are morgued in those creepy silos? — and turning it into a show-and-tell of playful humanism.
Be a Good Little Widow (at Ars Nova through May 14)
I want to see Bekah Brunstetter dig in. Her latest core sample of earthy suburban naturalism — a funny, salty, achy drama about a too-young wife (Wrenn Schmidt), a suddenly dead husband (Chad Hoeppner), and his overbearing mother (Jill Eikenberry) — is only a little longer than an episode of cable-TV drama, and almost as neatly resolved. I enjoyed it immensely, but I wanted more: more dramatic complexity, more psychological digging, more fucking up from her characters. Brunstetter (Oorah!) does regular folks better than almost anyone, and does fucking up really, really well (and so does Schmidt, playing the wife), far more naturally, with far less pretense, than most of her coevals. I love her matter-of-fact voice and her colloquial confidence, her easy and unshowy way with contemporary regional and cultural tensions, her unsticky approach to casual intimacy — and now I'd like to see these things in bulk. I formally request a larger catastrophe from Bekah Brunstetter. I do appreciate the consideration, Madame Playwright, but I don't need to get home that early.