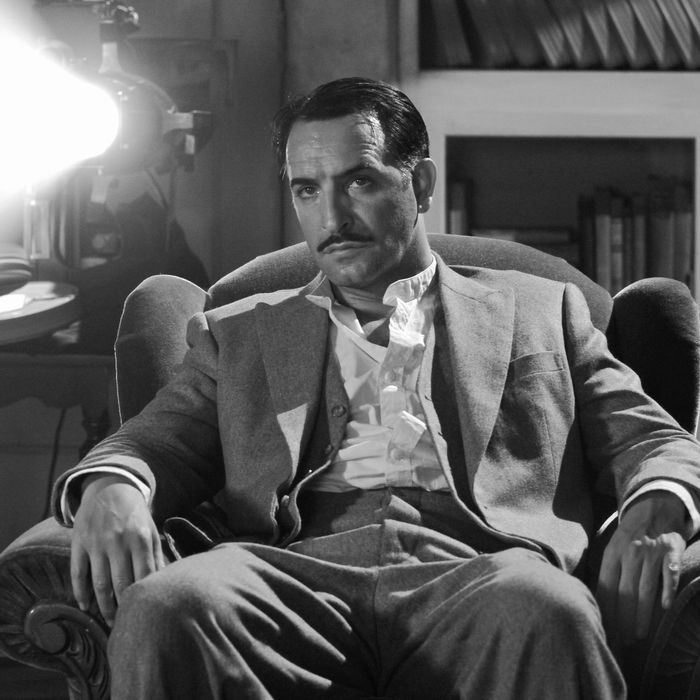 Photo: The Weinstein Company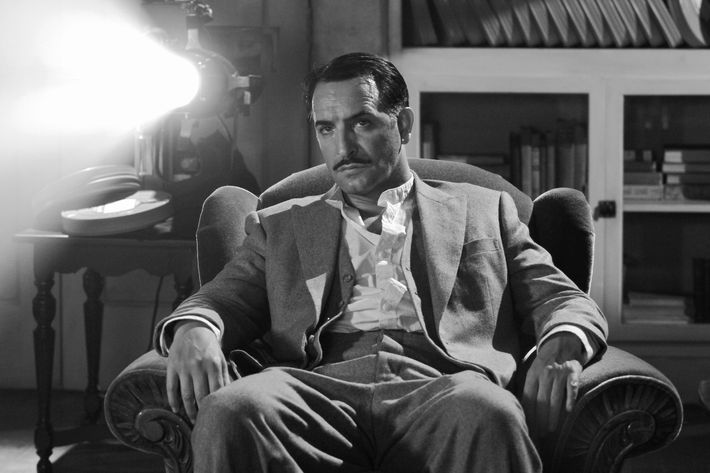 Three things dominated the conversation this morning in Cannes: (1) That little matter of the downfall of Sarkozy rival and IMF head Dominique Strauss-Kahn. (Sample: "Oh, you are from New York. There is a man who is ruining the reputation for all French people in New York right now. Our reputation was already bad, but … "). (2) Just how completely insane it was trying to get into the first screening of Terrence Malick's Tree of Life at 8:30 a.m. this morning. There was pushing; barricade hopping; screaming in French, some of which we recognized as curse words; a lady crying out, "I am being punched!" And that was just the overflow screening. (3) For the first time this festival, folks, we have a verifiable hit on our hands. Even more worth of talking about: That hit du jour is a black-and-white silent movie called The Artist.
When we saw The Artist at a press screening yesterday afternoon, the audience clapped for at least three minutes, and no one from the movie was there. Later that night, the gala premiere ended with a standing ovation that lasted, according to estimates, anywhere from twelve to twenty minutes. A friend of ours who was there says he left the balcony, went to the bathroom, went outside, talked to some people, walked back into the orchestra seating, and the clapping was still going on. Said Bérénice Béjo, one of the film's two stars, at the after-party at a crazy mansion in the hills outside of Cannes: "It was thrilling, and so strange. They put the spot[light] on you, and it's just the three of us [Béjo; French film star Jean Dujardin; and Béjo's director husband, Michel Hazanavicius], so you give each other kisses and then you just stand there for twelve minutes with everyone looking at you and applauding." Long standing ovations at gala opening nights are kind of a thing at Cannes (so confirms Gus van Sant), but one of that length is particularly notable. (Of course, as soon as we mentioned this twelve-minute ovation to a French guest at the party, he pointed out that the French movie Polisse, also something of a hit, received one fifteen minutes long.)
That the Weinstein Company picked the movie up in a seven-figure bidding war before Cannes and then threw a party for it, despite it having no major stars (or at least nobody who's a star in the American market), at a huge mansion with a disco room and ivy walls and a Roman fountain, shows the confidence the company has in the movie. Releasing a silent black-and-white French movie about a silent film star's struggles during the advent of the talkies is a major gamble in 2011. But the Cannes audience loved it. Like Avatar, this isn't a movie you're going to want to pirate and watch in low resolution on your computer at home. And like Black Swan, this is a movie you're going to want to see immediately so as not to miss out on the cultural discourse. As for the endless applause, it seems to be a sort of cathartic release for audience members. You've spent a little under two hours watching people onscreen working through a sensory-deprivation bubble. They talk, they drop things, they slap each other in the face, and the only sound that emerges is beautifully composed orchestral music from Ludovic Bource of the Brussels Philharmonic. Even when the people onscreen enter the age of talking pictures, the movie we, as a modern audience, are watching remains silent. In the end, you feel as though you're clapping and cheering for the many audiences you just watched who clapped and cheered in silence. To show your appreciation, you give them sound.