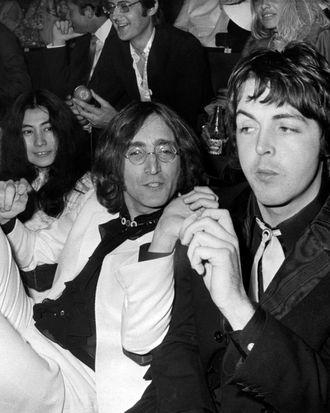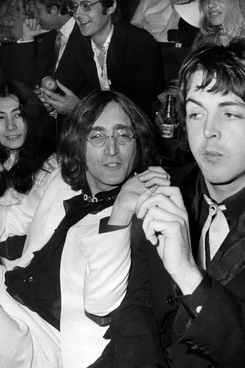 The public dis has long been a rock tradition, from the early rap verbal battles to Eddie vs. Dave (and Sammy) and right up to Keith Richards questioning Mick's manliness in his recent memoir. But as David Browne learned in his new book, Fire and Rain: The Beatles, Simon & Garfunkel, James Taylor, CSNY and the Lost Story of 1970, public slagging had its musical roots 41 years ago. That was the year that these iconic acts all released landmark albums (Let It Be, Bridge Over Troubled Water, Sweet Baby James, and Déjà Vu, respectively), after which all of the groups broke up amid ever-increasing sniping, both public and private. (Taylor was left to insult himself.) But of all the three groups, the Beatles' squabbling was especially notable not just for their own rock primacy, but also because it managed to be passive, passive-aggressive, and aggressive: the squabbling hat trick! We asked Browne to lay out the nine varied disses of the Beatles' contentious final year.
Paul's subtle, private dis. Early in the year, Paul began making an album on his own at Abbey Road, eventually called McCartney. But he didn't want the other Beatles to know, so during the sessions, one of the engineers scratched out McCartney's name on logs and began writing "Billy Martin" instead.
My not-quite-sweet dis: Eventually, the other Beatles and their business manager Allen Klein did learn about Paul's record — and decided to delay its release. When Paul called George and told him he might take it to a label other than Apple, George spat out, "You'll stay on the fucking label. Hare Krishna."
McCartney disses the other Beatles: On April 10, Paul released a question-and-answer statement he'd penned to promote McCartney. In it, he asked himself, "Do you foresee a time when Lennon-McCartney become an active songwriting partnership again?" His answer: "No." The public saw these comments before the other Beatles did.

Lennon fires back: Reached for comment about Paul's statement, John told a reporter, "I was happy to hear from Paul. It was nice to find out that he was still alive. Anyway, Paul hasn't left. I've sacked him."
John disses George's faith: John was fond of George but not his Krishna fixation, and his annoyance emerged that summer when he was recording his scalding Plastic Ono Band album. In "God," John rattled off a list of things he didn't believe in — which included Gita, the sacred text of Hinduism.
George disses Paul: In September, George reemerged from months out of the public eye for a press conference to drum up interest in a festival of Indian music. At one point a reporter asked about the Beatles' future. "It looks like we need a new bass player, doesn't it?" George shot back, frostily.
… and just for variety, he tosses out a dis at the Queen of Soul: To emphasize how much better Eastern music was than Western, George told the assembled media, "These Indian singers have more soul than Aretha Franklin will ever have and you can quote me on that." And they did.

Ringo attempts a dis but is too affable to pull it off: The ever-jovial Beatle cut a solo song, "Early 1970," that seemed like he was attempting to tweak his now-former bandmates. On Paul: "Lives on a farm, got plenty of charm, beep, beep/He's got no cows but he's sure got a whole lotta sheep." On John: "Laying in bed, watching TV … with his mama by his side, she's Japanese." George: " … With his long-legged lady in the garden picking daisies for his soup." Zing?

Paul gets in the last word and dis: To begin the legal dissolution of the band, Paul's team hand-delivered writs to John, George, Ringo, and Klein — on December 31, 1970. It's long been assumed the day was chosen for tax-deadline purposes, but as someone in Paul's camp told me, the reason was much simpler: payback for a year's worth of headaches. Oh, and have a great New Year' Eve party, lads!
Fire and Rain will be available on May 31.