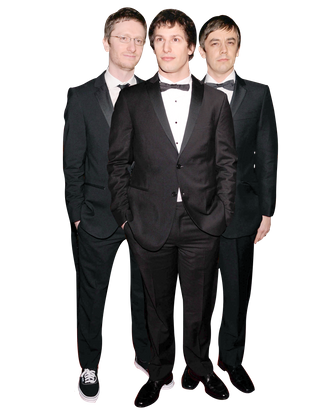 Photo: Dimitrios Kambouris/Getty Images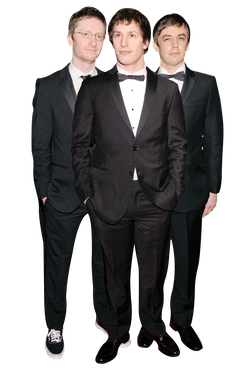 SNL power trio Andy Samberg, Akiva Schaffer, and Jorma Taccone — a.k.a. the Lonely Island — spit rhymes like seasoned rappers, with swagger so convincing we're not even sure it's satirical anymore (dicks in boxes aside). "People are counting on us," they announce on "We're Back," the opening track of their new album Turtleneck & Chain, which features a cavalcade of high-profile guests, including Rihanna, Beck, Snoop Dogg, and Nicki Minaj. Vulture sat down with the guys at Universal Records HQ for a freewheeling talk about Michael Bolton (who is also featured on T&C), Chewbacca, and, of course, turtlenecks and chains.
Take us through the genesis of the title — why Turtleneck & Chain?
Samberg: That was our signature look in high school. We've been in it for a while.
Taccone: We all have pictures from either picture day or graduation of us wearing that exact look, usually with a very terrible V-neck sweater over it.
Samberg: Or a blazer —
Schaffer: Or a low, cardigany kind of sweater.
Taccone: The thinner the chain, the better.
Samberg: And you can't smell it in the photos, but we're all wearing Drakkar.
Taccone: I was wearing Fahrenheit.
Samberg: Fahrenheit or Drakkar. Sorry, gentleman's choice. I think we all loved that look both ironically and unironically.
Schaffer: It worked its way into some videos, then into a line from "I Just Had Sex," you know, "She let me wear my chain and my turtleneck sweater." And then we were like —
Taccone: Let's go with it.
Samberg: It became a whole song.
Taccone: The one with Snoop, obviously [the title track].
Schaffer: Or maybe we made that one first.
Samberg: I think we made it first, and then we put it in "I Just Had Sex."
Taccone: Right, right, because we decided, let's embrace it.
Samberg: And then right around that time, we decided, (a) that we were definitely gonna try to bring that look back, and (b) that it should probably be the title of the record.
Now that warm weather is upon us, though, what advice would you give for beating the heat while wearing a turtleneck and chain?
Samberg: Just go dong-out.
Schaffer: Also, you could go sleeveless.
Taccone: Sleeveless and dong-out?
Schaffer: You could just go completely pantsless, like Alvin and the Chipmunks. They wore turtlenecks with no pants.
Michael Bolton sings on the track "Jack Sparrow." What did you learn from working with him?
Samberg: That if you're going to remain in the limelight past your thirties, you should look handsome and stay in great physical shape.
He's ripped?
Samberg: He's rocked! Dude is a heartthrob.
Schaffer: He's like six foot something.
Samberg: We should be so lucky to be half the man.
Taccone: Guess what: We won't be.
Samberg: We're already in much worse shape than him, yes.
Schaffer: And he can shop right off the rack, that's like the craziest thing. He's got the bod for it, you know?
Samberg: Michael Bolton can buy suits right off the rack. He's an Adonis.
Taccone: Not a lot of people know this, but like Michael Bolton, the soccer player Pele is perfectly symmetrical. Like, his face and his body, all the way down on both sides. Not a lot of people are like that.
Samberg: I didn't know that about Pele. How do you know that?
Taccone: Because they were trying to study him. They were like, "Why is he so good at bicycle kicks and shit?"
Schaffer: And it's because of his body's perfect symmetry.
Samberg: So he has perfect balance. I wonder if that guy Lionel Messi is that way too.
Taccone: Let's go there right now and check him out.
Schaffer: Go measure him.
Samberg: Just go to him. Go to Spain and measure him.
Taccone: Tonight.
Samberg: He's Argentinian, isn't he? Where's he from?
Taccone: Who cares? We're going to Spain.
There are so many big names on the album. Can you talk about anyone you've approached with a song concept and it didn't work out?
Schaffer: It's happened, but we wouldn't want to sell anybody out. Usually it's just scheduling and stuff, especially at SNL where we're hitting a deadline. Like, if they're not free on the day we need them, and if we're going for big stars, they're usually pretty busy.
Samberg: But we've been really lucky.
Taccone: It's become easier as we've made a lot of stuff, so people can kind of see what we're about. Trying to describe some of these joke songs would be very difficult, but we usually mock up the songs, too. We'll have Andy doing the person's part.
Schaffer: Right, they don't have to use their imagination. We'll send them an MP3 — it has kind of a template for the whole song, so they can really hear what they would be doing.
Samberg: We asked the guy who played Chewbacca to do a song and he nutted in our faces.
Schaffer: Um, I didn't want to out anybody.
Taccone: The reason could have been because we kept calling him "The Guy Who Played Chewbacca."
Samberg: Like, "Hey, the Guy Who Played Chewbacca, do you want to be on this song?" And then before we finish the sentence, there's just hairy, Wookie nut all over our face.
Taccone: We should have called the album "Wookie Nut."
What's the story behind "Two Worlds Collide," where Kenan Thompson plays Reba McEntire?
Taccone: That idea came from a fellow SNL writer, Emily Spivey.
Schaffer: Kenan [Thompson] and her.
Samberg: It was a live sketch where Kenan showed up to do PSAs. It was supposed to be Reba McEntire, and instead it was him dressed as Reba McEntire. It played … pretty good, but it got cut. And we were obsessed with it. So we were like, "Hey, can we make it into a song?" And they both were graciously into it.
Jorma, you directed and co-wrote the film adaptation of MacGruber. When is Lorne Michaels going to green-light a "Laser Cats" movie?
Schaffer: Well, I think we could green-light it right now, since it would cost $45.
People have always speculated about the fifth Beatle. Is there a fourth Lonely Islander?
Taccone: Bill Pullman.
Schaffer: I can't believe you just decided to spill the beans on that.
Samberg: God.
Schaffer: He's our ghostwriter.
Samberg: Pullman, yeah. We're all like Eazy E and he's our Ice Cube.