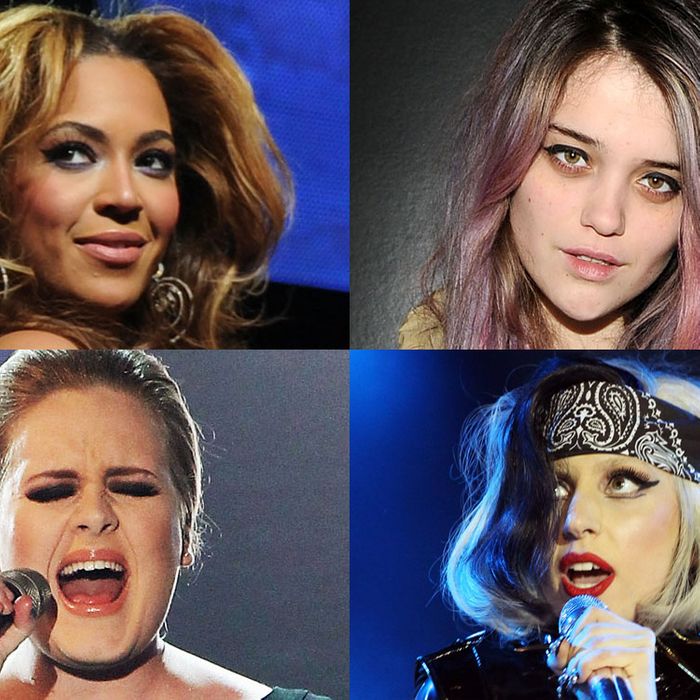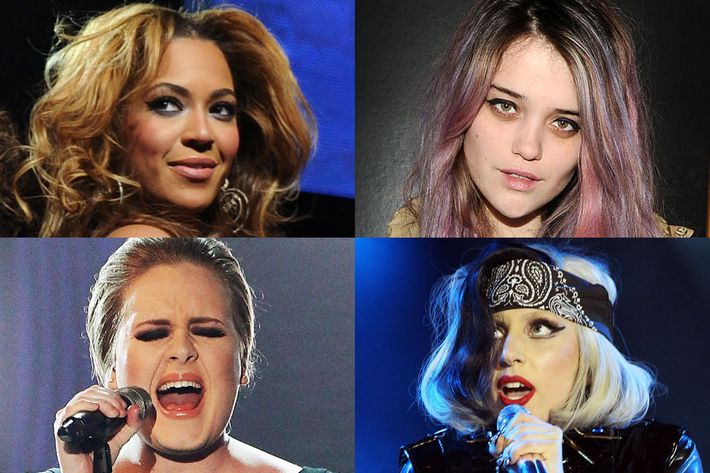 Like we always do at this time, Vulture will be keeping a close eye on the race for the Song of the Summer. This is, of course, an objective appraisal: The Song of the Summer is not the one song Vulture feels is most worthy of the title, but the one song that undeniably dominates the field — via sales, streams, radio spins, video plays, ad placements, soundtrack appearances, backyard-barbecue utilization, car-stereo blasts, and general overall ubiquity — during the best part of the year. First up: a look at the prospective competition group, meaning the songs out right now that are angling for the title, as well as upcoming releases — both confirmed and wholly theoretical — that will make some noise fairly soon. Are you psyched?! Get psyched!
"Till the World Ends," Britney Spears
Current chart position: 6
Last summer, Dr. Luke had Katy Perry's "California Gurls," Taio Cruz's "Dynamite," and Ke$ha's "Your Love Is My Drug" in more or less simultaneous rotation. This year, "World" — a track he produced alongside Max Martin — might be his best shot at the title. Considering its singer's questionable mental state, the song is shockingly good, but might suffer from timing issues: It's been high on the charts for ten weeks and may have peaked too soon.
"Last Friday Night (T.G.I.F.)," Katy Perry
Out June 6
Well, if Britney doesn't take it, Dr. Luke's got other options: Perry's upcoming single, off last year's fertile Teenage Dream, is a seasonally appropriate party jam that Vulture's betting will make her current smash, "E.T." irrelevant. (Perry's also tweeted that the upcoming video is "gonna break the internet," which can't hurt.) If this pans out for Luke and Perry, it'd be their third SoS (the other two being "California Gurls" and 2008's "I Kissed a Girl."). More impressively, it'd be a rare back-to-back pulled off with two tracks from the same album.
"The Edge of Glory," Lady Gaga
Just released
This unapologetically big bit of inspiration-pop has the E Street Band's Clarence Clemons ripping an incongruously rad sax solo. And while "Born This Way" and "Judas" have both cracked the top twenty already, "Edge" goes down easier and, therefore, might have more legs. However, Gaga has more Born This Way singles due, and one of those could always end up eclipsing her current output.
TBA, Beyoncé
"Run the World (Girls)," the first single off the hugely anticipated 4, has stalled in the bottom half of the top 100. Beyoncé insists that it was purposely experimental — but you can be damn sure that this generation's most dependable hit-maker will have a radio jam in contention, and soon.

"Super Bass," Nicki Minaj
Current chart position: 48
Like Perry's entry, "Super Bass" comes from an album released last fall. But Nicki just dropped the happy-fun-time video (shirtless dudes! Daisy Dukes! Ice sculpture motorcycles!) to match the tune's excellent bubblegum chorus, making this a very viable dark horse.
"Lift Off," Jay-Z and Kanye West, featuring Beyoncé and Bruno Mars
Right now, this track is just an unconfirmed rumor, but it's safe to say that if it comes to fruition, it'll be a problem: Jay and 'Ye surely want a poppier counterpart to "H.A.M.," Watch the Throne's abrasive first single, and recruiting Bruno and Bey is the right means to that end.
"Rolling in the Deep," Adele
Current chart position: 1
The Brit vocalist's breakup jam has already cracked the top ten in 21 countries, is the No. 1 song in the U.S., and just got a nice boost from a cover on Glee. On the other hand: It's been on the charts for eighteen weeks, and it's sad. On the other other hand: Back in 1994, bummer-pop worked all right for Lisa Loeb's "Stay (I Missed You)."
"99 Tears," Sky Ferreira
The teen ex-model has a scuzzy Skins vibe and a boatload of Über-pop producers — including Bloodshy & Avant (Britney, Madonna) and Linda Perry (Pink, Christina Aguilera). She's not famous enough yet, but the Song of Summer competition is nothing if not a meritocracy: So why can't Sky — another good-looking young person with major-label backing and expensive producers — take the title? Trust: This cool-girl kiss-off gets the job done.