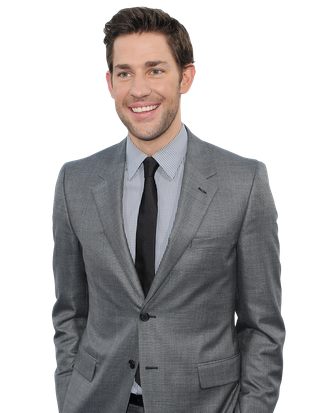 Photo: Jason Merritt/Getty Images)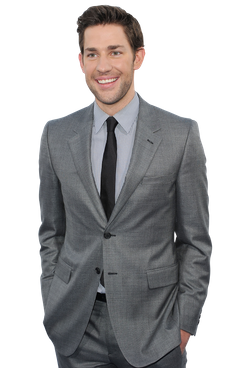 John Krasinski isn't the lead character of Something Borrowed, but you wouldn't know that from the recent barrage of TV ads, all of which lean heavily on his presence to sell a story with an eyebrow-raising plot: Ginnifer Goodwin's character sleeps with the fiancé of her best friend, played by Kate Hudson, but you're still supposed to root for her. Meanwhile, Krasinski is the platonic fourth lead who occasionally comments on the action, but it's a testament to his natural likability — and, perhaps, his big-screen potential — that the studio is putting its marketing campaign on his shoulders. As he continues to topline The Office after the departure of Steve Carell, it may even be a sign that he could follow in the footsteps of another refugee from NBC Thursday nights who made it big in the movies: George Clooney. To find out, we spoke to industry insiders to answer the question: If John Krasinski were a stock, would you buy, sell, or hold?
Stock History: Massachusetts native Krasinski had a few tiny jobs to his name when he landed The Office in 2005. While working on the show, he's mostly played supporting parts in films like Dreamgirls, The Holiday, and It's Complicated, though he has had three starring roles of note: the studio comedies License to Wed and Leatherheads, that were indifferently received, and the well-reviewed indie Away We Go.
Krasinski has also established himself as a director: In 2009, he helmed an adaptation of David Foster Wallace's Brief Interviews With Hideous Men (where he cast himself against type in a small role) and last year, he directed an episode of The Office. However, his upcoming credits indicate a desire to act in crowd-pleasing movies aimed at women and families. After Something Borrowed, he'll appear in the big-screen reboot of The Muppets, and he's got the male lead in Everybody Loves Whales, where he and Drew Barrymore work together to free whales trapped in the Arctic Circle.
Peers: Chris Evans (29), Ryan Reynolds (34), Ryan Gosling (30), Joseph Gordon-Levitt (30), and Bradley Cooper (36) but "only when he does romantic comedies," cautions one agent.
Market Value: On The Office, he's golden — it's NBC's biggest comedy, and last week (goosed by Steve Carell's departure), it was the highest-rated scripted series among adults 18 to 49. (There are other benefits to his work on The Office, too, as one insider we talked to noted: "He gets the most loving reaction shots on TV, followed closely by Adam Scott of Parks and Recreation, and that's one of the main reasons he has burrowed deep into the hearts of female fans.") In film, though, he hasn't yet proved himself. License to Wed and Leatherheads didn't crack $50 million, Away We Go sputtered out just shy of $10 million, and Brief Interviews — an admittedly hard film to sell — made only $33,745.
What Hollywood Thinks: "He's, by far, the best thing in Something Borrowed," says one top agent. "Can he become George Clooney? Well, he's much funnier than Clooney, but not as much a leading man as Clooney. He's more 'John Cusack,' that type. He should do [more parts] like what he did in Something Borrowed, but in a leading role. He's very likable, and that's what you need to prove: that, and that you've got good comedic timing."
One big-name television producer has more muted enthusiasm. "John is great, but he's no Clooney," he says. "John may be a TV star, post–The Office — he'll get a number of shots, but it isn't guaranteed. As good as he is, he has not taken the weight of an ensemble, like the way they placed Cheers on Ted [Danson]'s shoulders after Shelley Long's departure. Can he? Time will tell, but in my humble opinion, maybe he's Ted, but not George Clooney."
"Don't put the onus of Clooney on him, because I think he has a softer, more accessible appeal than Clooney," argues another veteran of the Hollywood TV development trenches. "Krasinski is the guy you want to go to sleep with at night and wake up with in the morning; he's a pillow-talk kind of guy, and gals of all ages swoon for that kind of thing. Krasinski has a Jack Lemmon Everyman quality to him, but he's a lot cuter than Lemmon. He's the ideal combo: the guy you want to hang out with and sleep with — a romantic Holy Grail, if you will."
The Analysis: As The Office goes into its eighth season next year, Krasinski finds himself at a crossroads: It makes sense that he'd stay with such a big hit (and Krasinski has said that he'll remain onboard as long as he's wanted), but the past few years have basically maxed out his character's dramatic arc. Women swooned at the romantic, loyal Jim when he pined for Pam, asked her to marry him, and had a child with her, but where is there to go from here? You might expect Krasinski to play a more important role now that Carell is gone, but the writers have given him little to do all season, instead handing story lines to fresher characters like Andy and Erin.
It may be time, then, for Krasinski to request a transfer to the big screen. He made a play for his biggest movie yet last summer when he was among the semifinalists to play Captain America, but it didn't pan out. Maybe that's for the best, says the agent: "He's never going to be Chris Hemsworth, running around with a gun; he's your Everyman, like Tom Hanks was, when he was young."
In fact, says one talent manager, "There are actually real parallels between the two of them: Hanks started on TV sitcoms, had the likable Everyman thing. Maybe he should switch it up a bit. The role in A League of Their Own was actually written for a 60-year-old curmudgeon; Hanks was probably 40 when he went after it. So [Krasinski's] definitely in an interesting spot. He's a good one to analyze and watch, because he just made the move to WME to get more attention, and I think he'll get it."
The Bottom Line: Krasinski seems to have realized that his bread is buttered by the female audiences that swoon for Jim Halpert, but The Office is watched by plenty of men, too — and the big-screen rom-coms he's been picking may sap his appeal with them. If Krasinski really wanted to make a romantic comedy last year, couldn't he have appeared in a smarter one like Bridesmaids, where either of the two main parts for men — Chris O'Dowd's sensitive soul mate to Kristen Wiig, or Jon Hamm's sexy jerk — would have been perfect for him?
Sure, he might not be George Clooney, but we could use a new, young Tom Hanks wannabe, and Krasinski fits the bill. "I've heard Tom Hanks say this himself, that a really important choice in his career was A League of Their Own," recalls the manager. "He said he made an active decision to play an unlikable guy. After that, his career took off, because he showed real range. Then it was Forrest Gump, Philadelphia, Green Mile, Cast Away — the big, huge parts. I've always thought about that and it stuck with me — that Everyman thing only gets you so far — because I have found it to be true." Take heed, Krasinski.
Buy/Sell/Hold: Hold.