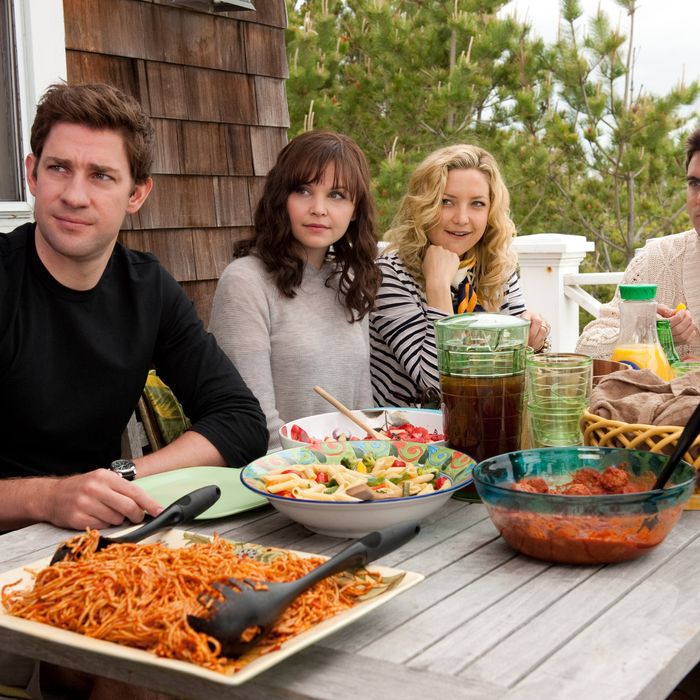 Photo: David Lee/? 2011 Alcon Film Fund, LLC. All Rights Reserved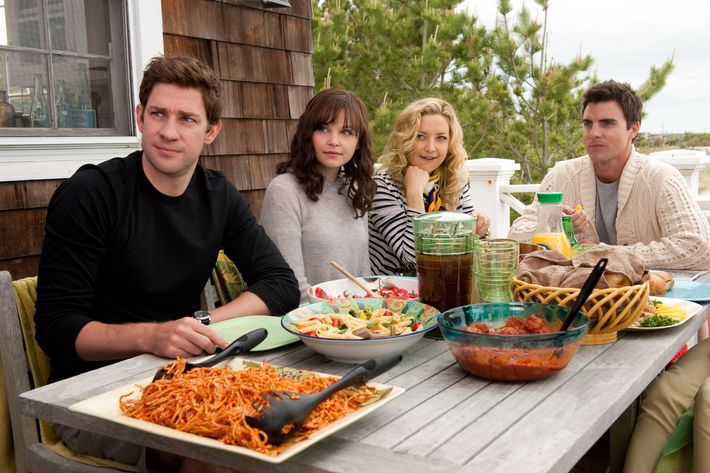 By the end of the insufferable Hamptons fantasy Something Borrowed, John Krasinski's Ethan is the only character you merely want to thwack as opposed to run over in Lizzy Grubman's SUV, and he delivers the movie's two most apt lines: The first, "The Hamptons is like a zombie movie directed by Ralph Lauren," works because this film is as realistic as Zombieland and is directed with the smarts of a clothing rack. And the second line comes after an hour of Ginnifer Goodwin's bland, whiny lawyer, Rachel, wrestling with her desire for her old friend, another bland whiny lawyer (Colin Egglesfeld's Dex), who is marrying her best friend (Kate Hudson). Ethan cuts to the core of the problem, declaring that Rachel is being "stupid" and Dex is "a dick." And that wrapped up the story more effectively than anything a moviegoer has to endure in the whole next hour.
Inept and implausible in almost every way, Something Borrowed is the smug rom-com answer to the Apatowian man-child comedy: Instead of working-class geeks making gay jokes like 13-year-old doofuses, we get spoiled twits who cuddle up under Strawberry Shortcake comforters and whine about how very hard it is to choose between all the delightful options laid out for them on a silver platter. As the dullard Dex parties in Nolita and slings back tequila shots at his beachfront Barbie dream house, he harbors the deep secret that he'd prefer to be a high-school teacher. It's never explained why, but it feels like a character such as his would most likely be drawn to the off-duty summers. Look, movies can and often should provide an escape from reality, but when 9 percent of the country is unemployed, it takes a certain type of clueless gall to make a film about how very existentially tough it is to choose whether or not to buy a Westchester mansion with 2 million of daddy's dollars (a steal, surely, thanks to the housing crisis).
Meanwhile, Goodwin's Rachel is an exasperatingly indecisive drip and Hudson's Darcy shrieks like she just jumped off the Sex and the City tour bus. The film vaguely hints at interesting possibilities, but the characters get exactly what they want in the end. The finale is spectacularly bogus and the filmmakers know it. "It's crazy how things work out sometimes," says the ditzy Darcy. "Crazy" is one explanation; Ethan's analysis was more accurate.
If Something Borrowed entirely ignores economic reality, the wedding comedy Jumping the Broom just makes class a silly excuse for easy and schmaltzy sitcom jokes. If you just love broad humor about things rich people like (opera, bellinis, caviar) and hate (collard greens, bright colors, poor people), there are plenty of these corny gags to go around when financial exec Jason (Laz Alonso) brings his uptown family to the luxurious Martha's Vineyard home of his gorgeous, wealthy fiancée, Sabrina (Paula Patton), for their wedding.

Patton and Alonso make for a handsome but rigid, unpersuasive couple, and they're not helped by a Crayola script. One minute, Jason is begging Sabrina to speak to him in French, as if he's Gomez Addams. The next, he's attempting to deliver the kind of lines that would get him laughed out of even a corny bar. "You're like a pomegranate," he says, winning back an angry Sabrina. "You have this hard, protective shell … but underneath you're real sweet and you have all this beauty on the inside." Not only is this a godawful analogy, but all we see of Sabrina is her protective shell: Patton delivers her lines with such deliberate sameness that it sounds like she's trying to train her computer's speech-to-text program.
The old cliché goes that weddings should be a celebration of the happy couple, but often end up being about the extended family. Thank goodness the cliché occasionally holds true in Jumping the Broom, since the parents are played by much better actors. As Jason's working-class uncle and angry mother, veterans Mike Epps and Loretta Devine wring laughs from old jokes. Angela Bassett, as Sabrina's mother, reminds you why it's so depressing that Hollywood can't seem to create better roles for her. Broadway belter Bryan Stokes Mitchell is restrained in a slight part as her husband, and like good, respectful, and loving parents, the actors show up to the wedding, do their parts, and hit their marks. The comedy is as familiar as the ceremony at a cookie-cutter wedding factory: Much feels old or borrowed; nothing feels new.