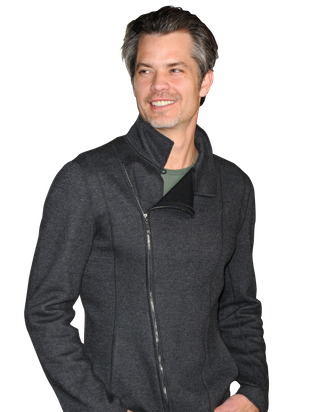 Photo: Jason Merritt/Getty Image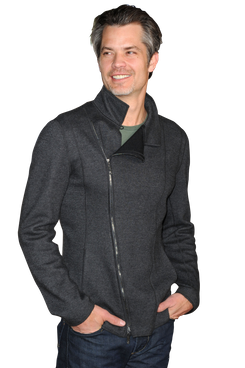 As Deputy U.S. Marshal Raylan Givens, Timothy Olyphant embodies a modern-day cowboy, right down to the Stetson. The trigger-happy lawman of the FX hit Justified is based on the protagonist from Elmore Leonard's short story "Fire in the Hole," but Olyphant has had a hand in Raylan's development throughout the show's second season. "I'm very involved in the show, in ways that I probably have no business being," says the actor, who signed on as a producer after season one. "I enjoy it. Someone gave me a TV show, I figured I'd have as much fun as possible." Vulture talked with Olyphant about what to expect from tonight's finale, his guest stint on The Office, and why Lakers fans need to stop whining.
It feels like this whole season has been building up to a legendary showdown. The episode title alone, "Bloody Harlan," is a hint of what's to come—
Somebody's going to stub a toe.
Sure, that's all.
Someone's going to need a Band-Aid.
Got any highlights you want to share about the episode?
I'm not sure I do. My job description is not giving away endings, you know? What can I tell you? I've seen it, and there's a lot of good stuff. We're very proud of the season, and the finale has what the best episodes of the season have: some great writing, great storytelling, great performances. I'm not beating around the bush, I just don't know how to talk about it without telling you things you don't want to know.
Last season's finale — with its epic shoot-out that found Raylan and Boyd on the same side — was a big one, so this week has a lot to live up to.
My way of thinking is, well, we did that, so let's not do it again. Nobody wants that. Even though they think they do, they don't. And at the same time, let's just try to live out this story as dramatically and interestingly as possible. The characters this season were just so rich and so great, and the ones that don't stick around will be missed.
Even though the show has always done well with the critics, it seems like this season, with ratings way up, the show really took off. What was different?
I do think it's a better show this year than last year. This season is certainly more reflective of the show I was hoping for. Graham [Yost, the series creator] and I had an opportunity to get to know each other last year and to have a dialogue of where we wanted the show to go. You saw that a little bit at the end of last season. You saw the show sort of find itself a little bit, and I think this year we sort of hit the ground running.
Elmore Leonard has given Justified his seal of approval. I read that the show inspired him to write another novel about Raylan.
Yeah, I have it here on my phone.
Did you have any say about what went into that?
Oh, no, no, no, no. I can only say that I asked him, very politely, and encouraged him to write it. That's the only part I did, that's all I can take credit for. After that, you let the man do the job. He knows what he's doing.
As dramatic as Justified is, one of the greatest things about Raylan is his wit. You have really stellar comedic timing. Where does that come from?
Um, my mother? [Laughs.] I have no idea. My parents both have a good sense of humor; my brothers have a good sense of humor. I assume it's a family trait. I appreciate the compliment. It's one of my favorite things about Elmore's work. First and foremost it's cool, and secondly, it's funny. And certainly it's often more insightful than it first appears. Those are three things I'm always trying to check off on the show, and I've been given a lot of room to swing a cat, as they say. I have an incredible group of actors I get to work with, and they're funny. We try not to hire anyone who's not. I'm always reminding everybody, we're trying to make a comedy. And then if there's a scene that's really funny, you try and find the drama. That's the fun of it.
Speaking of comedy, you did do a few guest spots on The Office. What was it like jumping into that ensemble?
It was like a vacation. That show was a piece of cake. I don't know if they know how good they've got it. It's just such a great, easygoing, fun job. And they're so good, you know? I got to do just that one scene with Steve Carell, walking up and down the hall, and it was such a dream. All said and done, I think it took fifteen minutes.
Also, you were a sports commentator until 2009 …
Yeah, I had a little radio gig.
Do you have any analysis you want to offer? Perhaps on the fate of your hometown Lakers?
You know, I grew up in northern California, so I will tell you that the Lakers' troubles don't trouble me too much. Since coming to L.A., I've more or less adopted the Clippers. As a basketball fan, I wanted to find a team that I could root for here in my city. The Clippers — none of my buddies growing up could fault me because they just assumed I wasn't trying. Now they've got a great squad and I feel the patience has paid off. And I look forward to next season's Clippers. The Lakers are going to be fine.
Fans were pretty nervous during that New Orleans series.
This town is full of drama. We're always looking for more drama. I think they're going to be fine. I think everyone should remain calm; they're going to come out of the West. I foresee no difficulties until they meet the Eastern conference, until they get to the NBA Championship. And then I think it gets tricky.
You heard it here first.
You're welcome.